Walk to End Alzheimer's - Alzheimer's Association
BrightStar Care of Appleton / Fox Cities
is participating in the 2019 Walk to End Alzheimer's - Fox Cities. We're committed to raising awareness and funds to support Alzheimer's care, support and research, and we need your help.
There are two ways to help:
We'd be so grateful if you would Join Our Team or sponsor us!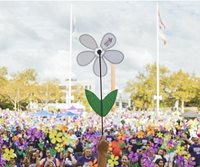 To register and
Join Our Team
for the Walk, please
CLICK HERE
. Our Team name is Brightstar Care of Appleton.
Also, please JOIN THE CONVERSATION ON SOCIAL MEDIA! Using the hash tags #WALK2ENDALZ and #ENDALZ
Together, we can end Alzheimer's!
A Note From Our Owner, Carol Brauer:
"I had an amazing church member pass recently, a family member that was recently diagnosed and several clients that are dealing with this cruel disease.

Because of that, I'm participating in Walk to End Alzheimer's® because I'm committed to raising awareness and funds for Alzheimer's care, support, and research. I'm leading the way to Alzheimer's first survivor — but I need your help!

Will you help me reach my fundraising goal of $1,000 by making a donation today? Please visit my personal fundraising page to make a secure, online donation or write a check.* All donations benefit the Alzheimer's Association — and every dollar makes a difference in this fight.

Together, we can end Alzheimer's disease!

Thank you for your support.

My page: http://act.alz.org/site/TR?fr_id=12281&pg=personal&px=5163944

*Check donations should be made out to the Alzheimer's Association. You can a mail check to the Alzheimer's Association along with the form available on my fundraising page, or send your check donation to me and I can deposit it directly to the Alzheimer's Association through the Walk to End Alzheimer's mobile app.

I truly appreciate your time and consideration in helping raising money for this devasting disease.

Blessings and Huge Thanks" - Carol