Are you living with Alzheimer's?
If you suspect you or your loved one is living with Alzheimer's or Dementia, we know it can be unsettling and even scary. It's important to know that there's help available to you and to your loved one that can ease the responsibilities and provide some clear direction during this uncertain and unpredictable time.
BrightStar Care Alzheimer's and Dementia Home Services in Appleton Support Family Caregivers
Alzheimer's can be overwhelming for a family caregiver, particularly if your loved one is in the more serious stages of this disease. If you are caring for a loved one with Alzheimer's disease or another form of dementia, BrightStar Care® of Appleton can provide compassionate care and support so you can spend more quality time with your loved one.
To help identify Alzheimers or Dementia, the Alzheimer's Foundation of America (AFA) offers free virtual memory screenings, which allow individuals to receive one-on-one, confidential memory screenings from a qualified health professional using their computer, smartphone or tablet. This service, which is part of AFA's National Memory Screening Program, began during the COVID-19 pandemic to ensure that people can still get screened from the safety and comfort of their homes.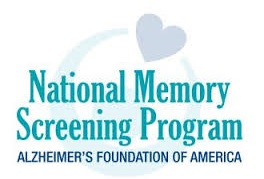 Frequently Asked Questions About Virtual Memory Screenings:
When are virtual memory screenings conducted?
Screenings are done by appointment every Monday and Wednesday from 10 am to 4 pm (ET) and every Friday from 10 am to 2 pm (ET). Appointments can be scheduled by calling AFA at 866-232-8484.
Can anyone get screened?
YES! The program is free and open to everyone-there are no minimum age or insurance requirements.
What does the screening consist of?
Memory screenings are simple, quick and noninvasive, and consist of a series of questions to gauge memory, language, thinking skills and other intellectual functions. The memory screening takes approximately 10-15 minutes and is completely confidential. Once the screening is complete, the screener will review the results with you.
Memory screenings are not a diagnosis of any particular condition but can indicate whether someone should see their doctor for more extensive testing.
How are the screenings conducted?
Screenings are conducted one-on-one through secure videoconference technology (i.e. Zoom, FaceTime, Skype) in real-time. All that's needed is a phone, computer, tablet or any other device with a webcam and Internet capability.
Why are memory screenings important?
Memory screenings are a significant first step toward finding out if someone may have a memory problem. Memory problems could be caused by a number of medical conditions, including vitamin deficiencies, thyroid issues, urinary tract infections and depression, which are treatable or curable. If the memory problem is the result of a dementia-related illness such as Alzheimer's disease, early detection may enable the person to begin treatments and therapeutic interventions sooner, afford greater opportunity to participate in a clinical trial and take a more active role in developing their health, legal and financial plans.
Are the screenings available in Spanish as well?
Yes, virtual memory screenings are offered in both English and Spanish.
How can I make an appointment to get screened?
Appointments can be made by calling AFA at 866-232-8484.

A memory screening is a great place to start when there is memory loss. If you need help convicing your loved one to take the test or a helping had, please call us and we can help 920-882-7277.
BrightStar Care of Appleton/Fox Citites provides 24/7 to hourly home care assistance and a full continuum of private duty home care services for people living with Alzheimer's, including companionship, personal care, transportation, and dementia care. We proudly serve Appleton, Neenah, Menasha, Kimberly, Little Chute, Kaukauna, Combined Locks, and Fremont.
For more information about how BrightStar Care supports families and seniors with Alzheimer's care, and to learn more about our local team of caregivers, and home health care support for Appleton - Fox Cities families and businesses, please Click Here.
source: https://alzfdn.org/about-afas-national-memory-screening-program/