As part of National Alzheimer's Awareness Month, BrightStar Care is sharing stories, with permission, that showcase real, personal stories of connections between clients, family care partners, and BrightStar Care caregivers.
When Lucy's mom, Miss Sue, was diagnosed with dementia, she felt more alone than ever. Without any family support, she quickly grew impatient and frustrated with her new family caregiver role. That's where Jeanne from BrightStar Care came in. Lucy came to the realization that her mother needed even more care than she and a family friend could provide. Lucy contacted BrightStar Care, and Jeanne began to provide additional care and support. Overwhelmed with the love and support that Jeanne brought to her mother, Lucy believes that "BrightStar Care, specifically Jeanne, have become my 'chosen' family."
New Ways to Connect and Communicate
"One of the greatest things that Jeanne has taught me is a new way to communicate with my mother," Lucy said. "It's frustrating as a child when your parent starts to forget things about you. Jeanne made me realize that when I look at things from Miss Sue's perspective, she is just loving me in a new way." One of the problems that Lucy would face when taking care of her mother was having Miss Sue realize that it was okay to accept help. "If you change the way you communicate, it no longer seems like you are forcing them to do anything," said Jeanne. What was once the dreaded showering day is now "spa day" with Jeanne, making Miss Sue feel pampered. Jeanne knew how much Miss Sue liked to look put together, so she would buy Miss Sue colorful and fun socks (mostly pink ones) to make Miss Sue feel better about the way she looked. Jeanne even takes care to mix Miss Sue's protein shakes with ice cream by hand, pretending they are in an old-time soda shop. This creates a fun and nostalgic experience for the pair and allows for Miss Sue to enjoy taking her protein once more.
Story-telling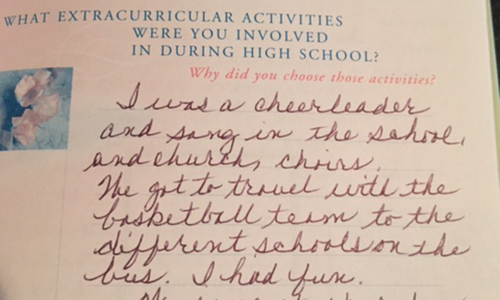 "When I first began caring for Miss Sue before her dementia really kicked in, she would love telling me stories," said Jeanne. "She would tell me stories of growing up on the farm, playing piano with her mother, and how she met and fell in love with her late husband." Since Miss Sue is no longer able to recollect many of these stories anymore, she fortunately has Jeanne. Jeanne took special note to write down all of Miss Sue's stories together in a life story book. Lucy is especially fond of the book. She says, "I cherish the memories Jeanne recorded for me. They are my Momma's words." Now, the pair loves sitting outside, watching birds, and having Jeanne read Miss Sue's stories aloud so they can reminisce together.
For Everyone's Well Being
"Hiring Jeanne from BrightStar Care made my relationship with my mother better than I could have hoped," Lucy said. "Now, instead of looking at her like my job, I look at her once more as my mother whom I love so dearly." For Jeanne, the role goes far behind being just an ordinary job. "Every day when I come to Miss Sue's house, I love seeing her wake up with a smile on her face," said Jeanne. "Knowing that I can make such a difference in a family's life is the ultimate reward." "Jeanne truly has a passion for people," said Lucy. "She is devoted to making sure Miss Sue has the best day possible, every single day." Jeanne is the 2016 Southeast Region Caregiver of the Year. The daughter of the client nominated Jeanne for her outstanding care for her mother living with dementia. The letter is full of wonderful details about how Jeanne's creativity and special bond with her mom allowed her to rise above some of the challenges Alzheimer's disease can bring. She also notes, "Jeanne has taught me about dementia, about caregivers, and about life…Jeanne helps me remember and to see the beauty that is still there and that will always be there."
Read more about how BrightStar Care is supporting Alzheimer's Awareness Month.