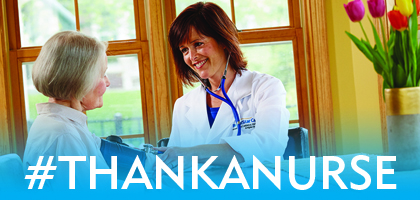 This week, we are celebrating hardworking nurses across the country during National Nurses Week, which runs from May 6–12. BrightStar Care employs more than 5,000 nurses, including registered nurses, licensed practical nurses, and licensed vocational nurses. Join BrightStar Care in saluting the dedicated nurses who touch all of our lives, here are some ways to #thankanurse in your life:
Hug a nurse and tell them how much they mean to you.
Send/give a card or flowers.
Share a photo with your favorite nurse and let them know how special they are.
Record a short video message thanking them for all they do.
Surprise them with their favorite coffee or treat.
It's easy to #thankanurse and we want to hear your stories about how the nursing profession has touched your life or the life of a loved one. For more ideas and some great #thankanurse stories,
click here
.