One of the common statements I hear from family members of loved ones living with dementia is, "That's not my mom anymore." If your loved one has dementia or Alzheimer's disease, he or she may behave differently and struggle more as time goes by. As hard as dementia can be on a caregiver, we must remember that it can be even more taxing on the person living with the disease. Straining to remember names and faces or how to perform favorite activities can be overwhelming. It's important to find ways to help maintain your loved one's dignity. Through it all, she's still your mother, even as your family roles change.
Recalibrate to find joy and dignity
As your mom's or dad's dementia advances, you may find yourself taking on more of his or her decision-making and day-to-day needs, such as helping with personal care. This shift can be sudden, but often it slowly changes over time. It's common that adult children of people with dementia become consumed by their role as caregivers. This mindset is understandable, but can easily lead to burnout.

When you can, make time to recalibrate and enjoy things you used to do with your loved one, even in a modified way. Over the years, did your mother enjoy spending time with children or painting? Did your father love classic cars or playing with his dog?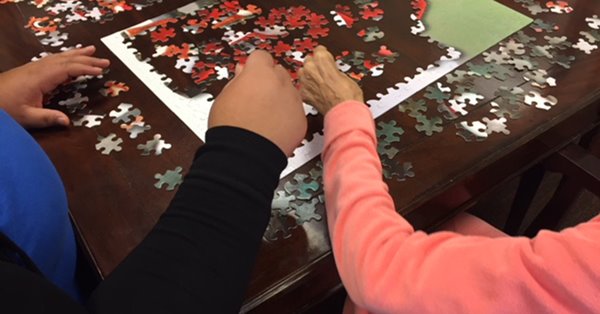 Have your loved one take part in family activities that would have been part of her former role, but now with in a modified way. She can do things like hold a baby doll or color a picture. You can do things together like make crafts, bake, or watch old movies.

A fun way to connect is to find opportunities to celebrate, acknowledge, and honor your loved one. For example, you could:
Make a mixed tape or CD of music he enjoys
Reminisce with photos
Visit meaningful places together, such as her favorite store or cafe
Shared experiences provide dignity in the moment to people with dementia, even if they don't remember the experience later. As you spend time with your loved one in new ways, you can find joy and maintain your connection.

Related reading: In honor of Alzheimer's Awareness Month, we shared stories highlighting some of the special connections BrightStar Care caregivers have made with clients living with dementia:
How to balance safety with autonomy
As much as possible, keep to your mother's daily routine and involve her in it. For example, if she can still safely wash her own face at night, water the plants, or get the mail, don't restrict her from doing so. It doesn't matter if it's done right – what matters is that she can still contribute with a sense of purpose.

Remember that no one likes to be told what to do all the time. Just as it can be hard to have to direct or guide your mother, it can be hard for her to take a step back and let you do so. Offer choices, structure, and guidance based on her level of ability. We don't want to make our loved ones feel like they're without rights and freedoms in their own homes. Remember that she might be feeling vulnerable, and this may be the first time you've ever seen her this way. That can be a tough adjustment for both of you.

Related reading: 10 Activities to Do With a Loved One Who Has Alzheimer's
Time-travel together
People with dementia feel the passage of time differently than the rest of us. They may come in and out of lucidity suddenly. For example, your dad might remember events from long ago but forget things that happened in the previous few hours. Caregivers should not point out this "time-traveling." Instead, try to make it as seamless as possible. It's best to put yourself in their time frame and be as flexible as you can to make them comfortable.

We work with caregivers and families to help them understand that connections with the past while acknowledging and adjusting for the reality of the present is important and brings purpose to the lives of people with dementia. A recalibrated, modified relationship with your loved one can help maintain dignity for your loved one and joy for your family.

Call 866-618-7827 or contact a BrightStar Care® home care agency near you to learn how your loved one might benefit from in-home care services.