When your loved one becomes injured, experiences a change in health or you notice a difference in their ability to handle their daily activities, we can help you determine if they need assistance at home or in a residential care setting.
We realize this is a time in your life when you'll have a lot of questions. The BrightStar Care team has compiled some of the most common questions — and answers — in this FAQs section, along with links to pages where you can find more details. You can also find a BrightStar Care agency near you or call 866.618.7827.
Although we do care for many older adults who need support, we offer a wide range of services for adults and children of all ages. Examples include new mothers, individuals with disabilities, those who have had an accident or injury, people recovering from a recent illness or surgery, and anyone who needs a little help getting around the house. Our care professionals specialize in providing a full range of care, from peer-level companionship and hospital sitting services to high-tech pediatric nursing and quadriplegic care.
BrightStar Care is the perfect solution for anyone who needs supportive services in order to remain in their home. What makes BrightStar Care unique is that we can be there every step of the way to meet a client's evolving needs. We are able to provide every service available in an institutional facility right in the comfort of each client's own home.
BrightStar Care clients include those with diminished eyesight or hearing, arthritis, COPD, recovering from severe medical problems such as cancer or heart disease or those who are dealing with memory loss including Alzheimer's and dementia. We also help clients with disabilities as well those who are just coming home from the hospital. Many of our clients have multiple conditions which make activities of daily living (ADLs) difficult.
Our services include companion care, personal care, short-term transitional care, skilled nursing, Alzheimer's and dementia care, disability services, physical and occupational therapy, pediatric nursing and many other types of support our adult or pediatric clients need.
BrightStar Care offers 24-hour home care services when your loved one needs either continuous assistance in daily tasks or short-term help while recovering from medical procedures. Find out more by visiting 24-hour in-home care for seniors.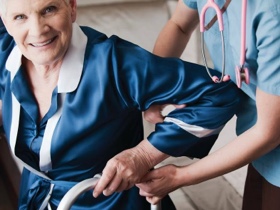 Yes. Every client and family we work with has a registered nurse (RN) who leads their care team and develops a personalized plan of care to meet each client's unique needs. Find out more about our nurse-led home care.
All care staff are employees of their respective local independently owned and operated BrightStar Care agencies and are rigorously screened as part of the hiring process. Every employee is interviewed and undergoes a thorough reference and criminal background check as well as drug screen test. Everyone that works for a BrightStar Care agency, from home health aides to nurses, is bonded and insured. We strive to match caregivers to you and your family based on the skills needed and personality traits necessary for a good relationship.
No. At BrightStar Care, we are flexible and recognize that you may need to increase or decrease services as circumstances change. Whether you need us for one hour or 24, our answer is, "Yes we can!" Unlike nursing homes or assisted living facilities, home care services can be canceled at any time.
Yes, changes are easily accommodated. Our clients' needs always come first.
No problem. We are very flexible and understand that situations can quickly change. Our only concern is your wellbeing and we respond accordingly.
Since we employ a team approach, if one home health aide, nurse or caregiver is sick, another is typically available.
We offer several levels of care, with costs based on each client's needs including level of service and hours needed per week. We share general facts about paying for in-home care here. For specific information, please find the nearest BrightStar Care agency — an intake coordinator will assess your situation during a living room visit at your home. We can then provide you with a quote and set up a payment plan that works for you.
BrightStar Care handles all the payroll, taxes, insurance and administrative responsibilities for you. We can often bill your long-term care insurance company for you.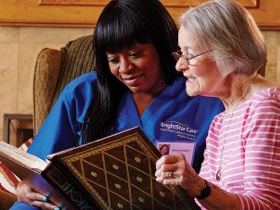 Each of the preventative measures recommended by the CDC were already standard practice across our agencies. All professional care staff at BrightStar Care complete stringent training administered by a registered nurse on topics critical to keeping clients safe such as infection control (IC), proper hand washing, and cough and cold etiquette. As a best practice, we follow both The Joint Commission and CDC guidelines.
We have more than 360 agencies throughout the United States. Find the location closest to you or call 866.618.7827.
What distinguishes BrightStar Care is that the care we provide revolves around you, our client. The services we provide are custom tailored to each client's individual needs. Since we can provide the full range of care at home, from companion and personal care to skilled nursing, it means you or your loved one does not need to switch companies if care needs become more complex. Our team is available 24 hours a day, 7 days a week to provide service whenever it is needed. But don't take our word for it — you can read about the recognition we've received for providing quality care.

Unlike other companies that offer similar services, BrightStar Care also provides medical staffing services to corporate clients such as hospitals and nursing homes. As a result we are able to offer everyone that works with us superior benefits, allowing us to attract the best and brightest nurses and caregivers.
There are several great reasons why BrightStar Care is a smart choice for quality home care. All of our caregivers are screened, trained, bonded and insured. Our care staff must complete all required state and federal trainings and follow the highest standards for infection control and client safety. We also test all of our care staff to assess their skills. Additionally, we take care of all of the payroll and paperwork, saving you time. We strive to ensure our certified nursing assistants, home health aides or companions are the best in the business.
We also maintain a large staff of quality employees to ensure that the most compatible and reliable caregiver will be there to provide the best care for seniors, adults of all ages, infants and children in their own home, for you, your family member or friend. We are here for you, 24 hours a day, seven days a week!
Every family needs to be aware that almost every homeowner's insurance policy specifically excludes anyone working within your home. If the person you hire becomes injured while working for you, you will become personally responsible for all of their medical bills. Each independently owned and operated BrightStar Care agency's employees are completely covered by insurance so you and your loved ones can relax if your nurse or caregiver becomes injured on the job.
You can call us toll-free at 866.618.7827, send a message online or find your nearest BrightStar Care office. We can arrange a time to schedule a personal assessment so we can learn more about your unique situation. We will work with you to ensure that your family's needs are met. We can arrange for services ranging from a couple of hours a week to around-the-clock care.
Although BrightStar Care was founded to provide the highest-quality care in the home, we have other options that you or your family member can explore. Our BrightStar® Senior Living or BrightStar® Care Homes brands offer assisted living and memory care solutions that may be a good fit for your loved one's needs.
Yes, we are always seeking out those who want to deliver the best care and support to local communities across the country. To discover if BrightStar Care is the right place for you, visit our careers website.
We have high standards for the staff we hire and our nurses must be properly licensed. However, some caregivers or home health aides come to BrightStar Care after leaving high-stress jobs where they've demonstrated a high level of compassion and a dedication to meeting the needs of those they serve. With greater flexibility in hours and an opportunity to make a meaningful impact on the lives of others, many people transition to caregiving from another field or when returning to the workforce after raising their family.
To find out if there is a career opportunity with a BrightStar Care agency near you, visit our search and apply page and type in the zip code of the area you would like to work in. The electronic application form can be accessed at the bottom of each employment opportunity listing by clicking on the application box. Completed applications and resumes are submitted directly from the website. Even if there aren't any current openings, you may contact your local agency to get to know us so you'll be ready when opportunities become available.
We treat your private information with the highest level of respect. Learn more about how BrightStar Care is protecting your privacy online.