BrightStar Care caregiver assisting client with IV
The BrightStar® Home Care Difference
For over two decades and with more than 366 locations nationwide, BrightStar Home Care has been delivering quality, compassionate in-home care to meet both simple and complex needs.
But it's not just about the services we offer — it's also about those little moments that spark joy, create warmth and provide peace of mind. We call it: A Higher Standard.
Why Choose BrightStar Home Care
Who We Serve
Adults and Seniors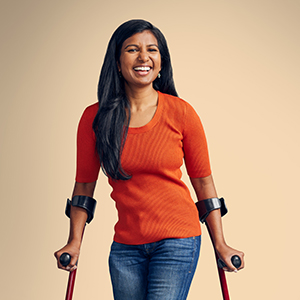 Children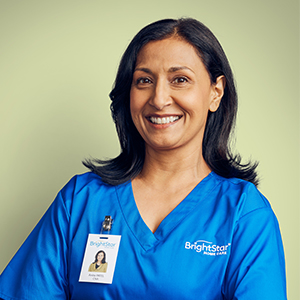 Businesses
Why We're Different
Whether your loved one is receiving non-medical companion or personal care or requires more complex skilled nursing care, a Registered Nurse (RN) will create their plan of care and provide ongoing oversight. In addition to the initial plan of care, our nurses assess the plan regularly to ensure that your family member is receiving the correct care for their current condition.
Learn about the benefits of nurse-led care.
Each independently owned and operated BrightStar Home Care location is required to achieve and maintain Joint Commission accreditation. The Joint Commission is a nationally recognized healthcare quality standards organization that also accredits the nation's best hospitals and other major health care systems. Our commitment to clinical quality keeps your loved one safe in their home and, in some cases, helps prevent hospital readmissions.
Read about our award-winning care.
We know that your loved one's needs extend beyond "normal business hours," which is why we offer around-the-clock care. Whether you need occasional respite care or someone to stay with your family member overnight on a consistent basis, we offer flexible solutions starting at just one hour of care ranging up to 24 hours a day — during the specific times YOU need us.
No one's health remains the same every single day, especially those who have medical needs or require personal assistance. Because BrightStar Home Care offers the full continuum of care and a wide range of caregiving professionals, we are able to adapt to your loved one's evolving needs. Even more important, our proprietary Change of Condition Care Path empowers our caregivers to notice a change in your loved one's health or behavior before it can become a larger issue or lead to a hospital admission.
Safe, Reliable, Nurse-Led Care
Meeting your family's in-home care needs for over 20 years. Exceeding your expectations.
Watch Video
What Our Customers Say
BrightStar Care caregiver doing crossword puzzle with senior client
What Our Customers Say
I found BrightStar online to assist my 90 year old Mom. From the beginning they were very polite and assisted my Mom 3 x's a week. The aids were wonderful and would highly recommend them as it's so hard to find a reliable care for an elderly parent. Kudos BrightStar and keep up the great work!
Westfield, NJ
I cannot begin to Express how awesome the home health aids have been. My mom is in hospice and every caregiver sent by Brightstar has made an effort to connect and comfort my mom. From their cooking, personal care and friendly conversations it is heart warming to watch them tend to her needs. Shamain, Vickie, Tera and Ruby have all made mom feel comfortable and respected in her home. Highly recommend Brightstar to anyone who needs support for their loved ones.
Fayetteville, AR
I utilize BrightStar Care's services once per week to help me run errands and keep organized around the house. I have always felt very comfortable and safe with all of my aides and I really look forward to them coming to help me each week. I also enjoy the conversations that we have and BrightStar Care has become a big part of my life. I would recommend BrightStar to anyone looking for companionship or help around the home even if they don't need any personal care.
East Lansing, MI
BrightStar Care caregiver assisting senior client in the kitchen
Find a BrightStar Home Care Agency
Contact us today to schedule a complimentary consultation and care assessment. There is no cost or obligation. We look forward to learning more about your family's needs.