An emergency or natural disaster, such as a tornado, fire, winter storm, hurricane, earthquake, or flooding, can strike at any time. These events can force individuals to evacuate their neighborhood or be confined to their homes with little warning.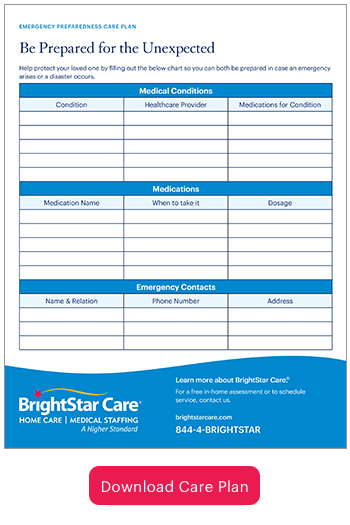 This can be especially difficult for older adults who live in their own homes with support from caregivers. Careful emergency planning can ensure you and your loved one are ready in case of an unexpected emergency.

Read on to learn tips for keeping your loved one safe during an emergency or natural disaster.
Make a disaster preparedness plan
The single most important thing an older adult can do to protect themselves is to make sure they have connections within their neighborhood or community before an emergency happens. A disaster, like Hurricane Dorian, is likely to disrupt communication systems for hundreds of miles. Unfortunately, many older adults quietly live alone without a close circle of friends or support nearby. When an emergency or natural disaster strikes, family caregivers or in-home health care aides may not always be available to assist older adults as quickly as needed. Encourage your loved one to reach out to neighbors, a church, or a community group and establish connections with people who can assist them in an emergency. The worse thing that can happen is that there is an unknown survivor because no one knows they are there.

The Centers for Disease Control and Prevention suggests creating an emergency plan, including details about who your loved one can contact nearby in case of an emergency. One option could be to create a "phone tree" where a loved one makes an initial call to one person, and they call the next person, and so on. Then relatives and friends will know what is happening in the event of an emergency.

Consider including these additional ideas as part of your emergency plan:
Create a list with family members and friends contact information and leave a copy by the phone and in your emergency kit.
If the emergency requires evacuation, work with local services to plan for accessible transportation and call your county emergency management agency to be placed on a list of people with disabilities who will receive help in the event of a crisis.
If your loved one depends on respiratory equipment such as ventilators and oxygen tanks or equipment related to feeding and nutritional procedures, make sure you have adequate power supplies, including backup generators and battery backups. In addition, call your local power company. They make vulnerable people a higher priority for restoration of power for life-sustaining equipment.
Plan on where you and your loved one will go during an evacuation. Keep a copy of exit routes and meeting places in a convenient place.
Make an emergency kit
The
Federal Emergency Management Agency
suggests creating an
emergency kit
with enough food, water, and medical supplies to last at least three days. Essential items to include:
Battery-powered or hand crank radio and an NOAA Weather Radio with tone alert and extra batteries
Dust mask to help filter contaminated air
Plastic sheeting and duct tape if you need to shelter where you are
Flashlight and extra batteries
First aid kit
Local maps
Moist towelettes, garbage bags and plastic ties for personal sanitation
One gallon of water per person per day for at least three days, for drinking and sanitation. At least a three-day supply of non-perishable food and a can opener for canned food
Pet food, extra water, and supplies for your pet or service animal
Whistle to signal for help
Wrench or pliers to turn off utilities
Medications also are critical, especially if an older adult's life depends on them. Get prescriptions filled ahead of time. There may be an extra charge, but it is well worth the money. It's also important to include medical-related supplies:
A cooler and ice packs if medications need to be kept cold
Glasses and/or contacts and contact solution
Hearing aids and extra batteries
Identification band (full name, contact number for family member/caregiver, and allergies)
Model numbers and vendor names for items such as wheelchairs, walkers, and oxygen
Supplies like syringes or bandages
Remember, too, oxygen needs should be considered for those dependent on oxygen. Do you have an adequate supply and what is your back-up plan?
Your kit should include important documents. The CDC recommends keeping physical copies of your documents in a waterproof bag and taking a photo of each document listed below. Consider developing a care plan that can be easily referenced during an emergency.
Complete list of medications, including the exact name of the medicine and the dosage, and contact information for your pharmacy and the doctor who prescribed medicine
Contact information for family members, doctors, pharmacies and/or caregivers
Copies of medical insurance cards
Copies of a photo ID
Durable power of attorney and/or medical power of attorney documents
List of allergies to food or medicines
If your loved one depends on Social Security or other benefits, it's a good idea to switch to electronic payments or direct deposit to keep payments coming in case mail is disrupted.
Staying informed
Developing an emergency plan and an emergency kit are important but remember to stay informed during an emergency or natural disaster. Radio and television stations are usually able to warn residents of some disasters. You can also monitor your phone for weather updates and other alerts.

BrightStar Care follows the Safety Goals of The Joint Commission and provides 24/7 services and emergency care in this kind of crisis. Our caregivers can help you make a plan as part of your overall care plan. To learn more about how your loved one might benefit from our expert in-home care team, call 866-618-7827 or contact a BrightStar Care® home care agency near you.