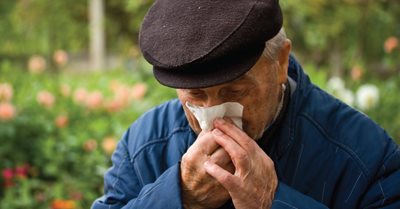 One of the most common misconceptions about the flu is that it's a stomach bug. Growing up, many of us Boomers and Gen Xers had parents who referred to our bouts of fever, vomiting, cramping and diarrhea as the flu or stomach flu. Although these tummy issues are certainly miserable, they're more often gastroenteritis, rotavirus or food poisoning.
Influenza is a serious respiratory infection, meaning it's related to your lungs.
Symptoms can include a dry cough, runny nose, fever, body aches, shortness of breath, tiredness and headache. Sometimes you'll also have vomiting or diarrhea, but those stomach issues alone usually don't mean that you have the flu.
It's important to check in with your older loved ones on a regular basis to see how they're feeling, ideally with a video chat or phone call (instead of a text). That way, even if they don't mention any of the symptoms described above, you may notice a cough, change in their breathing or a drop in their energy level.
Plan ahead for convenience and comfort
Before flu season starts, you can create a "flu fighter kit" for your loved ones (and yourself). All of the items can easily be found in a local store or online. You can also ask your family member's physician or nurse practitioner what items your loved one should keep stocked at home. Of course, this kit will vary based on individual medical conditions, but having the following items on hand is a great way to be proactive:
Quick-read thermometer with a large display and audio cue (include batteries)
Pulse oximeter (At-home versions provide an approximation of the blood's oxygen levels with a clamp on your finger; provide batteries.)
Acetaminophen (if appropriate)
Ibuprofen (if appropriate)
Cough and cold medicine (Consider purchasing cold and cough remedies that do NOT include a pain reliever; it's easy for someone to "double up" on pain medication if it's hidden among multiple ingredients.)
Chapstick to soothe their dry lips
Soft tissues (and zippered baggies they can put used ones in to contain the germs)
Hand sanitizer and hand lotion
Popsicles, gelatin, farina (hot cereal made from wheat)
Electrolyte replacement drinks including sports beverages or children's fluid replacements (choose options with zero sugar if possible)
A heating pad with an auto-off feature for body aches – ONLY if it's safe for your loved one; those with nerve damage (neuropathy) or decreased temperature sensation can be at risk for burns)
Humidifier (Choose one that isn't too heavy when filled with water; be careful with power cord placement.)
Personal sinus inhaler (Hand-held humidifiers that cover the nose and mouth; cordless ones are ideal.)
A "get well" card, along with a handwritten note would be a nice surprise the next time they need their kit
While putting together this kit, check the expiration dates on over-the-counter (OTC) and prescription medications. In addition to replacing outdated medicines, please be sure to
safely dispose
of old drugs. This is also a good time to add fresh batteries to any devices that need them (thermometers and pulse oximeters, as well as smoke and carbon monoxide detectors).
An Ounce of Prevention
Millions of Americans get flu each year, but you and your loved ones can take steps to reduce your risk of catching or spreading this virus. During the COVID-19 pandemic, many of us were reminded of simple ways we can avoid getting sick – those actions are included here, along with other flu avoidance tips:
Wash your hands properly or use hand sanitizer when water isn't available
Disinfect frequently-used surfaces, including door knobs, handrails, remote controls, light switches, phones, refrigerator door handles, etc.
Get enough sleep every night and take naps when needed
Choose healthy foods and be diligent about staying hydrated
Consider mild to moderate exercise (walking is ideal) to strengthen your cardiovascular health
Wear a mask when in large groups or when around someone who is ill
Cough into a tissue and dispose of it immediately; then use hand sanitizer or wash your hands
Get your COVID-19 vaccine as soon as possible, unless you are among the small group of people who should not receive it for medical purposes
Get your flu vaccination – ideally in October, but get it when you can
Ask your primary care provider (PCP) if you should get a COVID-19 booster
Ask your PCP if you need a pneumonia shot
You have questions. We have answers.
There are a lot of commonly-asked questions about the flu and the coronavirus. Some of those questions and answers are listed below, but please be aware that information continues to change as medical professionals learn more. Check with the Centers for Disease Control and Prevention (
CDC
), your local health department or your primary care provider for current information and to determine how it relates to your personal health needs.
Should I get a flu shot? The CDC recommends that all individuals 6 months and older receive the flu vaccine with a few exceptions.
Should I get the COVID-19 vaccine? Which one is the best option? The CDC recommends that nearly everyone 12 years and older get the COVID-19 vaccine, but there are a few health-related exceptions – ask your physician if you have questions. If you haven't received a COVID-19 vaccination yet, you can learn more here and here.
Can I get the flu shot and COVID-19 shot at the same time? In most cases, you can get a COVID-19 vaccination during an appointment for another vaccine. Be sure to see if your provider has the needed vaccines available and that the vaccine is right for you.
What if my provider doesn't have my preferred flu vaccine? CDC recommends use of any licensed, age-appropriate flu vaccine during the 2021-2022 flu season, including inactivated flu vaccine, high-dose flu vaccine, adjuvanted flu vaccine, recombinant flu vaccine, and nasal spray flu vaccine. Vaccination should not be delayed for a specific vaccine product when another age-appropriate vaccine is available.
What should someone 65 years old or older do if they're having trouble finding high-dose or adjuvanted flu vaccine? Several flu vaccine formulations are approved for use in people 65 and older, including two "enhanced" flu vaccines: the high-dose flu vaccine and the adjuvanted flu vaccine, both of which are designed to create a stronger immune response in people 65 years and older. Also, a recent study showed that recombinant flu vaccine can produce a stronger immune response in people 65 years and older. If you are unable to find the high-dose or adjuvanted vaccine, you should still get a flu shot. There are standard dose flu vaccines that can be used in people 65 and older – talk to your health care provider if you have any questions.
Why won't my doctor prescribe an antibiotic? Antibiotics are ineffective against the flu. They are only prescribed for bacterial infections, not viral infections – the flu is caused by a virus. Your doctor may recommend an anti-viral medications This type of drug is most effective in the earliest stages of flu, so you or your loved one should contact their healthcare provider when symptoms first appear.
At BrightStar Care, our specially trained caregivers, led by a Registered Nurse Director of Nursing at every agency, can help seniors stay as healthy as possible with our evidence-based best practices in the areas of infection prevention and health and well-being. Call 866-618-7827 or
contact a BrightStar Care
®
home care agency near you
to learn more about our in-home care services. We hope these tips help keep you and your loved ones safe this flu season!