As part of National Alzheimer's Awareness Month, BrightStar Care is sharing stories that showcase real, personal stories of connections between clients, families, and caregivers. Follow along on our blog and Facebook for more stories, information about Alzheimer's disease, and ideas to help care for a loved one with dementia.
Lily* and her sister live hundreds of miles from their mother Marcia, who has advanced Alzheimer's disease. For these dutiful daughters, the value of knowing their mother is cared for in a way that reflects their commitment to her can't be overestimated. "There's always guilt involved when you can't see your mom on a regular basis even if you know she doesn't remember anything," explains Lily. Bridget, the BrightStar Care caregiver who started taking care of Marcia three years ago, understands. "This could be my mother, sister, or even myself," says Bridget. "I have to ask, 'how would I want to be treated?'" Bridget does her utmost to care for and connect with Marcia, but it's her efforts to send Lily and her sister frequent updates on Marcia's daily activities that helps the family stay close.
Keeping Connected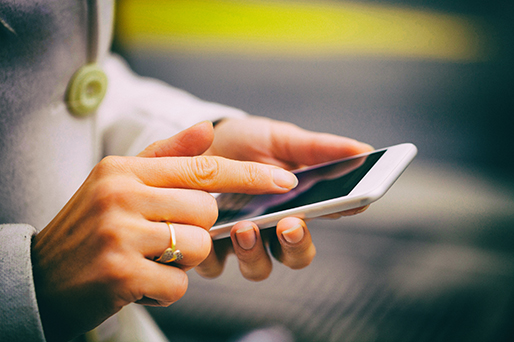 Thanks to Bridget, Lily and her sister now have greater insight into their mother's condition and activities. Whereas past caregivers communicated little, "Bridget updates us with pictures and texts. It puts us at ease and lets us know that she's being cared for." Updates can cover everything from dental visits to just-for-fun pictures. "Bridget will send us pictures of mom wearing silly hats and playing games," says Lily. "My mom can be very silly—she taught kindergarten—and that lets us know she's happy." Bridget ensures communication flows both ways, sharing the daughters' responses with Marcia. "She may not understand everything but it's important for her to feel connected and involved," says Bridget. "She wants to know things, like who called, even if she doesn't understand."
A Lifelong Learner
Bridget also communicates when Marcia has special needs. For instance, Marcia has loved to sing since she was a young girl in school plays and the church choir. When Bridget learned this, she advised Lily and her sister to buy a boombox. She uses it to play some of Marcia's favorite music—from Gershwin to the Beatles—and engages Marcia in sing-alongs. Music isn't Marcia's only lifelong passion. She loves children and taught kindergarten for 30 years. To engage this passion, Bridget has set up an "activities table." Similar to what you might find in an elementary school classroom, this table houses activities that nourish Marcia's cognitive and creative skills. This includes coloring books, connect-the-dots, stamps, and stickers. "Routine is very important for people with Alzheimer's disease," says Bridget. With this in mind, she makes sure that the activities table and music are fixtures in Marcia's schedule. She's also instituted daily exercise with an exercise peddler and simple games of catch. "She sits in her wheelchair and we toss a ball back and forth," explains Bridget. "That's her favorite thing; she'll giggle and laugh."
A Thing of Beauty
Exercise helps Marcia to feel and look her best. "My mom loves to feel beautiful and she looks better now than she did three years ago," says Lily. That's also thanks in part to the steps Bridget takes every day to beautify Marcia, such as taking her to get her nails and hair done, keeping regular dental appointments, and dressing her in stylish outfits. Lily and her sister are able to see the changes thanks to Bridget's regular updates as well as the visits they make every other month. "When we come to visit, we don't see this ragged woman whose hair is a mess, wearing an old housecoat," says Lily. "We see a woman whose hair is nicely done in a nice little pantsuit with her nails done and a smile on her face." The changes aren't just cosmetic, however. Lily says, "Mom laughs with us, she didn't laugh three years ago." Lily and her sister, in turn, feel more peace of mind. "The last couple years, as long as Bridget's been there, I don't get that knot in my stomach," she says. *All names have been changed to protect anonymity.