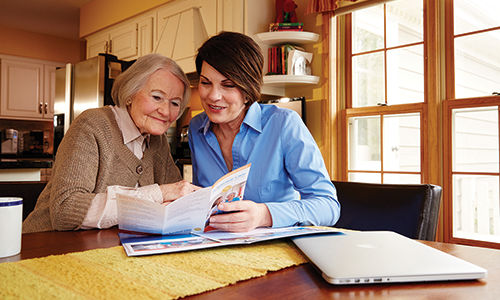 November is observed as National Family Caregivers Month. The Caregiver Action Network (CAN) coordinates National Family Caregivers Month each November as a time to thank, support, educate, and empower family caregivers.
According to "Caregiving in the U.S. 2015" from the National Alliance for Caregiving and AARP, nearly 40 million Americans provide unpaid care for a chronically ill, disabled or aged family member or friend. While the typical family caregiver is a 49-year-old woman who takes care of a relative, caregivers on the whole are becoming as diverse as the American population. Nearly a quarter of America's caregivers are millennials between the ages of 18 and 34 and are equally likely to be male or female. The majority of caregivers are female (60%). Nearly 1 in 10 caregivers is 75 years of age or older.
Respite Care
Every caregiver needs respite and relief. There are a variety of support systems available in most communities. Many caregivers may also find it helpful to share the responsibility with other members of the family. Have a family pow-wow to create a game plan and write out a schedule. Be sure to take into consideration that different people have different capacities.
Dividing responsibilities associated with caring for a loved one can be beneficial in a number of ways-giving the person receiving care an opportunity to spend time with loved ones, allowing family members to contribute in a way that they are comfortable with (i.e. a grandchild who is an accountant can be responsible for her grandpa's finances), but most importantly in giving caregivers a necessary break that all parties involved will appreciate.
Some Answers for the Family Caregiver Who Is Spread Thin
Are you or is someone you know one of the more than 50 million Americans providing care for a loved one? If so, then you might also fall into the "sandwich generation," those family caregivers who are "sandwiched" between taking care of an aging parent while still raising their own children.
Feelings of powerlessness and guilt are prevalent in family caregivers — for repeatedly having to "choose" one family need over another, for feeling that no choice can ever be the "right" one, and even for feeling they have no choice at all. Here are 9 tips for family caregivers from the Caregiver Action Network:
Remember to be good to yourself. Love, honor, and value yourself. You're doing a very hard job, and you deserve some quality time, just for you.
Watch out for signs of depression, and don't delay in getting professional help when you need it.
When people offer to help, accept the offer and suggest specific things that they can do.
Educate yourself about your loved one's condition. Information is empowering.
There's a difference between caring and doing. Be open to technologies and ideas that promote your loved one's independence.
Trust your instincts. Most of the time they'll lead you in the right direction.
Grieve for your losses, and then allow yourself to dream new dreams.
Stand up for your rights as a caregiver and a citizen.
Seek support from other caregivers. There is great strength in knowing you are not alone.
Helpful Caregiver Resources
Family Caregiver Alliance, founded in 1977, was the first community-based nonprofit organization in the U.S. created to address the needs of caregivers. FCA and its National Center on Caregiving are nationally and internationally recognized for pioneering programs—information, education, research and advocacy—that support and sustain the important work of families and friends caring for loved ones with chronic, disabling health conditions.
The Caregiver Action Network is the nation's leading family caregiver organization working to improve the quality of life for the more than 90 million Americans who care for loved ones with chronic conditions, disabilities, disease, or the frailties of old age.
National Alliance for Caregiving
Established in 1996, the National Alliance for Caregiving is a non-profit coalition of national organizations focusing on advancing family caregiving through research, innovation, and advocacy. The Alliance conducts research, does policy analysis, develops national best-practice programs, and works to increase public awareness of family caregiving issues.
The mission of the ARCH (Access to Respite Care and Help) National Respite Network and Resource Center is to assist and promote the development of quality respite and crisis care programs; to help families locate respite and crisis care services in their communities; and to serve as a strong voice for respite in all forums.
American Association of Caregiving Youth
The American Association of Caregiving Youth (AACY®) is the only organization of its kind in the United States for addressing the issues surrounding the silent, vulnerable and hidden population, conservatively estimated to exceed 1.4 million children, who provide care for family members who are unable to manage life independently.
Resources