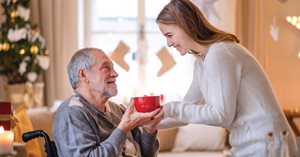 Thoughts of the holiday season may have you dreaming of sugar plums and family gatherings for Thanksgiving, Christmas, Hanukkah, or Kwanzaa. But what about navigating holidays throughout the year, like the 4
th
of July, when spousal and family caregivers provide care at home and watch everyone else join in the festivities? You may be surprised to learn that many caregivers experience stress, loneliness, and isolation year-round that increases on holidays.
Gaining insights into why the holidays may be difficult for all family members can make get-togethers more enjoyable with a few special accommodations. The ten tips below highlight the importance of family flexibility and caregiver support on holidays and throughout the year.
Navigating Holidays—Who and What Are the Holidays Really About?
Navigating the holidays is about time with loved ones celebrating life, love, and family in different ways when a spouse or aging parent needs care. Children living far away may not recognize changes in daily activities, mobility, and health until a holiday visit calls attention to a parent's struggles.
It is common for the primary caregiver, who may be one of your parents caring for the other or an adult child caring for a parent, to feel isolated and alone when family members may not recognize or seem to appreciate their efforts. How often do you thank your brother or sister for everything they do for mom or dad? Have you considered stopping by and giving mom or dad a few hours off from their caregiving duties?
Without the caregiver's support, many loved ones would not be able to continue living in their homes. Family members considering holiday visits and gifts are encouraged to be open-minded and flexible. Traditional gifts may be less valuable than paying for the services of an in-home caregiver, housekeeper, yard work, home repairs, respite for the caregiver, or other more practical items.
Each Family Member Has Different Holiday Memories and Expectations
For your parent, who may be the caregiver or for a sibling, family members' out-of-sight, out-of-mind lack of involvement can result in feeling isolated. Then, suddenly, the holidays arrive. Siblings and other family members want to show up and be attentive to a loved one, not realizing the additional burden their visit places on the family caregiver.
For the caregiver, thoughts of celebrating holidays with family or remaining alone may be equally unappealing. Family members who visit may not realize the effect of interrupting daily care routines, including meal times, medications, time for rest, and other activities. When visiting, ask how you can help the caregiver. While you are a guest, your family member who needs care remains the priority.
While the expectation is that family gatherings are picture-perfect, time together may be filled with memories of holidays past. Mom or dad may yearn for their spouse. Adult children might grieve the loss of a parent or other family members.
The rush to visit both sets of parents in a single day can be pressure-filled for couples with young children who also have care needs. In addition, siblings may have expectations of delightful gatherings interrupted by worry-filled discussions of how quickly mom and dad are declining and how to help.
During the holidays and all times of the year, hiring an in-home care agency offers family caregivers support with routine daily activities that are time-consuming. For example, in-home caregivers can assist with meal preparation, light housekeeping, errands, medication reminding, bathing, and other activities, including holiday preparations.
Be Flexible to Create a Holiday Celebration Everyone Can Enjoy
If you or your family are planning a holiday get-together, consider pre-holiday planning activities, the effects of a change in routine for a spouse or parent, and support for the family caregiver. While families may want to carry on long-lasting traditions, it is essential to celebrate in sensitive and practical ways to support the primary caregiver and a loved one's daily routine and healthcare needs.
Consider These Ten Tips for Navigating Holidays:
Give the primary family caregiver the day off if you are celebrating in the family home. Bring or make the holiday meal and clean up the kitchen and house afterward.
If you are the primary caregiver and there is no family to visit, order a holiday meal for pick-up or delivery along with your favorite dessert. Plan a pleasant activity like watching a movie or something that you and the person you care for will enjoy.
Schedule a day before the holidays to decorate and plan. An in-home caregiver may be the perfect solution to provide support for decorating, shopping, and pre-holiday planning tasks.
If you are a family member not involved in caregiving, consider gifting ongoing in-home care services to support a loved one with meals, shopping or errands, light housekeeping, personal care, medication reminders, and more. Your support will benefit your loved ones, and the family caregiver.
If adult children and spouses visit both families, schedule holiday visits on different days or separate times of the day, allowing for downtime in-between visits.
What time of day are mom and dad at their best? For example, is a noon meal preferable instead of waiting until 5 p.m. when a parent may be tired or sundowning?
Alternatively, ease holiday stress by scheduling a family gathering around dessert instead of all of the effort involved with making a big meal and cleaning up.
Designate an extra bedroom or room for nap-time or play for young children separately from aging parents who may experience stress or behaviors resulting from too much noise and excitement.
Avoid family discussions or interventions about the care needs of aging loved ones. Instead, schedule a meeting outside of the home to discuss investigating options to support loved ones and family caregivers.
Make memories that will last by scheduling a photographer to take family and individual photos. Record videos, share family recipes, tell stories, and create new traditions.
If you are a family caregiver, celebrate the holiday on any day you choose. Work with an in-home care agency to schedule an in-home caregiver visit so that you can plan a day out each week to run errands or treat yourself.
Socializing with friends is essential for caregiver well-being. Find a reason to celebrate each month—especially every November for National Family Caregivers Month.
Family and friends can offer support on the holidays and throughout the year for loved ones and the primary caregiver. For example, consider gifting regular in-home care services, housekeeper, or yard service for a loved one and an occasional treat for the family caregiver like a massage.
Learn how BrightStar Care's independently owned and operated agencies
can provide in-home care services to support family members caring for a spouse, aging parents, grandparents, and others.
About Pamela D. Wilson
PAMELA D WILSON
MS, BS/BA, NCG, CSA is a national caregiving expert, author, advocate, and speaker educating family caregivers, older adults, professionals, groups, and corporations. Since 1999, Pamela has been an entrepreneur and business owner providing direct service: in-home care, care management, and legal and financial appointments. In addition, she consults about elder care, care navigation, caregiving services, and caregiver support programs with families, health and care providers, attorneys, and financial planners.
©2021 Pamela D Wilson, All Rights Reserved.