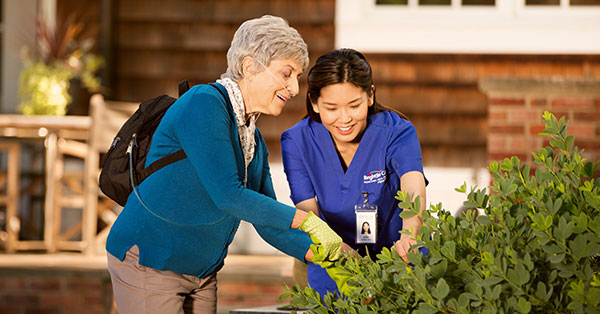 Many seniors on oxygen therapy tote their oxygen devices everywhere they go, whether that is around the house or out and about while running errands. The devices help clients breathe better when they can't get enough oxygen on their own due to conditions, such as:
Asthma
Chronic pulmonary disease (COPD)
Heart failure
Lung disease
Pneumonia
Respiratory system trauma
Caregivers and seniors must be mindful of certain safety precautions when it comes to using oxygen in the home and while on the go. Consider these five oxygen safety tips to prevent fires and other oxygen-related accidents in your loved one's home.
Home Oxygen Safety Tips
1. Note the hazards in your loved one's home
Making a note of all of the hazards around your loved one's home as related to their use of oxygen is an important step to ensure their safety. Some oxygen equipment may have long, winding tubing that could cause your loved one to trip and fall. Other hazards might include rooms in which there are fireplaces or gas stoves (oxygen is highly flammable), areas where people might smoke or burn candles, and areas where oxygen machine tubing might get caught and cause your loved one to fall down. It's not always possible to completely eliminate potentially hazardous items or situations from their home, but taking the time to explain the risks to your loved one can go a long way in preventing fires or accidents that can be life threatening. A BrightStar Care nurse can provide additional education about oxygen safety at home.

2. Post a reminder note on the front door
Oxygen is a flammable gas which could lead to serious accidents, such as explosions or fires, when near candles, matches, cigarettes, or fireplaces. This increases the risk for burns and your loved one's home catching on fire. It is important to remind everyone entering the home that someone in the house is using oxygen and that they should not light matches, refrain from smoking while oxygen is in use, and carefully step around any loose tubing connected to the oxygen equipment. Your BrightStar Care nurse can provide a simple sign to place on your loved one's front door.

3. Make sure the oxygen device is doing its job
It's important to periodically evaluate the effectiveness of a senior's oxygen device. We measure it by using a pulse oximeter – a small device that looks like a clamp that, when placed on the tip of the forefinger, reads the oxygen level circulating throughout the body. If your loved one's oxygen is not at the proper level, it could mean they have serious breathing problems and their blood isn't getting enough oxygen. It may also mean that the equipment is not functioning properly or that the prescription for your oxygen dose needs to be changed. This can result in confusion, increased fatigue, respiratory failure, heart failure, and other health conditions. A BrightStar Care nurse can show you how to use a pulse oximeter at home.

4. Keep your oxygen equipment clean
Portions of the tubing used for some oxygen devices may go into your loved one's nose or mouth, so it's important to keep the equipment clean. Make sure to wash all the pieces regularly according to your doctor's or nurse's instructions to reduce the risk of infection. If parts of the oxygen equipment look damaged, contact the oxygen equipment supplier for replacement parts.

5. Prepare for emergencies
You never know what tomorrow might bring, from poor weather to a power outage. Thus, people utilizing oxygen should have an emergency supply of oxygen and spare parts in case of an emergency. Our nurses help clients and families create emergency plans for situations like severe weather events, and we document every client's medical needs should a disaster strike.
Traveling with oxygen
Today's oxygen devices have many features that make traveling easy, such as external battery packs. Your loved one's oxygen supply company will explain how to use external batteries upon ordering them. These devices are great, but be mindful of how long the batteries last. Ask the oxygen supplier for their battery life recommendation if you're unsure.

Oxygen therapy can help your loved one enjoy a higher quality of life with a few simple precautions. Use these tips to stay ahead of the risk and help your loved one stay active.

BrightStar Care follows the National Patient Safety Goals of The Joint Commission, including specific protocols and documentation around oxygen safety. If you would like help to keep a loved one safe while on oxygen therapy, talk to your BrightStar Care nurse about your options. Call 866-618-7827 or contact a BrightStar Care® home care agency near you to learn more.