BrightStar Care is honored to celebrate the best of the best Caregivers, Certified Nursing Assistants (CNAs), and Home Health Aids (HHAs) in home care. Our Caregiver of the Year program singles out those who have demonstrated an inspiring level of compassion and dedication as they provide a higher standard of care to clients across the country.

Each year, we review hundreds of compelling and touching stories submitted by our clients and their families. It is a challenging and inspiring process to narrow the nominations down to four individuals.
This year's regional winners have demonstrated a commitment to their clients that goes well beyond providing care or doing a job. Little things matter – and these caregivers do the little things every day.

Sometimes it's helping a client return to his favorite chair or knowing what her favorite TV show is – their dedication shows in the details. But they also work to help improve quality of life for their clients in significant ways - whether it is helping someone stand on his own two feet again after a surgery or creating a routine for a client that helps an entire family. These four caregivers epitomize the BrightStar Care promise to deliver A Higher Standard of Care.
2019 Midwest Region Caregiver of the Year | Esther Tabberer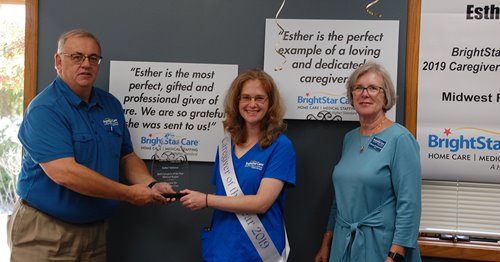 From creating an accessible garden, to simply chatting about her client's favorite things, Esther has helped enrich his life. She has encouraged him to engage in activities and helped him overcome daily life challenges through her can-do attitude. "She has become dad's most loved caregiver. I know this because in his moments of confusion or distress he calls for Esther," says Joanne P., daughter of the client. "She is truly the most perfect, gifted, and professional giver of care." Read the complete nomination letter that earned Esther this award.
2019 Southeast Region Caregiver of the Year | Sara Murray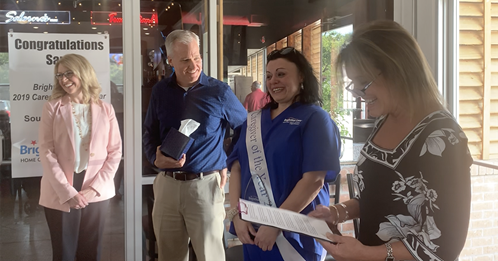 Sara embraces her caregiver role with an infectious, joyous spirit. Sara's approach has helped her client Ms. Shirley enjoy life. Whether they are going to the store to do some shopping, attending an event, or just trying on some new clothes, Sara's inspiring care has made her an essential part of the family. "Her patience and kindness have been overwhelming. Sara has told me during our conversations, 'I love your mother; it is my joy to help her,'" says Kelly J., Ms. Shirley's daughter. "I cannot begin to explain how reassuring those words are to hear. It is the true meaning of compassion to hear from her caregiver, 'I love your mother.'" Read the complete nomination letter that earned Sara this award.
2019 Northeast Region Caregiver of the Year | Heather Bailey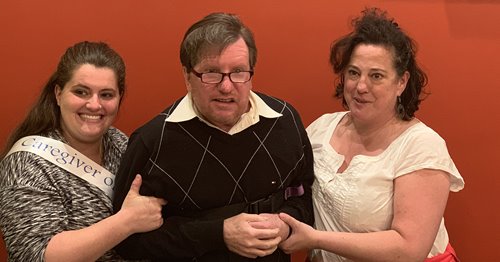 After a difficult surgery and recovery, Heather helped her client stand on his own two feet again – literally. Under her guidance, her client stood again for the first time. It was all part of Heather's mission to bring a sense of normalcy back to his life. She also made an impact on the little things, like helping him return to his favorite chair in the family room to watch TV and resume his honorary title of "Mayor of the Neighborhood" from his front porch. "These little milestones are tremendous markers during what has been an incredibly difficult journey," says Rose, wife of the client. "My husband was told at various times that he would die, that he would be in a persistent vegetative state, or that he would be relegated to long-term care for the rest of his life. Not only is he alive, he is thriving and getting stronger every day! Heather has made this possible." Read the complete nomination letter that earned Heather the award.

2019 West Region Caregiver of the Year | Ann Okahara

"Good morning, Tony!" Ann Okahara's simple, happy start to the day means much more to her client's family than a simple greeting. It signifies a change in Tony's life – one marked by routines, structure, compassion, and patience. It's a change that has reverberated throughout the family. "Six years ago, I felt guilty that my parents had to hire 'strangers' to provide care for my father," says Tony's daughter, Lilian K. "Today, the only slight guilt I feel is that Ann is taking better care of my father than I am! Thanks to Ann and everything that she does—always with a big genuine smile on her face—I am a better daughter, a better mother, a better wife, a better person." Read excerpts from five nomination letters that earned Ann the award.