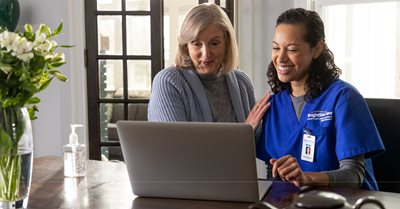 Humans are social creatures who crave companionship, seek out personal connections, and find solace in shared experiences. The coronavirus pandemic began more than a year ago, and left many seniors isolated due to safety concerns. During this time of limited social exposure, it's normal for feelings of loneliness to emerge.
Social distancing has been particularly hard on already-homebound seniors, who have received fewer visits and had less opportunity to venture into the community—not because of neglect but out of fear for their safety. While the country is moving in the right direction, the pandemic has reinforced the importance of finding new ways to connect virtually. It's not the same as face-to-face contact, but technology can still provide social benefits and improve mental health.
Phone Calls
If your senior loved one is tech-averse, a good old-fashioned phone call is a great place to start. If your loved one doesn't already have a cell phone, there are plenty of easy-to-use smartphones for seniors out there. The trick is to initiate the call yourself. Many seniors don't want to be a burden, so picking up the phone, even for a five-minute conversation, can lighten your loved one's mental load and provide a much-needed social outlet.
Text Messages and Emails
Sometimes a quick "I love you" text goes a long way. Show your senior family member how to text if they don't already know how. Emails are also a useful way to spread joy. Consider starting a monthly family newsletter to let everyone know what you've been up to, share interesting news stories or funny memes, and send family photos.
Video Chats
Video chatting has revolutionized the way we communicate virtually. It's the next best thing to in-person interactions, making it a must for seniors to learn how to use. First, find a good tablet or laptop for seniors to provide your loved one with a large, portable screen for chatting. Then, pick a platform, such as
FaceTime
(for iOS devices),
Zoom
,
Skype
, or
Google Hangouts
. Teach your loved one how to use the platform, and you'll open up a range of ways to stay connected. If your loved one has in-home help, their caregiver can often facilitate video chats if technology is a challenge.
If your schedule allows, pick a time to video chat with your senior loved one once a week, giving them something to look forward to if they start feeling lonely. Your visits don't have to be a sit-down conversation. You may arrange to cook the same meal "together," enjoy a cup of coffee while sitting on your respective balconies, or pray with one another before bed.
Once your senior loved one is comfortable receiving video calls, consider setting up a virtual reunion where multiple family members join the chat all at once. You may even arrange this as a surprise for your loved one so you can relish the look of joy that spreads across their face when they see so many familiar faces on their phone, tablet, or computer screen.
Social Media
About seven out of 10 Americans are on
Facebook
, and seniors are the fastest-growing segment on the platform.
Instagram
, a photo and video-sharing social network, is another option. Help your senior loved one set up an account and connect with family members who are already on social media. You can also explain how to post updates of their own, find local and online events, join groups, and more.
Marco Polo
This messaging app is like having a video walkie-talkie.
Marco Polo
is a great way for seniors to connect with busy family members because it allows users to send high-quality videos of themselves or something they're doing, and the recipients can respond at their leisure. The app comes in a free version, but a paid subscription unlocks more features.
Virtual Story Time with Grandkids
Readeo
is an app that lets your senior loved one have virtual story time with the grandkids. The platform has over 150 children's books to choose from, which can be read together through the integrated BookChat. Guest memberships are limited to the book of the month, while members pay $9.99 per month for full library access and unlimited chatting.
Virtual Movie Nights
Do you miss getting together for movie nights with your loved ones? Hold a virtual watch party! Amazon Prime members can pull up a movie on their computer and click
Watch Party
to stream with up to 100 friends at once.
Teleparty
is another option. Simply install the free Chrome browser extension to sync the video you and your loved ones are watching on Netflix, Disney+, Hulu, or HBO.
Letters
Letter writing isn't exactly the latest technology, but that's why it may appeal so much to your senior loved ones. Stock up on stationery, envelopes, and stamps—buy some for your family members as well—and become pen pals! Consider having children in the family draw special pictures to include in your letters as well. This is a great way for multigenerational families to bond. Plus, there's something special about receiving a handwritten letter in the mail.
Special Deliveries
Letters aren't the only thing you can have delivered to your loved one's door. Surprise them with a bouquet of flowers, a care package of their favorite goodies, or a delicious meal from a local restaurant. Small gestures like this can make your family member's day, no matter how far away you live.
Home Care Services
With so many opportunities to connect virtually, it's clear that being physically distant doesn't have to stop you from bonding with your senior loved ones. Still, you may have concerns about their daily health and safety that you can't attend to from afar. That's where
home care services
come in. At BrightStar Care we follow national patient safety goals and CDC guidelines to ensure we can care for your loved one safely in their home.
Our nurses, CNAs, and caregivers believe that caring is more than just a job—it's a way of life. We offer the most professional, compassionate care available in the comforting, familiar surroundings of home. With a full range of in-home services to choose from, we're sure to meet your loved one's changing needs. 
Contact us online
or call 
866-618-7827
 to learn more about how we can help.