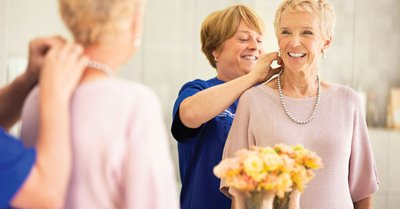 If you or your loved one have long-term care (LTC) insurance, it can help to re-familiarize yourself with your policy before you file a claim to pay for home care services.

The basics of long-term care insurance.
Each long-term care (LTC) policy is different, but generally they all require that the insured meets specific criteria in order to begin receiving benefits in the home or other setting. For example, you may be eligible for benefits if:
You have a cognitive impairment or need help with two or more of these Activities of Daily Living: eating, dressing, bathing, toileting, getting in and out of a bed or chair, and bladder or bowel control. A care manager or nurse from your insurance company typically assesses the need and determines your eligibility.
You are past the "elimination period," which is like other insurance deductibles except it's measured in days instead of dollars. Whether your elimination period is 30, 60 or 90 days, you must cover the cost of any services for this time before your insurance company starts to pay.
Before filing a claim, understand the details.
Carefully review your policy or ask your LTC insurance provider:
How many Activities of Daily Living do I need to require help with before I qualify? Does requiring help due to a dementia diagnosis count?
What is my elimination period? Is it calendar days or days of paid care that may be stretched out over several months? Are there a minimum number of hours per day I need to pay for in order for it to count as a day of care?
Are a physician's orders needed to qualify?
What is my daily, weekly or monthly maximum? Do I have an inflation clause?
Can I stop paying premiums once I activate the policy?
If I stop needing care or am hospitalized, does the elimination period start over?
To learn more about how you can leverage your long-term care policy for home care services, contact BrightStar Care of Fairfax today.