As the demand for home care services continues to rise, ensuring that these services are held to a high standard has become more critical than ever. This is where accreditation comes in. Accreditation is the process by which a home care agency is evaluated against established quality and safety standards by an independent organization. Achieving accreditation shows that the agency is committed to providing the best possible care to its patients. It also assures patients and their families that the agency is accountable and trustworthy. In short, accreditation plays a critical role in maintaining the high standards that are necessary for the field of home care.

Benefits of Accreditation for Home Care Entities
Accreditation demonstrates that a home care entity has met specific quality standards. The benefits of accreditation for home care entities are numerous. Firstly, it helps to enhance the entity's credibility by showing that it has met established industry standards. Accredited entities can also attract more clients seeking high-quality care from reputable providers. Accreditation can also increase staff morale by providing a clear framework for best practices and promoting a culture of continuous improvement. Furthermore, accreditation can be used as a marketing tool to differentiate the entity from its competitors. Overall, accreditation can bring many benefits to home care entities, ultimately leading to better patient care and outcomes.
Choosing an accredited home care provider is essential to ensuring your loved one receives safe, effective, high-quality care. Accreditation is a process by which a home care provider is evaluated against certain quality and safety standards by an independent accrediting body. This process involves a rigorous evaluation of the provider's practices, policies, and procedures to ensure they meet or exceed the established standards. By choosing an accredited home care provider, you can be confident that your loved one is receiving care tailored to their needs, delivered by qualified and competent caregivers, and designed to promote their health, safety, and well-being.

Understanding Accreditation Standards and What They Mean
As the landscape of higher education continues to evolve, understanding accreditation standards and what they mean is crucial for institutions and students. Accreditation is a process by which independent, third-party organizations evaluate the quality and integrity of educational programs and institutions. It measures accountability and helps ensure students receive a high-quality education. However, navigating the world of accreditation can take time and effort. By understanding the standards that institutions must meet and the various accrediting bodies involved, students and institutions can make informed decisions about their education and ensure that they meet the highest standards of excellence.
How Accreditation Improves the Quality of Home Care Services
Accreditation has become crucial in the search for quality home care services. By earning accreditation, home care providers signify that they have met a high standard of excellence in providing care to their clients. This assures clients that their chosen provider has the resources and expertise to deliver safe, high-quality care. Accreditation also allows providers to evaluate and improve their services, benefiting their patients continually. In addition, with accreditation, home care providers can build trust and reputation and elevate their professionalism in the industry. Overall, accreditation plays a vital role in ensuring a higher standard of care for patients and their families.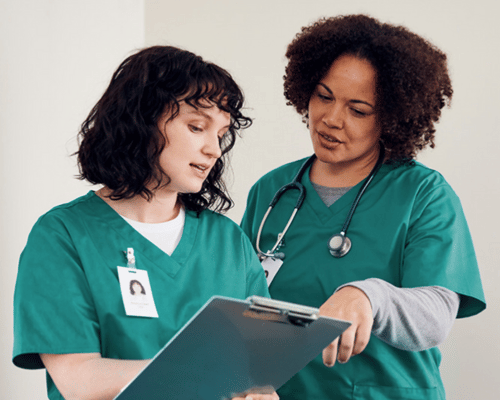 BrightStar Care of Howard's Accreditation
BrightStar Care of Howard is one of the home care programs part of the Joint Commission Home Care Accreditation Program. This program is designed to ensure that home care providers meet and exceed specific standards of quality and safety. Accreditation by the Joint Commission is a rigorous process that involves an on-site survey by expert surveyors who evaluate the provider's performance across a range of areas, including patient care, medication management, infection prevention and control, and staff qualifications and training.
What is the Joint Commission Home Accreditation Program?
The Joint Commission accreditation process is designed to evaluate home care providers on several critical factors, including patient-centeredness, communication, medication safety, infection prevention and control, and leadership. By meeting these standards, BrightStar Care of Howard demonstrates our commitment to providing safe, effective, and compassionate care to all our patients.
As a Joint Commission-accredited home care provider, BrightStar Care of Howard is committed to delivering the highest quality care to patients and families. This accreditation demonstrates our dedication to quality, safety, and ongoing efforts to improve patient outcomes and experiences.
In addition to meeting Joint Commission accreditation standards, BrightStar Care of Howard also adheres to rigorous internal quality and safety standards. Our caregivers undergo extensive training and background checks to ensure they are qualified and competent to provide the highest level of care to our patients.
At BrightStar Care of Howard, we understand that choosing a home care provider can be a challenging and emotional. That's why we're committed to providing families with the peace of mind that comes with knowing their loved ones are receiving the best care. As a Joint Commission-accredited home care provider, we're dedicated to meeting and exceeding the highest quality and safety standards. We're proud to be a trusted partner in the care of our patients.
Contact BrightStar Care of Howard Today!
BrightStar Care provides a team of professionals ready to care for you and your loved ones. We understand the challenges faced by caregivers and are committed to providing compassionate care that meets the needs of those we serve. If you would like more information about our services, please visit our website or call us today.
If you have questions regarding our services in
Howard County, MD
, or want to book a free home visit, please contact us at
410-910-9425
. Our
website
also includes a contact form that you can use to get in touch with us. Our address is located at
7060 Oakland Mills Rd Suite P, Columbia, MD 21046, United States
. It will be a pleasure to meet you and your family, and we look forward to providing you with the care and support you need.