Our furry friends have been with us for about 14,000 years. Every year we have some National Days we celebrate "Human's best friend". Today, on August 26
th
, 2020 we focus on National Dog Day. We also have one in May National Purebred Dog Day ®, which celebrates the heritage, diversity and predictability of the purebred dog. Each breed is a living legacy of the culture that created it for a reason, each breed indelibly etched in that culture's history just as surely as its music, art, and language.
Some of our staff at BrightStar Care of Chicago and La Grange own dogs. So, we thought it was a great day to share their furry friends' photos as some of them own dogs now and have for many years. We also are including below some information about how owning a dog could help you live longer.
How Owning a Dog Could Help You Live Longer
If you have a canine family member, you probably already know they're good for you. There's something about that wiggly tail and goofy doggy smile that instantly boosts your mood. And, when you're feeling stressed, spending some snuggle time with your poochy pal can make you calmer. But, the news about the health benefits of dogs just got even better! So good, in fact, that you might want to consider helping your senior parent to adopt a furry friend.
Research Shows Dogs Lead to Longer Lives
A new study conducted by researchers at the Uppsala University in Sweden suggests that owning a dog could lead to a longer life span. Researchers followed 3.4 million people for 12 years. The participants were all middle-aged and older, and none of them had heart disease when the study began. At the end of the study, researchers determined that people who lived alone and owned a dog had an 11 percent lower chance of dying from heart disease and a one-third lower chance of dying from any cause than people who simply lived alone, without the benefit of a canine companion.
Our staff member, Linda Kunicki, has owned Shetland Sheepdos for many years. Her mom, Rose, lived with Linda, her husband, Len and their Shelties from 1999 to 2015. The experience helped Linda see the importance of the relationship of dogs and humans, especially as we age. The dogs kept Rose company as well as encouraging her to sit outside and play with them. (Photos of Rose with some of those dogs in 2010 and 2006)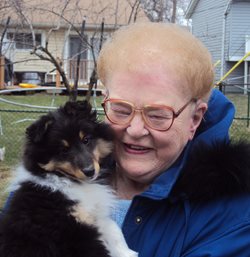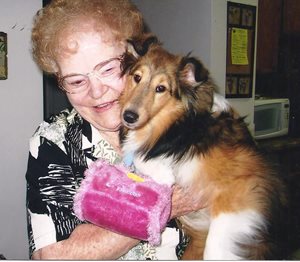 The researchers believe that there is a cause and effect relationship between dog ownership and health. They cited the following health benefits:
Dog owners are more physically active.
Better social contacts.
A feeling of well-being.
A positive effect on a person's "good" bacteria.
Dogs owned by our staff and thier families. Proud owners are Lenora Alabi, Branch Manager owns Spin and is pictured with her daughter,
Grant owned and pictured with​
Linda Kunicki, Marketing Director and Rhett owned and pictured with Elizabeth Martin, Sales Manager and her husband.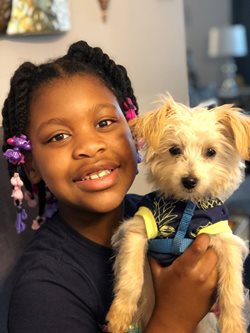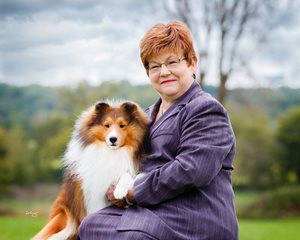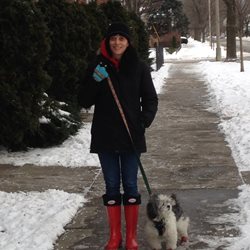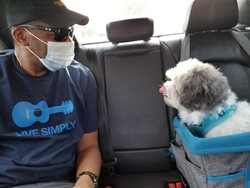 Other Health Benefits of Dog Ownership
If a longer lifespan isn't enough to convince you that your older adult family member could benefit from a dog, here are some more health benefits of dog ownership:
Easing Anxiousness in Alzheimer's Patients: People with Alzheimer's who have a pet in the home experience anxious outbursts less often than those who do not have a pet. Fewer anxious outbursts also means that family caregivers experience less stress, so the health benefits of the dog extend to both people.
Lower Blood Pressure: A study that involved stockbrokers, people with a notoriously high-pressure job, showed that those with high blood pressure who adopted a pet had lower blood pressure during stressful situations. If a dog can lower the blood pressure of a stockbroker, just think what it might do for an older adult!
Less Depression: Studies have shown that people who own a dog are not as likely to be depressed.
If you'd like to help your senior family member to adopt a dog, but worry that they may have difficulty caring for it, a senior care provider can help. Senior care providers can assist older adults to care for their pets. They can help feed and water the dog. Senior care providers can also drive the dog and its owner to the vet for checkups.
Resources for current or soon to be Dog Owners
Choosing a breed for your lifestyle and other information-
www.akc.org
National Purebred Dogs Day -
https://www.akc.org/celebrates/national-purebred-dog-day/
From Coverage.com Safety Tips and Printable Dog CPR Instruction Set, Statistical Infographic on Dogs, Resources and FAQ from Dog Behavior Expert
https://www.coverage.com/insurance/home/new-pet-owners-guide/
Sources
https://www.webmd.com/healthy-aging/news/20171117/adopting-a-dog-could-lengthen-your-life
http://www.cnn.com/2017/11/17/health/dog-owners-heart-disease-and-death/index.html
https://www.webmd.com/hypertension-high-blood-pressure/features/health-benefits-of-pets#1
https://www.helpguide.org/articles/mental-health/mood-boosting-power-of-dogs.htm
IF YOU OR AN AGING LOVED ONE ARE CONSIDERING HIRING IN-HOME CARE IN LA GRANGE, IL, PLEASE CONTACT THE CARING STAFF AT BRIGHTSTAR CARE LA GRANGE. FILL OUT THE INFO BOX OR CALL TODAY: 708-551-2500