1. Employer of Choice
We are thrilled to announce that we've received the Best of Home Care Employer of Choice Award from Home Care Pulse. Only the nation's top-ranking home care providers earn this distinction based on employee (professional caregiver) satisfaction scores gathered by Home Care Pulse — a national third-party quality and satisfaction research firm.
"We congratulate BrightStar Care of Naperville/South DuPage on earning the Best of Home Care Employer of Choice Award,"
says Aaron Marcum, CEO and founder of Home Care Pulse.
"Since this award is based on employee feedback, it shows their team's dedication to providing their employees with a great working experience, while ensuring clients have well-trained, compassionate, caregivers."
2. New Learning and Skills Lab

Whether you're fresh out of school or a seasoned Nurse we have opportunities for you to enhance your skills. We have a learning skills lab in our office that is fully equipped with everything you need to practice so that you feel comfortable when you're working out in the field. We don't throw you into the shark tank – we make sure that you're fully trained and know what to expect when you work. You also learn the different sides of home care. You can work private duty 1-on-1 cases or you can work in a facility which offers a more fast-paced environment. The choice is YOURS!
 Read more about our Internship Program and about our Mentorship Program.
3. Launch of Network for Better Caregivers (NBC)
The Network for Better Caregivers is a monthly social support group for caregivers to relax and meet others in a friendly venue and learn about resources available for caregivers. Every NBC meeting will present a new, interesting topic.
4. On-going Professional Education for Social Workers, Nurses and Case Managers
We organize events for social workers, nurses and case managers to help continue their education and receive credit hours. Each event is structured in a unique way to provide the best educational experience with interesting and relevant topics, as well as, allow for networking opportunities.
5. Enterprise Quality Award (4 years in a row)
The Joint Commission presented the 2016 Enterprise Champion for Quality Award to BrightStar Care
®
, recognizing the national home health care franchisor for its efforts to promote the delivery of high quality, in-home care to its franchisees through Joint Commission accreditation. We are proud to have received this award 4 years in a row!
6. Top 6 Reasons to Work at BrightStar

The top 6 reasons that make BrightStar the best place to work for our employees are: flexibility, experience, The Team, the incredible perks, you make a difference, and we're the Employer of Choice. (Read full blog here)
One of our CNAs shares her experience working at BrightStar Care of Naperville/Oak Brook. (Watch video)
7. CPR classes on site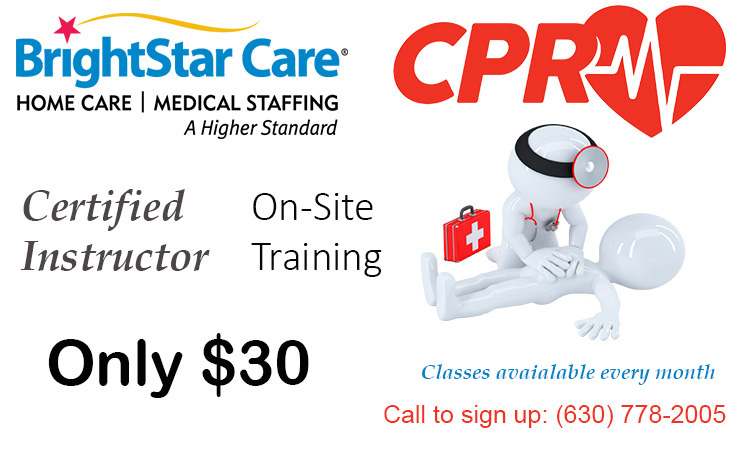 Kathy Ford, a trained CPR instructor teaches this 2 hour CPR course at our BrightStar Naperville location. Applicants receive their CPR certification cards the same day. It's quick and easy and everyone is welcome!
If you're interested in signing up for our class please call our office at (630) 778-2005 or email Emily Torres at emily.torres@brightstarcare.com
8. Google Reviews
We are very proud and thankful for the great reviews that our clients have given us on google. We strive to provide the best quality of home care and our clients surely recognize that by raving about our services. If you would like to leave us a google review please contact our office! (Read our client testimonials here)
9. Certified Dementia Training Program
Our Dementia Program provides Dementia specific case management by Registered Nurses who are specially trained in Dementia care, as well as, trained field staff who have been educated in the types of Dementia and how to provide individualized person centered care to each client. (Read full description of the program and watch a video here.)
10. Great Partnerships (REO)
The Respite Endowment Organization (REO) is a private, 501c3, not for profit service agency dedicated to providing rest opportunities and education to Parents of children with special needs. Their purpose is to support and take care of Parents with special needs children. REOrg fills the gap for families waiting years on the Illinois PUNS list (Prioritization for Urgency of Need for Services). Their program is designed to prevent neglect and abuse of children, support parents feeling stressed/depressed and supply relief for caregivers. Their focus is on rest, awareness and opportunities for breaks. REO provides the respite for the parents while we provide the care for their children.
11. Our Team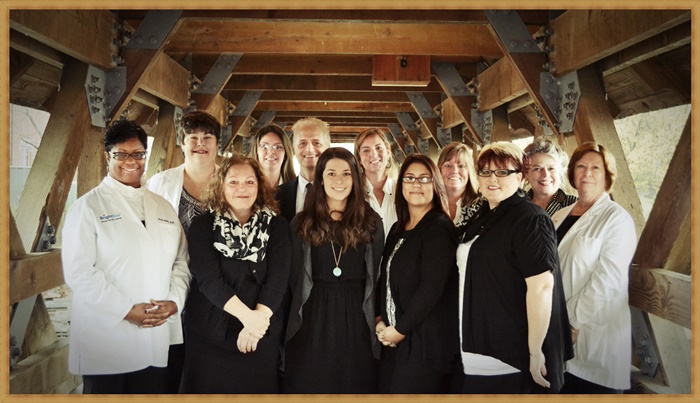 Every one of our team members plays a crucial role in the success of our company. From our office staff to our field staff, we wouldn't be BrightStar without them. Each of our employees are hard working, dedicated, and passionate individuals whose main goal is to provide the highest quality of care to our clients.
12. Employee of the Year
This year we recognized an outstanding employee, Elmire Fervil, for her incredible hard work, unshakable passion to help others, and constant dedication to give our clients the absolute highest quality of care. We are very grateful to have such an amazing employee on our team who represents our core values impeccably. Our core values guide: how we behave and how we'll deliver on our Vision and Mission.
Compassion:  Take CARE of our people, be a good neighbor in the COMMUNITY, and treat people with dignity and respect.
Integrity:  Tell the truth.
Family:  Achieve results TOGETHER, one for all and all for one, share success.
Excellence:  We ALWAYS strive for being the BEST BEST VALUE.
Trustworthy:  We are always there.  Any time.  Any place.
Accountable:  Deliver SOLUTIONS.  We do what we say.
Diversity:  Value different opinions, RESPECT differences.