It Can be Embarrassing to Discuss, So Read About Sex and Dementia Courtesy of BrightStar Care/North Suburban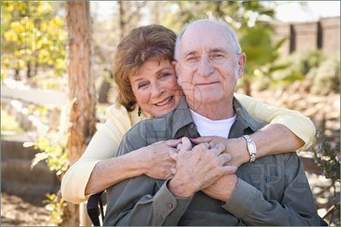 We apologize beforehand to those people who might find this article a bit too frank, but frankly at BrightStar Care/North Suburban we don't think there's too much that's taboo when it comes to addressing very important issues of aging. Sex and dementia is one of them and our intention is to provide accurate and enlightening information that not only helps relieve worry and anxiety, but promotes better understanding and a more comforting relationships between partners. By the way, d0n't be surprised; many of them can be surprising and some are a comfort to know.
Surprising News :
Dementia is not a specific
disease.
It's a term that describes a wide range of symptoms associated with a decline in memory or other thinking skills.
Surprising Facts:
Contrary to lowering drive, dementia may actually increase desire and interest in sex. Everyone reacts differently, of course. Reactions depend to a large extent on which part of the brain has been injured, plus whatever medications a person may be taking to deal with symptoms and perhaps other illnesses or conditions. According to the Alzheimer's Association , someone with dementia may or may not experience:
Increased interest in sex
Less interest, or no interest, in sex
More or less ability to perform sexually
Changes in partner consideration --being less sensitive to the other person's needs or even being overly aggressive
Differences in level of shyness and inhibitions --again increased or decreased
Surprising Comfort
: For many couples dealing with dementia and it's challenges, intimacy -- in an infinite variety of forms -- can be a way to continue connecting, feel close and find comfort. Here's something else: once partners realize they are dealing with a real life, highly recognized problem, it may ease personal guilt and strains on the relationship.
Surprising Needs for Caution and Care:
You'll need to tread lightly and be cautious about hurt feelings and hurting the relationship if:
You are a caregiver and move your bed or sleep in another room
Your own sex drive is diminished because of the need to perform intimate tasks such as bathing an individual, or helping them in the the bathroom
You're not willing to adapt to experimenting or accepting new ways of expressing intimacy. Physical intimacy can take many forms beyond what is viewed as traditional sex. Normal does not apply. Every couple has their own normal from their first day together to their last.
You're a partner and forget that someone with dementia may feel they're being touched at time by a stranger. These things are all difficult to accept and adapt to--after all, 99% of the loved ones dealing with dementia are not professional caregivers with specific expertise in these areas. That's why Brightstar Care/North-Suburban is around to help.
Not Surprising News:
At BrightStar Care/North-Suburban, we are specialists in dementia and Alzheimer's care and we invite you to
click here
and visit our website to review the wide range of neurological skills we offer.
You need support through the trials of these afflictions. We would be most pleased to help.
Contact us
on this website or call us day or night at 847-510-5750. for more information and to take advantage of our FREE CONSULTATION IN YOUR HOME Resources: Sources Alzheimer's Association: https://www.alz.org/what-is-dementia.asp