In honor of National Family Caregivers Month, BrightStar Care took a look at the most popular family caregiver activities across the country. Based on national search data from Google, crafting with seniors is popular in the Midwest region.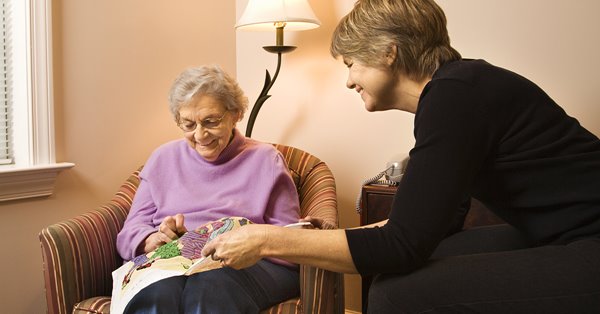 Making crafts is a fun activity to bond over, no matter how old or young you are. In the Midwest, caregivers and their loved ones spend lots of time together making memories while crafting. Concentrating on a task like arts and crafts can give a senior a sense of purpose and accomplishment. Plus, he or she can enjoy the handmade craft for years to come.

Family caregivers often strive to make life more comfortable and enjoyable for their loved ones, but it can be hard to come up with new activities to do together. To avoid caregiver burnout, do like the Midwesterners do: craft! There is no shortage of craft ideas for seniors. Discover unique and easy crafts for seniors with these ideas fromBrightStar Care.

3 Craft Ideas for Seniors
1. Knitting
Many men and women of older generations are masters in crafts like sewing and knitting. Encourage your loved one to revive this skill (and maybe even teach you a thing or two), or to learn it for the first time if they've never knitted before. Follow simple patterns for things like hats, scarves, or even a baby blanket. You and your loved one can spend lots of time working side-by-side on knitting projects to create gifts for friends and family.

2. Holiday Decorations
Help your loved one bring some holiday cheer into his or her home with festive, seasonal crafts perfect for seniors. Decorate pumpkins and gourds in autumn; if carving a pumpkin is too difficult, try painting or designing with seasonal stickers instead. During the winter holidays, make your own door wreaths using pom poms, ribbon, glitter, bells, and more. When spring comes around, decorate vases together and create an arrangement of fabric flowers that will look pretty all season. Welcome summer sunlight by painting on glass to make a colorful suncatcher.

3. Scrapbooking
Chances are, your loved one has plenty of photos of friends and family from over the years. Encourage her to relive the happy memories by making a scrapbook. Purchase the scrapbook ahead of time and arrive with scissors, stickers, and photo-safe adhesive. Come up with a theme for the book, like family vacations, holidays, or even a decade like the 1960s. Help your loved one sort through photos and display them on each page.

For even more inspiration, learn about other popular family caregiver activities by region with BrightStar Care.