If you're looking for a wonderful gift that your older adult will actually use and enjoy, we've got you covered. These gifts are thoughtful, helpful, and can improve your older adult's life – you're sure to find something they'll be thrilled to receive!
1. Keepsake photo gifts such as, scrapbooks, photo calendar, or photo blanket.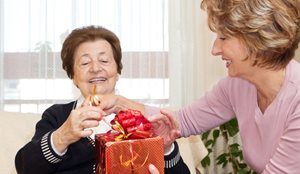 2. Entertaining and engaging gifts such as music, coloring books, or puzzles.
3. Great experience gifts such as dinner out, or trip to the salon.
4. Warm and comfy gifts like, blankets and slippers.
5. Functional gifts can make life easier. Using a wheelchair cup holder, or walker caddy can help them store while staying safe.
6. Electronics for the savvy seniors such as tablets and cell phones can keep them entertained and help them stay in touch with loved ones.
Get the perfect holiday gifts for seniors with Alzheimer's or dementia as well
We've got fun and engaging games, gifts that comfort anxiety and soothe agitation, and activities that give a sense of accomplishment.
1. Puzzles keep the mind engaged and artistic.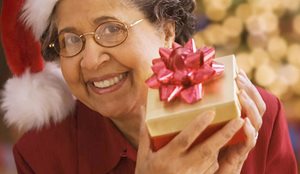 2. Small tool kits, bead sets, and blocks can be fun and give seniors a feeling of accomplishment.
3. Fidget quilts and massage balls help soothe seniors with anxiety.
4. Stuffed animals and therapy dolls help comfort seniors with dementia, while also giving them something to care for.
5. Picture books and photo albums help engage and entertain loved ones.