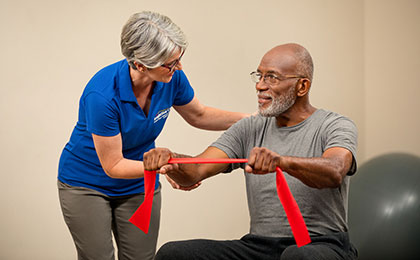 April is National Occupational Therapy Month. Occupational therapy helps people participate in the things they want and need to do through the therapeutic use of everyday activities, or occupations. Common occupational therapy interventions include helping children with disabilities to participate fully in school and social situations, helping people recovering from injury to regain skills, and providing support for seniors experiencing physical and cognitive changes. More specifically, let's take a look at seniors and how they could possibly benefit from occupational therapy.
First, an occupational therapist must evaluate the home to determine goals. Here are three common services:
An individualized evaluation. This is an initial visit where the client or family and occupational therapist determine the person's goals.
Customized intervention. This improves the person's ability to perform daily activities and reach goals.
Finally, an outcomes evaluation. This will ensure that goals are being met and possible changes are being made to the intervention plan.
Further services may include comprehensive evaluations of the client's home and other environments, such as work, school, or even social settings. Occupational therapists may give recommendations for adaptive equipment and training in its use. Also, they can provide guidance and education for family members and caregivers. These therapists employ a holistic approach, which focuses on adapting the environment to fit the person. They make the person an integral part of the therapy team.
Key Benefits of Occupational Therapy for Seniors
Occupational therapy can be a great option for seniors. According to a University of Southern California study, occupational therapy improved health and slowed aging-related declines for older adults more effectively than engagement in basic social activities. As the population of seniors continues to increase, occupational therapy can offer solutions to participation, engagement and well-being for seniors. Here are some specific benefits, according to the American Occupational Therapy Association:
1. Overcoming everyday life
Occupational therapists help seniors compensate for challenges they experience each day, such as dressing and feeding, instrumental activities like driving and home management, leisure, social participation and productive activities like volunteering and employment. The therapy intervention plan considers specific problems such as chronic pain or arthritis and develops strategies to help maintain or improve a senior's safety and well-being.
2. Educational activities
Therapists can teach seniors with vision or hearing impairments and mobility limitations ways to prevent falls, conserve energy and other compensatory techniques.
3. Environmental modifications
This includes updating an environment with a bathtub bench or grab bars. Also, therapists can make life easier with assistive devices like a one-handed cutting board for meal preparation or built-up eating utensils. These enhance comfort, safety and independence with day-to-day tasks.
4. Life transitions
This covers a wide variety of topics such as role transitions and routine changes associated with retirement, widowhood, caregiver roles and relocation. Occupational therapists can makes these changes go more smoothly with new problem-solving abilities.
5. Better health
This helps with seniors who want to "redesign" their lives in order to experience greater health-related quality of life and well-being. Therapists can also address potential barriers or fears preventing seniors from letting go and experiencing valued life activities. They provide a unique educational approach that allows seniors to look at their own occupations and adapt for optimal well-being.
6. Information and media upgrades
Therapists can make sure to provide an environment with specific media that will ensure that content and style are sensitive to age-related sensory changes and supportive of cognitive processes associated with older adult learning.
Aging in Place
Here are some helpful considerations for those who would like to safely age in place from the American Occupational Therapy Association to guide you and your loved ones to get the most out of life at any age.
If you want to be safe and independent in your home.
Think honestly about those things you are having trouble with and ask for assistance when possible. You may be able to do a "swap" with neighbors (i.e. offer to sign for packages if they work during the day in exchange for help changing light bulbs in hard-to-reach places). Hire professionals for regular cleaning and lawn care, arrange for Meals on Wheels, etc.
If you want to get to the grocery store, doctor's appointments, and social events.
If you're concerned about your driving skills, consider asking a friend or neighbor to provide a ride whenever possible; offering gas money or a service in return can make this easier. If you haven't taken public transportation in the past, you may be surprised at the number of options available. Many communities offer a free bus or van to shopping centers or even medical appointments. If you are still driving, attending a CarFit event in your community to be sure your vehicle's adjustments are best for you (www.car-fit.org). Avoid driving during rush hour, at night, on busy roads, or in inclement weather.
Click here to download a comprehensive guide to review even more tips for safely aging in place as well as information on how occupational therapy can help.
BrightStar Care provides comprehensive therapy programs, including Occupational Therapy, Physical Therapy, Speech Therapy, and active and passive Range of Motion exercises to improve mobility and develop capabilities*. All therapeutic programs are administered by certified professional therapists.
*Therapy services vary by location and may not be available at all locations.