With the exception of current masking requirements, Pennsylvania is lifting COVID-19 restrictions on Memorial Day, Monday, May 31 at 12:01 AM.  "We continue to make significant progress in the fight to stop the spread of COVID-19 and as more Pennsylvania adults get vaccinated and guidance from the CDC evolves, we can continue to move forward with our reopening efforts," ​Department of Health Acting Secretary Alison Beam said.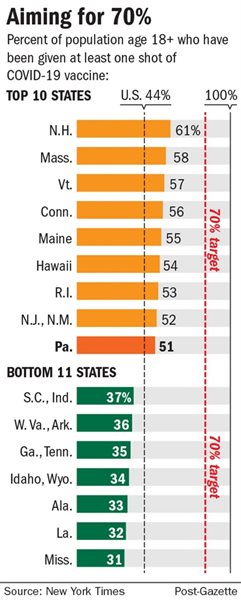 Currently, approximately 50% of Pennsylvanians aged 18 and up have been partially vaccinated with the State planning to drop the masking order once 70% of Pennsylvania adults are fully vaccinated.
What is "Fully-Vaccinated?"
In general, people are considered fully vaccinated:
2 weeks after their second dose in a 2-dose series, such as the Pfizer or Moderna vaccines, or
2 weeks after a single-dose vaccine, such as Johnson & Johnson's Janssen vaccine
CDC guidance indicates that individuals who do not meet these requirements are NOT fully vaccinated (this includes individuals whose vaccination status is unknown) and should therefore continue taking all precautions, including:
Wear a mask that covers your nose and mouth to help protect yourself and others.
Stay 6 feet apart from others who don't live with you.
Get a COVID-19 vaccine when it is available to you.
Avoid crowds and poorly ventilated indoor spaces.
Wash your hands often with soap and water. Use hand sanitizer if soap and water are not available.
Stay home if you might have been exposed to COVID-19.
CDC Guidelines are less stringent for individuals who meet the Fully Vaccinated criteria. They are outlined in their "Choosing Safer Activities" infographic, which offers activities that may be performed safely for those who have been fully vaccinated vs activities that may have a lower safety threshold or have otherwise been deemed higher risk for individuals not fully vaccinated.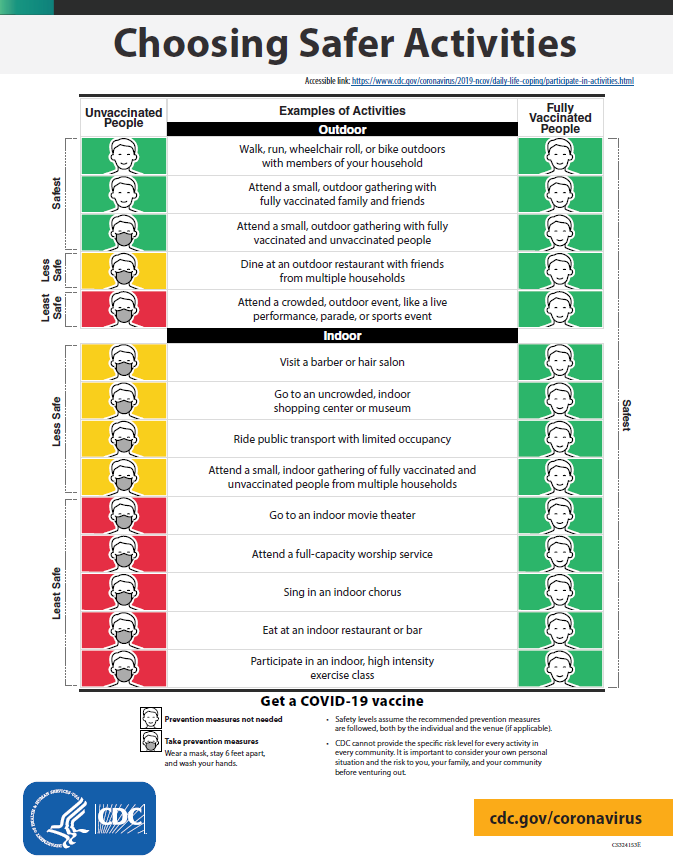 What Does that Mean for BrightStar Care of W. Montgomery Co.?
As our State monitors vaccination rates and works to restore us to normalcy, we continue to follow our BrightStar Care PPE Standards in office and in our Client's homes. For our Caregiving candidates joining us for orientation, we will provide a mask if you do not present with one, initiate a temperature check, and request that you wash your hands before being seated and prior to handling any (pre-cleaned) equipment. We will also ventilate the room (please bring a sweater if it is chilly out!) and space out participants. This applies regardless of vaccination status.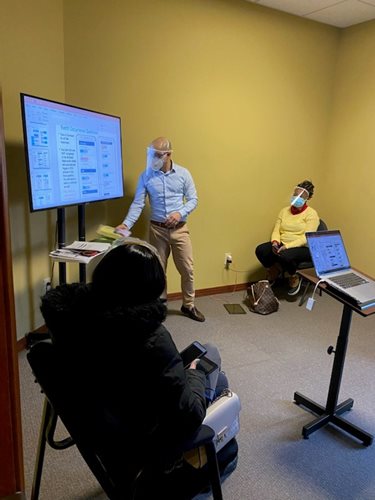 In Client homes our Caregivers continue to follow our Client
Asymptomatic vs Symptomatic
protocol.
At BrightStar Care we recognize that interim guidance surrounding COVID-19 safety rapidly changes and we are committed to abiding by CDC guidelines and sharing them. As we walk into the next chapter with State restrictions beginning to lift, we encourage our community members and families to evaluate their personal situations and make a determination if the COVID-19 vaccine is approriate for them. All Pennsylvanians ages 12 and older are eligible to receive a COVID-19 vaccine. To find a vaccine at an accessible location to you, go to
Vaccines.gov
References: