One of the most common mental health issues found in aging adults is depression. Depression continues to grow at an alarming rate, and one in ten Americans suffers from the illness. According to the National Alliance on Mental Illness (NAMI), 6.5 million of the 35 million Americans aged 65 years or older are affected by depression. If you or a loved one struggles with depression you are not alone, and you don't have to feel suffocated by this terrible condition.

Depression and the Elderly: How You Can Help
Depression is a disease that tends to be denied by the current generation of elderly people, many of whom were raised in an atmosphere where showing feelings was discouraged making a diagnosis more difficult.

Elderly patients may actively deny a depressed mood because of the perceived stigma of both depression and the need for help with psychiatric problems. So how can you help a loved one who you think is suffering from depression? Here are three tips:

1. Don't impose your terminology
'No, I am not depressed' may mean you need to listen carefully to discern what has changed in their life. For many elderly people biological issues such as low appetite or poor sleep are more acceptable as reasons to request help. Try to use these issues as a hook to discuss ideas about how to sleep better or longer or improve appetite. Don't say the words 'depression,' 'drugs,' or 'therapy' if an older adult doesn't buy into the idea that they need help.

2. Don't try to run that person's life
Caregivers should not try to do things for older people that they can do for themselves. Doing things for a depressed person is often not helpful at all because it reinforces their perception that they are worthless and incapable. Instead, help your elderly relative break tasks into steps and praise them for any efforts.

3. Try to participate in their medical care
Because of confidentiality laws, doctors can't disclose information to families without the patient's permission. Many older people will give that permission, but some won't. Asking if you can accompany the family member to the doctor, just to be a second set of eyes and ears, is a good way to get access.

Showing an interest in the life of an elderly person can help them work through depression. The life experiences of the elderly can seem to revolve around loss: loss of friends as they move or pass away, loss of physical abilities, loss of health, and loss of independence. But there are still many joys that can be experienced, and sometimes we need someone else to help us out of the darkness and back into the sun.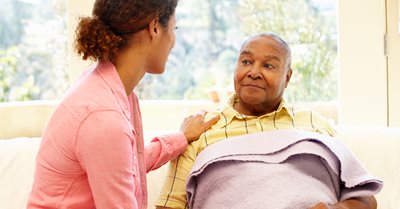 Dealing with Depression in Seniors and Boosting Activity
Detecting and assisting those who suffer from depression is extremely important. If you suspect that your aging loved one is becoming depressed, here are a few suggestions for helping them through it:

Make sure all physical needs are met
Occasionally, our loved ones are suffering more than emotional discomfort. Make sure they are comfortable in their current living situation. Is their home clean and well stocked with necessities? Are they financially stable enough to not have to worry about finances week to week? Are all their nutritional needs being met? Unhealthy diets can be a trigger for depression. Even the simple act of spending time to help them clean up or to cook meals can make a world of difference.

Increase visits
Sometimes all they need is someone to talk to. Make traditions such as Sunday visits with fresh flowers or home baked food. Make plans to play their favorite card games each week. It's possible that they might just want to sit in silence and watch television with you. The point is that they don't want to feel alone.

Ask them what would make them happy, and make it happen
Sometimes getting to the root of the issue is as simple as just asking questions. After all, they know what will make them happy. Maybe they are really missing attending religious services, or they wish they could get out more often. Encourage them to speak up about their needs and address them as best as possible.

Take them out
Being confined within a small space for an extended period of time is enough to drive anyone crazy. Think about their daily life and the variation of activities they partake in. Are they on a monotonous schedule? If you can, take them with you when you run errands or go out for lunch.

Give them responsibility
Senior citizens will often report feeling a lack of purpose. Giving them small responsibilities will help them feel valued. Each person will have their own abilities and limitations, and what you decide to let them be responsible for will vary greatly depending on the situation. If they are able to drive, ask them if they wouldn't mind driving children to extracurricular activities. Place a rescue pet in their care that they will need to feed and take care of. Keep regular physical therapy appointments and ask the doctor to make sure that they are giving them tasks to complete outside of therapy.

Care and Support for Dealing with Elderly Depression
Dealing with depression in the elderly and addressing emotional health is a critical piece of overall wellness. Families looking for help and support in dealing with depression in an elderly loved one can turn to our BrightStar Care team for help. Whether you're caring for a loved one and need some respite care or a senior in your life has advancing needs and would like to remain in their home, our team is available 24/7 to come up with a solution that is custom tailored to your loved one's needs and interests. We take extra steps to ensure your loved one gets the best care.
We match our clients to their caregivers based on your preferences and unique plan of care.
Our Registered Nurse (RN) Director of Nursing collects information about each client's personal history and interests to help guide the care plan.
Our RN Director of Nursing performs medication reviews to assess if/how certain medicines could be contributing to depression.
We provide care and services to help our clients do things they enjoy that might otherwise be difficult or impossible to do by themselves.

As part of our commitment to the utmost in clinical quality, BrightStar Care has been recognized as an Enterprise Champion for Quality by the Joint Commission, a nationally recognized mark of quality. With over 95% of our independently owned and operated BrightStar Care agencies accredited by the Joint Commission, we are committed to the highest levels of quality, support, and customer satisfaction.

If you are looking for more help and support for a loved one who might be more vulnerable to the holiday blues or even depression, contact us today to discuss your needs, questions, or concerns and find out how BrightStar Care can help.