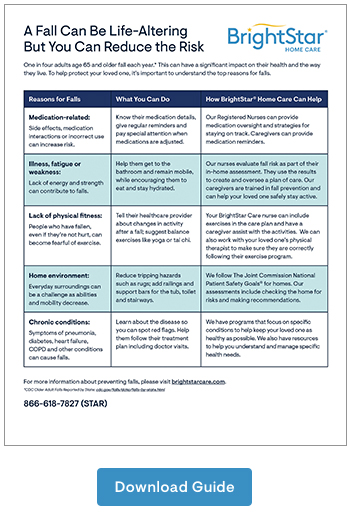 When it comes to home care, ensuring your loved one's safety and quality of life is essential. A fall in the home can have serious health consequences. Each year, one in three adults 65 and older suffer a significant fall. To reduce the likelihood of falls in the home, it's important to understand the most common causes. If you are aware of the risk factors, it is much easier to take preventative measures to help protect your loved one.
Fall causes and prevention tips
Medication-related
Side effects, interaction of different medications and incorrect use of medications all can lead to an increased risk of falling.
Prevention tip: Know their medication details, give regular reminders, and pay special attention when medications are adjusted.
Illness, fatigue or weakness
Low-energy days and fatigue can cause challenges. An overall lack of physical fitness can contribute to weakness and greatly increase the risk of an accidental fall.
Prevention tip: Be there to help them get to the bathroom, walk around and keep them active while encouraging them to eat and stay hydrated. Tell their doctor about changes in activity after a fall, and encourage balance exercises such as yoga or tai chi.
Home environment
Home surroundings can be a challenge as abilities and mobility decrease.
Prevention tip: Reduce tripping hazards such as rugs and add railings or support bars for the tub, toilet and stairways.
Chronic Conditions
Conditions such as pneumonia, diabetes, heart failure and other conditions can contribute to falls.
Prevention tip: Know the disease process so you can spot any red flags. Help them follow their treatment plan including attending doctor visits.
Fall prevention support from BrightStar Care®
BrightStar Care nurses and caregivers can provide medication oversight, assess home environments for fall hazards, and employ specific strategies to help your loved one stay as healthy and safe as possible at home. To learn more about how your loved one might benefit from our expert in-home care team, call 866-618-7827 or contact a BrightStar Care® home care agency near you.