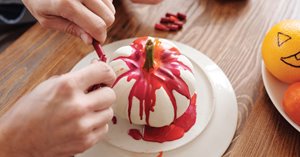 The holidays are right around the corner! When does the holiday season kick into gear for you? Some people are entirely focused on Thanksgiving, Christmas, and Hannukah, but for others, Halloween is the main event. There are plenty of Halloween party games for adults to make the holiday fun and festive.
Whether you're planning a party or just looking for a way to have some fun with an older relative or friend, we hope these ideas for Halloween party games for adults will help.
Make Creative Halloween Party Decorations
Before we even get started on Halloween games, we have to mention the ambience you'll need to make the holiday all it's meant to be. Hit the local discount or party supply store for cut-outs, spiderwebs, and garlands. This can also be a great excuse for some arts and crafts, no matter what your level of artistry or coordination may be. Here are some suggestions that can be fun for older adults.
Decorate some pumpkins. For some older people, arthritis may make carving jack-o-lanterns difficult. No worries! Paint the pumpkins or draw on them with sharpies.
Make some spooky flameless candles. Use craft glue to cover flameless candles in black lace for a spooky glow.
Create a creepy village. Spray paint simple birdhouses in a variety of shapes and sizes, using dark colors like black, purple, and gray. Arrange them in a village, adding twigs to give the effect of trees.
Fun Halloween Menu Ideas
What's a party without party foods? Whip up some caramel apples, using apples, caramels, and heavy cream, dip strawberries in white chocolate to make ghosts, or create a "graveyard" on a sheet cake, using Milano cookies as tombstones. Or, if you'd like some healthier fare, make
sweet potato jack-o-lanterns
, witches brooms made of pretzels and cheese, or some fun
Halloween deviled eggs
, complete with black olive spiders.
Plan Your Halloween Activities
There are Halloween puzzles and fun Halloween board games you can find, ranging from amusing to scary. If you'd rather make your own fun instead of purchasing a game, we've got plenty of Halloween party games to suggest. Some of these can even be modified for remote playing, if you want to include some people on zoom that can't be there in person!
Charades is a classic. Fun for every age, it's easy for charades to make it onto your list of Halloween games with just a tweak of the clues. Have people act out the titles of classic spooky films or books, or choose Halloween-themed words like spiderweb, witch, vampire, bat, spider, monster mash, full moon, and so on. Brainstorm and see how many ideas you can find!
Trivia can reveal the true Halloween lovers in your group. Readers Digest has some great suggestions for trivia questions that will make this one of the best Halloween games at your party!
Halloween bingo can be a fun intergenerational game. Just change the bingo cards to read W-I-T-C-H instead of B-I-N-G-O, and use candy corn instead of bingo chips.
Pumpkins aren't just for decoration. Play Pumpkin Bowling, where small pumpkins or gourds are used to knock down stacks of Halloween cups. Alternately, get a really large pumpkin and have your guests guess its weight. Allow them to get as up close and personal with the pumpkin as they need to, and collect the guesses at the end of the party, awarding a prize to the closest guess. If your guests are not ambulatory, consider a seated game like Hot Pumpkin, played like hot potato but with an orange bean bag standing in for the "hot pumpkin." Play music as you pass around the bean bag, and when the music stops, the person left holding the bean bag is out. Keep it going until there's only one person left and award a prize accordingly.
Try a game of balloon volleyball! Use a black sharpie to draw jack-o-lantern faces on orange balloons, then bat them back and forth, either standing or sitting.
Some of the best Halloween games for adults aren't really games at all. Hold a make-your-own costume contest, awarding prizes for the most creative costumes. If you have enough people, set up "trick-or-treat" stations for the costumed revelers to visit and collect candy. Share scary stories, seeing who can come up with the spookiest tale, or try team storytelling, in which one person begins a story and each other person adds to it. The sillier the story, the better! You can also pick a few classic scary movies and hold a Halloween movie marathon.

Find a BrightStar Care® Location Near You
Looking for in-home care services or assisted living for your loved one or a reliable medical staffing partner for your organization? Our experienced local care team members are ready to help. Find a location near you, contact us online, or call 866.618.7827 to speak with a local care expert and learn more about how BrightStar Care offers A Higher Standard®.