In honor of National Family Caregivers Month, BrightStar Care took a look at the most popular family caregiver activities across the country. Based on national search data from Google, cooking with seniors is popular in the West region.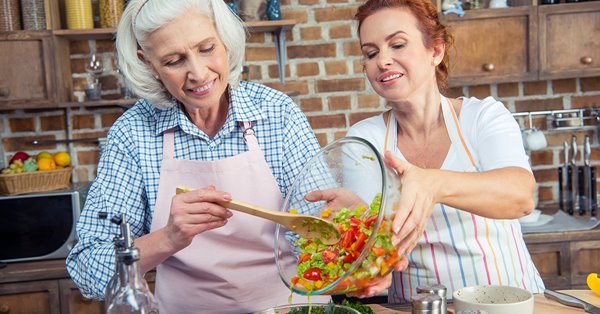 In the West, generations of families bond over cooking. Whether you are recreating treasured family recipes or trying something new, cooking at home has health benefits for all ages and is an excellent way for seniors and caregivers to enjoy their time together. Calorie and nutrient needs change as you age, making it even more important to choose foods that give seniors the best nutritional value. You can ensure that your loved one is receiving optimal nutrition, including plenty of vitamins, minerals, and fiber by helping them plan, shop for, and prepare meals. Preparing delicious, homemade, and healthy meals is also a very therapeutic activity for seniors that can activate the senses, stimulate the mind, and trigger happy memories. Here are some of the ways you can make the most of your time together in the kitchen.
4 Ways to Cook with Seniors
1. Meal Planning
Preparing healthy meals for seniors starts with meal planning. Choosing what to eat and which ingredients to use means you and your loved one will ensure they get a balanced diet and reach their nutritional goals.

From calculating portions needed for your recipes to thinking creatively about different meals, taking time together to plan a weekly menu is also a great way for seniors to stay mentally active. It may be helpful to plan breakfasts, lunches, dinners and snacks for seven days at a time. And don't forget to anticipate leftovers! You can allocate them to the next day's meals. After the entire week's menus are written out, you make your shopping list.

Make sure to check with your loved one's doctor and medical team about diet restrictions before planning menus.

2. Shopping for Ingredients
Shopping trips to the grocery store and the farmers market are beneficial for socializing and exercising. Seniors may need help with certain tasks such as lifting heavy items, or they may be totally independent and simply enjoy their caregiver's companionship. Going to a variety of grocery sources or making a few trips a week will allow more opportunities for socialization and exercise.

Selecting their own meats and produce is a great way to make sure your loved one is getting the freshest ingredients. Seniors can even grow their own produce at home, as gardening is a wonderful form of exercise and has many health benefits as well.

3. Meal Prepping
Even if your loved one can't plan, shop, or prepare meals alone, cooking with a caregiver is very enjoyable and will provide companionship as well. Depending on how frequently seniors and caregivers spend time together, they can choose to prepare meals on one day for the week or shop and cook multiple times per week! Divvy up the cooking and prep tasks you and your loved one are comfortable with, such as cutting or lifting heavy pots and pans off of the stove or out of the oven. This is also a great opportunity for physical activity.

4. Nutrient Rich Meals
Combined with exercise, eating the right nutrients and maintaining a healthy weight can help seniors stay active and independent. It can also help avoid unnecessary trips to the doctor. A healthy meal should include a combination of lean protein, fruits and vegetables, whole grains, and low-fat dairy. Remember to choose foods that are high in fiber and low in sodium or salt, and look for Vitamin D. And don't forget to drink plenty of water to stay hydrated!

For even more inspiration, learn about other popular family caregiver activities by region with BrightStar Care.