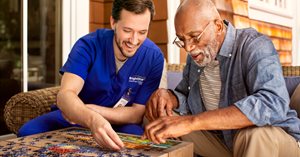 If you are caring for someone with Alzheimer's disease or dementia, it's important to help your loved one stay active and engaged. Alzheimer's disease is the most common form of dementia, and when people battling dementia are isolated and alone, their risk of depression, anxiety, agitation, and anger increases. Caring for someone with Alzheimer's while staying socially distant during a pandemic is challenging, but you can find ways to keep your loved one active, engaged, healthy, and safe.
Fortunately, Alzheimer's disease does not seem to increase a person's risk of contracting COVID-19. On the other hand, advanced age can increase risk due to underlying medical conditions, as do some dementia-related behaviors, like forgetting to wash hands. It's especially important to make sure your loved one is maintaining good practices like handwashing and social distancing. There are many activities, however, that don't break any COVID-19 safety guidelines.
Move the body. Taking a walk outside offers major health benefits. If that's not possible, there are plenty of other options for exercise for seniors. If mobility is the issue, you can look for walkers for seniors to make a short stroll possible. If the weather doesn't lend itself to outdoor activity, chair exercises for seniors may be a better fit. Exercise videos for seniors with dementia may be useful. Of course, always check with your loved one's physician to ensure the exercises or equipment you choose are safe and appropriate for their abilities and health conditions.
Engage the mind. Many activities for seniors exercise the mind, whether through creativity or problem solving. Arts and crafts, games, and puzzles are all great ways to keep your loved one engaged at home, without outside interaction. Seniors are often comfortable doing small chores, and that can make them feel useful as well as keep them active.
Delight the senses. Watch a movie or read together, go for a drive, or watch what's happening out the window. Listen to music, sing, and dance! Find ways to stimulate the other senses, through delicious foods, aromatherapy, or tactile activities.
Find joy in the past and the present. Reminisce together by creating a memory scrapbook or looking at memorabilia. Laugh together while watching comedies or playing with a pet. Reflect on happy memories and treasure the memories you're making today.
Embrace technology. Smartphones, laptops, and tablets offer ways for seniors with dementia to communicate with others and entertain themselves. There are apps designed for people with Alzheimer's, to engage them creatively or get them moving. Many online programs feature activities and games, and even use speech recognition and offer large buttons and fonts for its games and quizzes. Motion-based gaming systems are good for fun, active, online group activities.
At
BrightStar Care
®, we work hard to deliver the right care for your loved one and to be a partner you can turn to for support. Because we believe that caring is more than just a job, our nurses, therapists, CNAs, and caregivers offer the most professional compassionate care available. In the comforting, familiar surroundings of home, a BrightStar Care registered nurse oversees the care and provides education and support for not only the care team but the client and family as well.
Contact BrightStar Care
today at
866-618-7827
to learn more about our specialized Alzheimer's and dementia home care services or find a location near you.