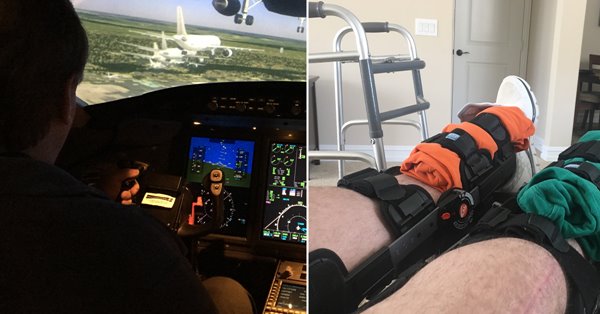 A middle-aged man living alone needs help following double knee surgery
At 58, Michael Wilkie couldn't envision a need for home health care; he didn't even know such services existed. After double knee replacements, Michael managed on his own—until he fell.
"I'm used to being in charge and taking care of things myself. It was life-altering to depend on someone to do something," says Michael, a corporate pilot who ferries business leaders around the globe.
What was supposed to be a six-week recovery turned into a three-month ordeal. Michael had just moved into a new neighborhood, his coworkers lived on the other side of town, his nearest family was four states away, and he had casts on both legs.
"Between the injury causing fatigue and the injury itself, I just couldn't do it anymore," he explains.
Problem solved
At one point, Michael had only five pain pills left and no one to fetch more. His physical therapist suggested he look into home health care.

He called BrightStar Care of Frisco, Texas, and Alison Richardson, owner, and Viviana Anselmo, Director of Nursing, conducted a home assessment the same day. They matched Michael with caregivers who could drive him to doctor appointments, assist him with errands, and tidy up around the house.

"It really was like I flipped a switch and everything was fixed. It was solved. I couldn't bring up something that they didn't already know the answer to," he recalls.

Still, he was anxious about letting strangers into his home.

His fears were quickly eased the first time a caregiver came over. "I was thinking, OK, I'm going to have to argue with her, 'Yes, you really do need to take out the trash because I can't step down into the garage.' But it was more like, 'No, you don't need to repaint the house,'" he recalls.

In the ensuing weeks, the skilled, compassionate caregivers Michael met continued to put his mind at ease. "They come in, and it's not undignified or embarrassing. It's fixed," he says.
Flexible schedule
Trepidation about welcoming a stranger into your home is common, Alison says, which is why she doesn't set minimum time limits. Sometimes families want to "dip their toe in the water" before beginning long-term care, she says. Other times, like in Michael's case, only short-term care is required.

Whether it's a simple ride to the pharmacy or end-of-life skilled nursing care, "(clients) have that ease of mind knowing we'll be there," says Vivian. "(Michael) was just thrilled with everything we can do, because he had never heard of it [private in-home care services]," she adds.

Home health care was Michael's ticket to recovery. He explains, "It's like grandma and all your aunts just came in and made everything OK."