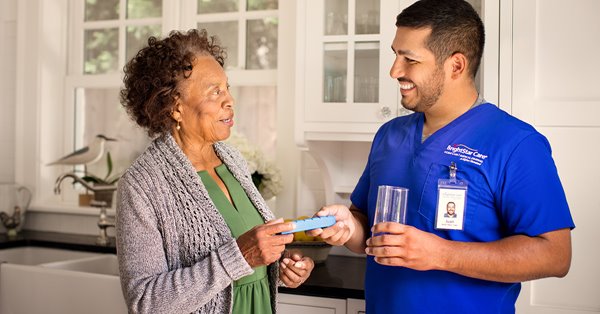 Caregivers often want to keep their loved ones as healthy as possible for as long as possible so they can stay at home longer, which can positively influence an individual's physical, social and emotional health. However, family members are often concerned about their loved ones' safety when they live at home.

Let's discuss some key safety factors to consider when caring for your loved one at home.
Fall prevention
According to the U.S. Centers for Disease Control and Prevention, 3 million older adults are treated in emergency departments each year for fall injuries. Falls are often due to hazards that are easy to overlook but also easy to fix. A home safety assessment can help you identify these hazards.

Many organizations and companies offer fall-risk evaluations, and there are online assessment tools that caregivers can use, too. Several of these tools suggest easy and inexpensive improvements you can make to improve safety such as grab bars in bathrooms, handrails on both sides of stairways, and portable shower seats. Other common improvements include:
Clear pathways of electrical cords, furniture, and other clutter
Install moveable shower heads
Install ramps for those using wheelchairs and walkers
Level thresholds into showers
Place nightlights in bathrooms and on stairs
Remove throw rugs or place non-slip padding underneath
Use easy-open, levered doorknobs
Use levered faucets in kitchen and bathroom sinks
Widen doorways to accommodate wheelchairs or walkers
It's also essential to decrease your loved one's risk of falling outside the home. Uneven sidewalks, broken steps, or unstable railings can lead to a fall, so it's critical to maintain those surfaces. In the winter, make sure outside spaces are clear of ice and snow. Proper footwear is helpful and can provide a stable, solid base for older adults. Ice cleats can also provide additional stability during the colder months.

Additionally, monitoring your loved one's vision and hearing can help keep them safe from falls. Glare on a bright, sunny day can alter an older adult's perception and lead to a misstep. If their hearing is limited, an older adult might not hear a car, child, bike, or dog coming toward them. By the time they recognize the sound and attempt to get out of the way, they could lose their balance and possibly fall.
Medication safety
An accurate accounting of all medications your loved one takes is very important to their overall safety. Failing to take medications on the proper schedule or taking the wrong dose can potentially be life-threatening.

Older adults are at particular risk for polypharmacy. Polypharmacy refers to the use of multiple medications. Older adults often are prescribed medications by multiple providers for various health conditions. While some conditions require more than one drug, the number of pills a senior takes daily can add up quickly and put them at significant risk of negative interactions. Older adults can also lose track of what each medication is for because they take so many medications, or they can inadvertently end up taking the same or duplicate medication when they are not familiar with drug names.

Some useful tips for safely managing your loved one's medications include:
Create a list of all medications, including doses and dosage times, for records.
Remember to consider over-the-counter (non-prescribed) medications and nutriceuticals, such as vitamins, minerals, and herbal remedies when compiling your medication list, as these medications may also contribute to side effects and drug interactions.
Share this list with your loved one's primary care physician and pharmacist. Ask if they see any potential issues.
Try medication management systems, such as a pill dispenser or pill reminders.
Store medications properly in a cool, dry place.
When a new medication is introduced, keep a journal of changes in your loved one's mood or behavior as well as their general physical response in order to monitor them for potential side effects.
Oxygen safety
Oxygen tanks are one of the most severe in-home patient safety risks. If a loved one requires the use of oxygen therapy, a detailed home safety oxygen risk assessment can provide valuable educational materials. Similar to a hospital, posting a "No Smoking – Oxygen in Use" sign somewhere in your home's entryway can help prevent oxygen-related fires and explosions and keep loved ones and their visitors safe.

Smoking is only one reason oxygen equipment can ignite or explode. Seniors on oxygen therapy can inadvertently put themselves at risk from a number of household items, such as:
Candles
Fireplaces
Ovens and stovetops
However, fire and explosion risks associated with oxygen tanks are only part of what you should consider. Many oxygen devices have tubing or other components that can cause tripping and falling hazards. It's often helpful to work with an experienced in-home care provider who can assess your loved one's trip and fall risks associated with oxygen equipment as part of an overall risk assessment.

Another potential risk oxygen equipment can pose but often is overlooked is the cleanliness of the breathing apparatus. The masks and tubing of an oxygen device have direct access to your loved one's respiratory tract, and using equipment that hasn't been cleaned and sterilized according to the manufacturer's guidelines can increase the risk of infection. It's crucial to ensure that oxygen therapy equipment is cleaned regularly according to the instructions of your loved one's healthcare team.
Get help from BrightStar Care®
Following The Joint Commission National Patient Safety Goals®, BrightStar Care focuses on being advocates for our patients and makes sure your loved one receives high quality care at home. We can perform a home safety assessment to reduce fall risks and safety hazards
as well as create a personalized approach to care for your loved one. Our home safety checklist can help you evaluate the environmental fall risks inside and outside your home.

Depending on your loved one's needs, BrightStar Care also can assist you with medication management*, from oversight and reminders to administration, and we follow The Joint Commission's protocols to ensure accuracy and monitor side effects. We also work closely with clients who are on oxygen therapy to reduce their risks and help keep them safe.

If you would like assistance with keeping your loved one safe at home, call 866-618-7827 or contact a BrightStar Care home care agency near you to learn more.

*Medication management services vary by location. Contact your local BrightStar Care agency to learn more about specific services they are able to provide in your area.