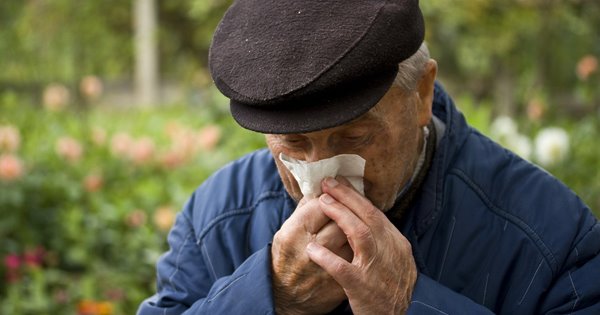 It's beautiful when the trees begin to bud and blossom — until your loved one's nose starts running or their eyes and throat become itchy. Oh, the wonderful symptoms of seasonal allergies!

Seasonal allergies represent an allergic response by a person's body to the elements of the environment, and they affect more than 50 million Americans each year. They mostly occur in the spring, summer, and fall, depending on the allergens to which an individual is sensitive.

Seasonal allergies are less common in older adults, as allergic reactions tend to decrease as one ages. However, allergies can cause a range of symptoms in caregivers and seniors, such as:
Congestion
Coughing
Ear infection or irritation
Headache
Runny nose
Sneezing
Watery and itchy eyes
Symptom relief can come in several forms, such as choosing optimal times to be outdoors and taking over-the-counter medications, as long as the drugs are safe with your loved one's other medications.
The best times to go outside
Limiting your loved one's exposure to pollen or other environmental allergens outside can help reduce the severity of allergy symptoms. Try to accomplish any errands or yard work during off-peak times of the day, such as in the evening. Plus, it's also cooler then, which can reduce the risk for sunburn, dehydration, and other heat-related symptoms.

Consider using a free smartphone app to help track pollen counts and the risk for allergies in your area, so make sure to take advantage of this resource. Keep windows and doors closed during high pollen count days and use your air conditioner. Also, keep in mind that symptoms might still remain, even when your loved one limits their time outside. This is when many people turn to medication.
Over-the-counter allergy medications
Many people opt for over-the-counter sinus medications, including oral tablets, capsules, and nasal sprays. While considered safe in general, these medications could present problems when combined with other drugs for heart, mental health, respiratory or urinary incontinence conditions by interfering with transmitters in the nervous system.

Some symptoms that an allergy drug may cause and could be increased when combined with other medications with similar side-effects might include:
Blurred vision
Confusion
Constipation
Dry mouth
Increased risk of falling, mostly in older adults
Urinary retention
How a pharmacist can help
Speak with your loved one's pharmacist before purchasing over-the-counter sinus medications. The pharmacist will review your loved one's prescription drug list and make sure the allergy remedy you want to buy is safe. Walmart, Target, Walgreens, CVS — all these places where you purchase over-the-counter medications have a pharmacy in-store, making it even easier to speak to a pharmacist.

Seasonal allergies can be annoying and can impact daily living many months of the year. Keep your loved one's symptoms under control to make the most of the nice weather.

To learn more about how your loved one might benefit from our expert in-home care team, call 866-618-7827 or contact a BrightStar Care® home care agency near you.