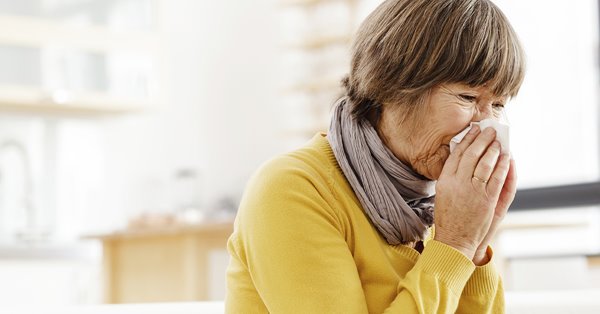 In the U.S., the peak influenza season runs from October through March. As a result, the CDC recommends that people receive a flu vaccine by the end of October, but it can still be beneficial to get a vaccination later in the season.

Seniors are among the most vulnerable members of our population when it comes to the flu and, once infected, things can escalate quickly. Let's discuss some simple steps to help you and your loved one navigate flu season.
Don't ignore symptoms
People of all ages experience similar flu symptoms, such as:
Body and muscle aches
Chest pressure and shortness of breath
Cough
Fever, flushing, chills, and/or sweating
Dehydration
Headache
Loss of appetite
Sneezing, congestion, and/or runny nose
Sore throat
Swollen lymph nodes
Many people report feeling like their body has been hit by Mack truck when they have the flu. An older adult might experience fatigue, but because they aren't as active, they might not notice their fatigue as profoundly.

People often think of the flu as a gastrointestinal phenomenon, but it's not. Influenza is a serious respiratory infection. Because of that, your loved might begin to have symptoms, such as a dry cough, and dismiss it. They may think they have a cold, or they don't think they have the flu because they aren't throwing up. Dismissing possible flu symptoms can have serious consequences.

For older frail adults, if they being to feel feverish, have a dry cough, or have reduced energy, it's crucial that they seek guidance from their medical team. Treatments to reduce the severity of the flu are best started within two days of symptoms appearing in order to be effective. According to the CDC, taking antiviral medications is crucial for people who are age 65 or older, have a chronic illness such as heart, lung, or kidney disease, or have a compromised immune system.
Get the proper care
If your loved one has the flu, it's important for them to maintain fluid and food intake. Staying hydrated helps our bodies function properly. Similarly, your loved one may lose their appetite when sick, so it's important that they maintain a healthy and nutritious diet. Frequently eating small meals throughout the day, even when they have no appetite, will help your loved one get essential calories and nutrients that are vital to their recovery. Foods we recommend include soup, broths, pudding, cream of wheat, protein shakes, or smoothies.

Older adults can quickly become dehydrated, which can lead to dizziness, confusion, and falling. It is critical to maintain hydration during bouts of influenza. Water, juice, gatorade, and lemonade are all good choices.

If your loved one is feeling sick, it's smart to stay home and rest. Remind them to give their body time to recover without putting others at risk of catching the illness.

While recovering from the flu, your loved one may develop a secondary respiratory condition such as pneumonia or bronchitis. Be mindful of who is visiting your loved one. If a friend or family member is ill, they shouldn't visit your loved one. Since they are in a compromised condition because of the influenza, it's easier for opportunistic bacteria or other viruses to take hold.

Encourage your loved one to get checked out by their doctor, especially if they are also managing or being treated for any other conditions. The flu can have an impact on their other illnesses or medications they're taking.
Protect your loved ones from the flu
The CDC recommends a yearly flu vaccine as the first and most important step in protecting against flu viruses. Vaccination of those people at high risk of catching the flu will decrease the risk of severe flu illness. People 65 years or older are among those who are most at risk, as well as young children, pregnant women, and people with chronic health conditions such as asthma, diabetes, or heart and lung disease.

Some people question the effectiveness of the flu vaccine, but it's far better to receive the vaccine than not get one. During a serious outbreak, there can also be a recommendation to get an additional vaccine. People in the high-risk category or frail elders should stay in touch with their doctor about any additional steps they should take to prevent infection.

During flu season, people carry germs. Handwashing is the number one way to prevent the transmission of any infection. It's a common practice that is spoken about, but it doesn't always get carried out. Your loved one should be washing their hands so they don't share their germs, and visitors should wash their hands, too. At BrightStar Care, we go to great lengths to adhere to the Joint Commission's National Patient Safety Goals for infection prevention, which includes diligent handwashing processes.

Additionally, people should cover their mouths and noses with the bend of their elbow when coughing or sneezing. Another practical tip is to dispose of tissues after use.

At BrightStar Care, our specially trained caregivers, led by a Registered Nurse Director of Nursing at every agency, can help seniors stay as healthy as possible with our focus on evidence-based best practices in the areas of infection prevention and health and well-being. Call 866-618-7827 or contact a BrightStar Care® home care agency near you to learn more about our in-home care services.