A veteran and his family find a loving ally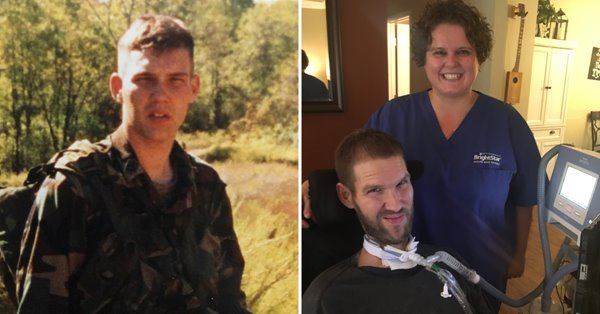 De-Anna Esquives admittedly has a soft spot for veterans. "They're fighting for our freedom," she explains. "They choose to go, and they're allowing us to live our dreams."

She has a particularly soft spot for her client of nearly three years, Tony, and his family. Tony served in the U.S. Army for seven years and, today, is battling amyotrophic lateral sclerosis (ALS), an incurable, progressive disease that results in total muscle paralysis.

Initially, Tony and his wife, Kate, resisted the idea of bringing in help.

"Thirty-six years old with a wife and two babies still in diapers, and I couldn't use the bathroom on my own. I couldn't feed or dress myself," Tony recalls. "I was a young man, supposed to be in my prime. How was I going to let a stranger help me with my most basic and personal needs?"

The answer lay in De-Anna's disarming personality, willingness to jump in, sensitivity, experience, and sense of humor, which all meshed with the family from the get-go. "I fell in love with them the first day," De-Anna, a Home Health Aide for BrightStar Care Brighton/Howell since April 2015, remembers.

Tony, Kate, and their three children benefitted immediately from her visits several times a week.
"The stress and tension in our home was easing noticeably," says Tony. "De-Anna was having a huge impact on our family. She was helping save us."
Serving others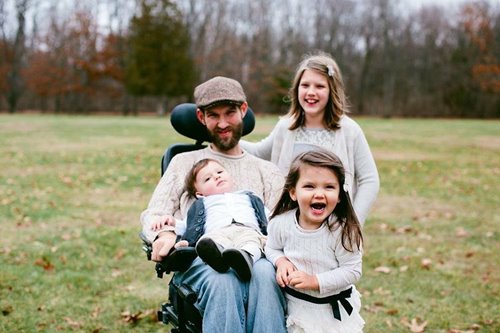 In 1997, fresh from high school, Tony joined the Army. He served as an infantry scout in the 101st Airborne Division fighting genocide in Kosovo. During Operations Iraqi Freedom and Enduring Freedom, he served with the 7th Army, the same unit his dad had served in during the Vietnam War.

Tony left the military in 2004, shortly before his first daughter was born. In 2011, at age 31, he was diagnosed with ALS. As the disease progressed, and their family grew, the couple struggled.

"We realized I was getting to a breaking point. I was overwhelmed with trying to take care of him and our kids," Kate recalls. The U.S. Department of Veterans Affairs (VA) connected the family with their local BrightStar Care.

"De-Anna was coming into a house of turmoil, a family in crisis," explains Tony.

A self-described "control freak," Kate admits it was difficult to accept De-Anna's help at first, and Tony initially refused to have her attend to his personal needs.

"But De-Anna just always had this positive vibe that was changing the atmosphere in our home," he says. "She could laugh at herself, which meant I could laugh at her. We could laugh with each other, and I didn't have to feel so ashamed anymore," he says.

Kate agrees: "She has a wonderful way of helping us and allowing us to have our dignity."
Personally speaking
Fast-forward to today, and De-Anna is essentially a family member. "To call her a 'helper' doesn't even cut it," says Kate. "She's just wonderful, and I don't think we could even get along without her at this point. She walks in, and I can suddenly breathe."

De-Anna's personality contributes to the family's happiness. "She's energetic and boisterous in the beautiful kind of way that makes you drop your guard and feel comfortable being yourself," says Tony.

"She can be fun and loud and loving, or she can see it's a bad day and that Tony needs more comfort. She can be a listening ear, patient and kind," Kate explains.

Likewise, De-Anna raves about the well-mannered kids, Kate's strength, Tony's wit, his loving parents, devoted siblings, and the extended family who visit regularly and provide support.

She also finds inspiration every day in Tony's courage. He attends events at his kids' school, contributes time and energy to ALS charities, and, using an eye-tracking computer, writes a political column for a local newspaper.

"He didn't let this (disease) defeat him," she says in admiration of Tony.