Our experienced and compassionate staff is dedicated to caring for your loved one as if they were family. Get to know our team.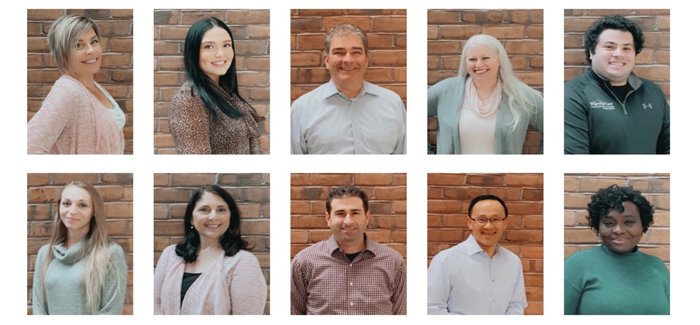 Andri Purkanto and Ryan Guzzino are Co-Owners of BrightStar Care of Baltimore County.
Andri and Ryan's lifelong pursuit was to find an opportunity to indulge their intellectual passion for life, enjoy doing it, and at the same time contribute something beyond themselves to an organization in ways that help employees, customers, societies, and mankind. Purchasing BrightStar Care of Baltimore allowed them to achieve this dream. They acquired BrightStar Care of Baltimore County and Baltimore City from Lynn Berberich in June 2019. Lynn had provided exceptional service and care for the Baltimore Community for more than 10+ years. Lynn joined her husband in his retirement and continues to do volunteer work with the Alzheimer's Foundation and the Maryland Association for Parkinson's Support.

Andri and Ryan are committed to strengthening the reputation for customer service and quality of care that BrightStar represents.
Ryan Guzzino

Owner

Prior to acquiring BrightStar Care, Ryan had 14 years of corporate finance experience in 3 different international manufacturing companies. He was instrumental in searching out business opportunities that carry the purpose and passion characteristics that Andri and Ryan were looking for. Ryan quickly settled on BrightStar Care for its ability to transform lives and provide a service that is integral to their community. He earned his Bachelor of Science in Finance and MBA from Pennsylvania State University.

Andri Purkanto

Owner

Prior to BrightStar Care, Andri worked for multinational companies in a global leadership role. He developed a depth of knowledge and experience in management, operations, technology, and execution. Andri's lifelong pursuit is to find an opportunity to indulge his intellectual passion for life, enjoy doing it, and contribute something beyond himself to an organization. He earned his Bachelor of Science in Industrial Engineering from Colorado State University and his MBA from Pennsylvania State University.

Heidi Stevenson

Finance Manager

Heidi has been in the health care field since 2002 where she has brought a wealth of knowledge and experience to BrightStar. Heidi was a resident assistant, Med-Tech/supervisor, and an Assisted Living Coordinator and Business Office Manager at a large assisted living community. Heidi joined BrightStar in 2012 as Branch Manager. She takes great pride in knowing she enables our team to provide the very best care to our clients and their families. She earned her bachelor's degree in Psychology with a focus on Gerontology from Towson University.

Brianna Nelson

Customer Care Manager

Brianna graduated from the University of Maryland with her Bachelor's Degree in Health Service Management and was awarded Summa Cum Laude. Throughout her schooling, she focused on studying healthcare information systems, policies, marketing, research, strategic planning, and leadership. Brianna's main focus is providing and maintaining optimal client care and employee relations.

Jennifer Navaro, LPN

Director of Community Outreach

Jen brings 27 years of senior care experience as a nurse and program manager. In her nursing career, she has been delivering superior clinical satisfaction and outcomes in SNF, TLC, specialty hospitals, home health, hospital, and senior living communities. Jen has been a driving force to strengthen relationships with strategic partners. Her skill set enables her to be a leadership catalyst that connects strategic partners' home care needs to BrightStar. Jen's combination of passion, compassion, and clinical competence will make a substantial positive impact on the Baltimore County senior care landscape.

Amy Mason

Community Outreach Manager

Amy came to BrightStar Care looking for fulfillment and the opportunity to assist families in need. She has had the opportunity to transition through many departments as a Customer Care Manager, Intake Coordinator, Project Manager for Maryland GoVax and now Community Outreach Manager in the South Central PA Branch. Working inside multiple areas of BrightStar Care gives Amy the unique perspective to understand the inner workings and needs of the community and how best to meet the individual requirements of our clients.

Tim Kuhn

Vice President of Skilled Care

Tim brings over 20 years of experience in home health and medical staffing, including BrightStar Corporate. He oversees the daily operations and business development for skilled care while implementing necessary structures to enhance strategic growth. Tim earned his Health Policy and Administration degree from the University of Maryland Baltimore County. His experience in business development and partnership has equipped him with an adept understanding of how to uphold and improve core business models and services to attract new prospects and achieve sustainable growth.

David Gamerman

Skilled Intake Coordinator

David began his professional career with BrightStar Care after starting with the company as an intern more than 5 years ago. After gaining an extensive skill set and knowledge of all facets of the company, he found his specialty in our skilled care department. He has found a passion for assisting folks of all ages find a variety of services ranging from wound care, and infusion care, to catastrophic care cases.

Elaine Carnesi

Sr. Manager of HR, Finance, & Recruiting

Elaine has serviced the health care field since 2010. Prior to BrightStar Care, she was the Business Office Manager for Genesis Healthcare where she managed Payroll/Billing/HR for the Staffing Division with over 1200 employees. Elaine utilizes organization and problem-solving skills to take leadership of new challenges while improving work productivity and atmosphere. Elaine's first career was in Finance where she worked in commercial banking. She earned her bachelor's degree in Business Administration from Loyola University with a focus on Finance and Marketing.
Contact Us
Please contact us today to schedule a complimentary consultation or call BrightStar Care Baltimore City / County at 443.275.2796.