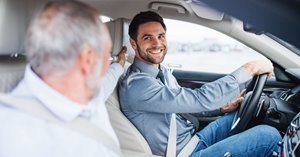 Traveling with seniors presents unique challenges you may not be used to when traveling by yourself or with peers. Taking a road trip with your aging parents can be stressful but rewarding and is an experience to be cherished rather than missed. Sometimes, people need to get away from their everyday lives and experience life out on the open road. Vacations can be enriching physically, emotionally, mentally, and even spiritually. And when traveling with senior loved ones, taking the proper precautions and planning makes the road trip experience smoother for all involved.
1. Get medical clearance for your aging parent to travel.
This may seem like an obvious place to start when planning a road trip with your aging parent. However, you may be surprised that some don't clear travel with their loved one's physician. Never attempt to take a road trip with a senior who may have medical issues without consulting their physician. There may be certain considerations you were not aware of that may impact how you should prepare or indicate traveling is not in the best interest of their health and safety. Always use your best judgment and err on the side of caution.
2. Ensure all of the accommodations are senior-friendly.
When making travel arrangements, be sure to ask about senior-friendly accommodations. If flying, call the airline and ask for tips about making seniors more comfortable during the flight and within the airport. Seniors may require assistance and extra time to get around in the airport, so be sure to give yourself plenty of time to catch your flight without rushing them. If renting a car or booking a hotel or flight, address accessibility concerns. For example, if your parent has a wheelchair or requires oxygen, you'll want to make sure the transportation and lodging can accommodate these needs.
3. Give yourself extra time to get to your destination.
When traveling with seniors, be sure to give yourself extra time to clear customs or make the road trip with additional rest breaks. Taking frequent restroom stops or time for your loved ones to take their medications with food is essential to alleviating their travel concerns. It will relieve stress on all of you. The Centers for Disease Control and Prevention (CDC) recommends stopping at least once every couple of hours to get up and move around to keep the blood circulating and help reduce the risk of blood clots from lack of movement.
4. Bring medications and senior care necessities with you.
Be sure to pack your loved one's medications, insurance and identification cards, and medical records in case of an emergency. We recommend taking an extra week's worth of medications and copies of their prescriptions in case you're delayed coming back for any reason, especially when traveling abroad. When traveling somewhere with changing time zones, be aware that you may need to make a few adjustments when administering your loved one's medications. If they take time-sensitive medications, you may want to set a timer or keep a watch set to your home time, so their schedule isn't interrupted. If your loved one requires senior care, get tips from their professional caregiver to continue this care.
5. Give seniors time to adjust to changes during vacations.
Remember to give your aging parent time to adjust to changes to their regular routine during your trip. Seniors with dementia or Alzheimer's may feel overstimulated or stressed in a new environment. Try to stick to their meal, medication, and bedtimes as closely as possible. If they usually watch specific TV programs before bed or are used to having a private bathroom, try to accommodate this. You may also consider bringing along familiar bed linens or puzzles, games, and books to enjoy together.
Get additional senior care advice from BrightStar Care®
BrightStar Care® specializes in providing in-home senior care with around-the-clock nurses, CNAs, and caregivers. We have agencies across the country, so if you're traveling within the United States, you may be able to seek our professional support services once you get to your destination.