Kerry Swift, Community Outreach Manager at BrightStar Care of Montgomery County Receives Certificate in End-of-Life Hospice Care from Montgomery Hospice
BrightStar Care celebrated Kerry's participation in the First Graduation Ceremony of The Center for Learning's Certificate in End-of-Life Care. Congratulations Kerry! Class of 2019!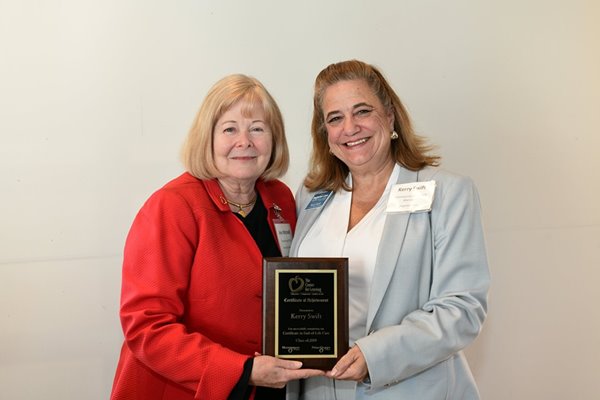 Montgomery Hospice is a nonprofit hospice serving residents of Montgomery County, Maryland. Learn More - Click Here
Their team of doctors, nurse practitioners, nurses, spiritual counselors, social workers, certified nursing assistants, bereavement counselors and volunteers works with our patients and their families to provide quality end-of-life care in homes, extended care facilities and at Casey House, our acute care facility.
"Hospice care focuses on medical and personal comfort for people living with an illness that is no longer responding to curative treatments. Patients choose hospice when it becomes clear that a cure is no longer likely, and they want comfort care so they can live as fully as possible until the end of life.
Hospice care helps patients with physical symptoms like pain or nausea. Hospice staff members also comfort patients, families and friends by helping them feel emotionally and spiritually at peace. They work together with patients and families to bring dignity and well-being to anyone affected by illness and loss.
Montgomery Hospice cares for patients in their own homes, wherever they live. Besides houses and apartments, they help care for patients in assisted living facilities and nursing homes, and also at Casey House, the only health care facility in Montgomery County exclusively designed for hospice patients." See: https://www.montgomeryhospice.org/patients-families

BrightStar Care of Montgomery County provides a full continuum of care services, including companionship, personal care, dementia care, transportation, medication assistance, skilled nursing, and more, to improve clients' health and quality of life both at home and in assisted living communities.
To learn more about our local Montgomery County team of caregivers, skilled healthcare professionals, and home health care support for Montgomery County families and businesses, please Click Here.