In today's fast-paced world, seniors often face various challenges that can impact their overall well-being. As individuals age, they may experience feelings of isolation, loneliness, and the need for additional support. Companion care has emerged as a valuable solution to address these concerns. In this article, we will explore five ways companion care enhances seniors' lives, providing a comprehensive overview of its benefits.

Why is Companion Care Important for Seniors?
Seniors often require assistance with daily activities but also desire companionship and social interaction. Companion care plays a crucial role in addressing these needs. By pairing seniors with compassionate caregivers, companion care ensures they receive the emotional support, assistance, and companionship necessary to enhance their quality of life. Let's delve into how companion care significantly enhances seniors' lives.

One of the Foundations of BrightStar® Home Care Boise
One of the foundations of BrightStar® Home Care Boise is the commitment to helping clients maintain independence by delivering personalized companion care services. With a focus on person-centered care, their compassionate and experienced professionals are well-equipped to meet the specific emotional and practical needs of your loved ones.

Personalized Plans of Care
At BrightStar Home Care Boise, the care provided to your loved one is overseen by their Director of Nursing, a Registered Nurse (RN). The Director of Nursing creates a personalized care plan for each client, ensuring their unique requirements are met. This individualized approach guarantees that your loved one receives the utmost attention and tailored support.

Understanding the Client's History and Goals
As part of their commitment to person-centered care, BrightStar Home Care Boise takes the time to get to know each client's history, personality, goals, and overall family circumstances. By understanding these aspects, they can provide truly personalized care focused on improving the health and well-being of your aging loved ones. This comprehensive approach ensures that seniors can remain independent and experience dignity throughout their days.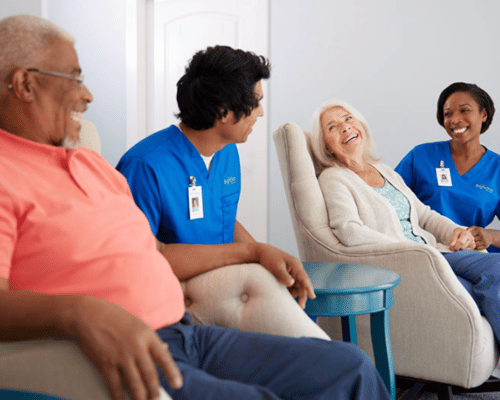 In-Home Companion Care Services
BrightStar Home Care Boise offers various
in-home companion care services
to provide a stimulating and enjoyable experience for their clients. Some of the services they offer include:
Assisting with Writing Letters and Correspondence: Their caregivers can assist seniors in writing letters and other correspondence, enabling them to stay connected with loved ones.
Connecting with Loved Ones through Technology: BrightStar Home Care Boise helps seniors connect with loved ones through email, texting, video chat, and social media platforms. This promotes social interaction and reduces feelings of isolation.
Engaging in Stimulating Activities: Caregivers engage seniors in stimulating activities such as crafts, games, puzzles, and reading. These activities help keep the mind active and promote overall well-being.
Creating Customized Grocery Lists: Caregivers work with seniors to create customized grocery lists to meet dietary needs and preferences. This ensures seniors have access to the foods they enjoy that align with their nutritional requirements.
Facilitating Visits with Friends and Neighbors: BrightStar Home Care Boise caregivers facilitate visits with friends and neighbors, promoting social connections and reducing feelings of loneliness.
Planning Outings, Activities, and Trips: Caregivers help plan outings, activities, and trips based on the interests and capabilities of the seniors. This allows them to engage in new experiences and enjoy their time outside the home.
Assisting with Daily Schedule: Caregivers support managing the daily schedule, ensuring that seniors stay organized and have assistance when needed.
Providing Respite and Family Relief: BrightStar Home Care Boise offers respite services to give family caregivers a break. This allows them to recharge and care for their well-being while ensuring their loved ones receive the necessary care.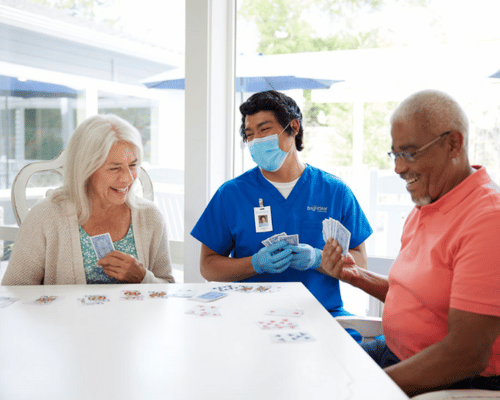 By offering these comprehensive companion care services, BrightStar Home Care Boise strives to improve the quality of life for seniors and enable them to maintain their independence.
Companion care has become an invaluable resource for enhancing seniors' lives. BrightStar Home Care Boise exemplifies the commitment to personalized care and individualized support. Companion care services provide the necessary elements to combat loneliness, promote well-being, and foster independence through emotional assistance, practical aid, and engaging activities. If you have a loved one who could benefit from companion care, consider reaching out to BrightStar Home Care Boise and providing them with the support they deserve.

Contact BrightStar Care of Boise Today
Schedule a free consultation today, or if you are a nurse looking to work in a compassionate environment held to a higher standard, apply today. We invite you to
contact us
today if you would like to learn more about our services, as well as our other wide range of caregiving services! We are located at
4355 W Emerald St Ste #290, Boise, ID 83706, United States
You can also reach us by phone at
208-338-7878
. Hopefully, we'll hear from you soon!