Transitional home care
is a specialized service aiding patients' recovery after hospitalization.
When an individual is discharged from a hospital or a rehabilitation center, like a skilled nursing facility (SNF), there might be a persistent need for specialized attention to ensure that their recovery is as seamless as possible. This service stands as a bridge, ensuring patients transition smoothly back to their everyday lives.

The Essence of Home-Based Recovery
There's no place like home when it comes to recovery. It's not just about the familiar environment but the holistic comfort and peace that home brings. Transitional home care taps into this sentiment, offering professional care in the heart of one's sanctuary.

Why Choose Transitional Home Care?
One can't overstate the importance of a comforting environment post-hospitalization. And what's more relaxing than one's home? But this is not just about comfort. It's about professional, tailored care that addresses medical and emotional needs.
Personalized Care Plans: Each patient presents unique needs and challenges. With transitional home care, care plans are meticulously tailored to cater to individual needs, ensuring every patient is given specialized attention that aligns with their recovery path.
Medication Management: Multiple medications can become confusing. Transitional caregivers are trained to manage, organize, and administer medications, ensuring patients adhere to their prescribed regimen accurately.
Emotional Support: Physical healing is just half the journey. Mental and emotional well-being plays a crucial role in recovery. Transitional care delves deep into providing emotional support, ensuring patients navigate through anxiety, depression, or any trauma that might have resulted
from their illness or treatment.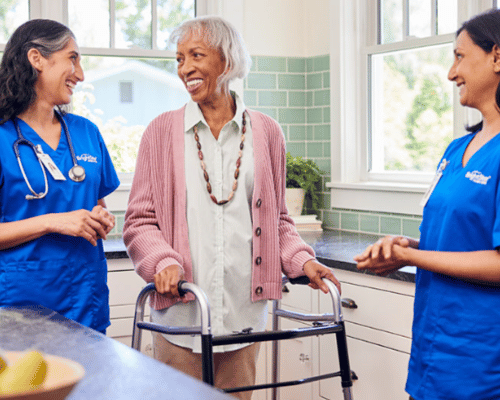 Comprehensive Therapy through Physical, Occupational, and Speech
Post-discharge rehabilitation is multifaceted. Patients might need assistance regaining their strength, refining their motor skills, or relearning speech patterns, especially after a stroke or major surgery. Our dedicated team encompasses physical, occupational, and speech therapists. These professionals collaborate to offer in-home rehabilitation, ensuring patients recover comprehensively. Whether assisting with daily tasks, helping improve mobility, or aiding in speech clarity, our therapists help patients regain their autonomy in the comfort of their homes.

Care Paths Deliver Superior Outcomes
In the realm of transitional home care, it's paramount to have strategies that address present conditions and preemptively mitigate future risks. One groundbreaking strategy we're proud to
offer is the Care Paths for Falls and Change of Condition. While the concept of care paths isn't entirely new, what sets us apart is the integration of person-centered and condition-specific care pathways. These paths are meticulously crafted, considering your loved one's unique needs, health status, and medical history.
Leveraging cutting-edge proprietary technology, our caregivers can predict and potentially prevent a fall or a deterioration of your family member's health. This proactive approach ensures timely intervention, significantly enhancing the likelihood of positive outcomes.
Furthermore, our vigilant system ensures that any change in condition is promptly communicated. The supervising nurse at BrightStar Home Care Conejo Valley, and if necessary, your loved one's primary physician, are immediately informed to initiate swift and appropriate action. This level of proactive communication ensures that every patient receives timely care, reducing complications and promoting optimal recovery.
The Benefits of Transitional Home Care
The merits of transitional home care go beyond just medical attention. It encompasses a broader spectrum of benefits:
Nurse-Led Care: Our team is spearheaded by trained nurses, ensuring the care provided is compassionate and clinically excellent. The nurse-led approach guarantees the highest standard of care tailored to individual needs.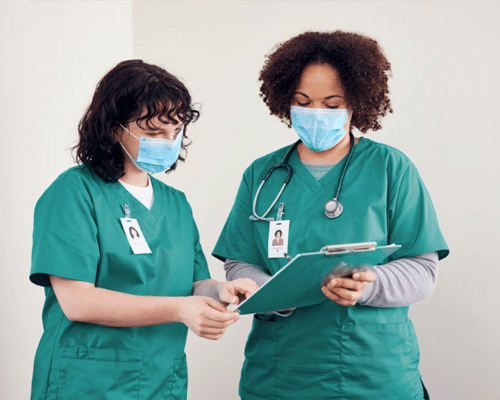 Complementary to Other Care Services: Even if patients receive skilled nursing care from another reputable agency, transitional home care services, such as those offered by BrightStar® Home Care Conejo Valley, can be an invaluable supplement. They provide a comprehensive suite of services, including light housekeeping, companionship, family respite, personal hygiene, and ambulation.
Cost-Effective: Staying for extended periods in a hospital can be financially draining. Transitional home care, while providing comparable professional care, significantly reduces costs associated with prolonged hospital stays.
Mitigation of Potential Risks: Professionally administered care significantly reduces undesirable outcomes such as re-hospitalizations, medication errors, and falls. In the long run, this also proves economically beneficial by potentially reducing future healthcare costs and preventing health conditions from exacerbating.

Embracing the Future of Healthcare
Transitional home care stands as a testament to the evolution of healthcare – one that values personalized, patient-centric solutions. As the landscape of healthcare shifts, transitional home care will undoubtedly become more integral, ensuring patients don't just recover but flourish in their familiar surroundings.

Contact BrightStar Care of Conejo Valley Today!
BrightStar Care of Conejo & Simi Valley is here to provide you with the resources and support you need to take care of your loved one. Contact us through our BrightStar Care Website or at 805-233-3800 or visit us at 370 N. Westlake Blvd. Suite 120 Westlake Village, CA 91362, and speak with one of our experts who will help you get started. Thank you for taking the time to read this!