PRIVATE IN-HOME COVID-19 TEST IN AUSTIN
If your family has been sick with covid for a couple of weeks, and your symptoms are bad. You may not want to get out of bed to get tested.
There is private in-home testing available.
BrightStar Care of Greater Austin
will send a Joint Commission certified medical professional and injection specialist to come out to test you and your family in the privacy of your home or office. Those recovering from COVID will appreciate not having to get out of bed and wait in line at a clinic when they are sick. Our home health care medical professionals will come to you for covid testing at home. We also offer free antibody testing at the same time.
$200 per person private in home COVID-19 Testing and AntiBody Testing
OR $350 family up to 4 people
CALL NOW TO SCHEDULE PRIVATE IN-HOME COVID-19 TEST 512-452-9800
Our coronavirus at home testing utilizes nasal and throat swabs for molecular PCR test (99% accurate) for active COVID-19 virus. Within a few minutes in the privacy of your home, suspected COVID-19 clients and their family can be tested, and receive results in 24-48 hours. We also provide on-site rapid Antibody tests with results in 10 min with 93% accuracy.
You might be wondering where you can go get tested for COVID-19 right now. If you're experiencing symptoms or may have been exposed to someone who has the virus, an at home coronavirus test could be the best option for you. No referral is required. Call for
512-452-9800
an appointment now.
Coronavirus drive-up testing is available at our BrightStar Care location no reservation during testing hours (Daily 9a-3:30p). Registering online will speed up the process once you arrive and is highly encouraged. Visit https://www.covid-19atx.com/ for more information.
We also provide
COVID testing and screening for Businesses.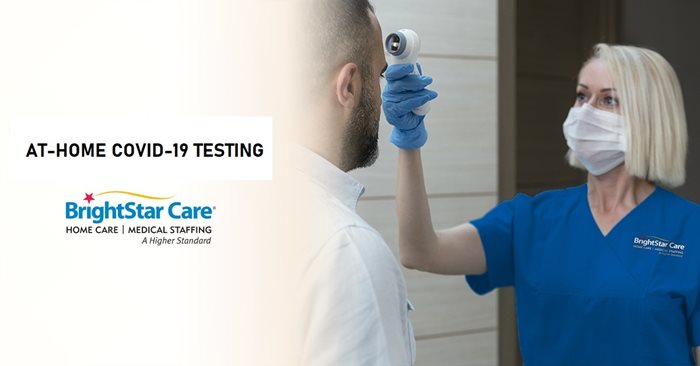 BrightStar Care of Greater Austin
is an award-winning, RN Led, Joint Commission accredited
Home Health Care
and
Medical Staffing
Agency providing 24/7 to hourly Private Duty Nurses, CNAs, Caregivers and Companions..
We offer support around the clock, providing a full continuum of private duty health care services and medical staffing services. We proudly serve Central Austin, Eastern Travis County, North Austin, East Austin, West Austin, Lake Travis, South Austin, Round Rock, Georgetown, and Tarrytown.
For more information on how BrightStar Care supports Greater Austin's essential businesses, and to learn more about our local team of caregivers, skilled healthcare professionals – please Click Here.