BrightStar Care of Greater Austin Home Health Care, Medical Staffing, and COVID-19 Testing and Screening Staff are receiving the COVID-19 vaccination.
We're excited to help continue to make Austin a safer place for our staff and clients.
Vaccinations for COVID-19 in Austin, TX
As part of the state's effort to vaccinate health care workers, BrightStar Care of Greater Austin's Home health team is getting vaccinated.
To assure the Austin community will have access to our health care systems, initial doses of the COVID-19 Vaccine will be allocated to health care workers, followed by essential workers. "As the vaccine availability expands, more people who are more likely to develop severe diseases, like older adults and those with underlying health conditions, will be included. Texas' COVID-19 Vaccine Allocation Guiding Principles and Health Care Workers Definition, developed by Texas Department of State Health Services and followed by all providers in Austin-Travis County, can be found here.
Austin Public Health was allotted only 1,300 doses of the COVID-19 Vaccine in the first month of the state's roll out.
As vaccine availability increases in 2021, people will get vaccinated at doctor's offices, pharmacies, hospitals, and other "usual" sites. You should contact your regular provider of vaccines to see whether they will be a provider of the COVID-19 Vaccine.
The following vaccine information is from Matt Largey, Projects Editor at KUT: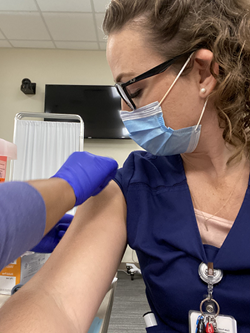 What's the process for distributing the Vaccine in Texas?
The state's plan largely relies on private health care providers to administer the COVID-19 Vaccine. The Centers for Disease Control and Prevention decide how many doses of the Vaccine Texas will get. Then the state takes that allotment and divvies it up. The Texas Department of State Health Services tells providers – mostly hospitals, pharmacies, and doctors' offices, at this point – how many doses they'll get. The federal government then ships the Vaccine directly to those providers. The providers distribute the Vaccine according to priorities set by the state.
Who has priority to get vaccinated?
Phase 1A group: health care workers, first responders, and residents at long-term care facilities and their caregivers are the top priority since they're most at risk, and we need health care workers to take care of sick people.
Last week, the state said providers could start vaccinating a phase 1B group. These are people who are over 65 or who have certain underlying health conditions. That's millions of more people. Many seniors have had trouble getting access to the Vaccine, mostly because we're still not done with phase 1A. There's also just not a lot of doses out there at this point. Supplies have been delayed, and manufacturing is still ramping up.
There is not enough Vaccine right now to get everyone in phase 1A and 1B a shot; that will take weeks or months. If you're not in those first two priority groups, expect to wait until spring before you are eligible.
What about long-term care facilities?
Those facilities are being served by a dedicated program run by the federal government under a contract with some big chain pharmacies. That's just starting to get going.
Is Austin going to set up public vaccine clinics like those in Houston or Laredo? According to Largey, not anytime soon. "While local health officials have said in the past day or so that they would like to do large-scale public vaccine clinics, they don't have any vaccines. It can't request more and won't get more until the state decides where the need is.
How does someone go about actually getting a vaccine right now?
First, you have to qualify. That means you're either in the 1A or 1B group. But around Austin, you don't have many options other than getting on a bunch of waiting lists. A few places are making appointments. You can find a map of providers here.
Austin Public Health says it is working on a website that might streamline the process of finding a vaccine provider, but that won't be up until next week at the earliest.
Follow Matt Largey on Twitter @mattlargey.
BrightStar Care of Greater Austin is an award-winning, RN Led, Joint Commission accredited Home Health Care and Medical Staffing Agency, providing 24/7 to hourly Private Duty Nurses, CNAs, Caregivers, and Companions.
We offer support around the clock, providing a full continuum of skilled health care services and medical staffing, including COVID testing and screening. We proudly serve Central Austin, Eastern Travis County, North Austin, East Austin, West Austin, Lake Travis, South Austin, Round Rock, Georgetown, and Tarrytown.
For more information on how BrightStar Care supports Greater Austin's essential businesses, and to learn more about our local team of caregivers, skilled healthcare professionals – please Click Here.

For BrightStar Care COVID-19 Testing Information please visit our testing page here.