We could not be more proud of our very own Esther Tabberer who was named the 2019 Midwest Caregiver of the Year for BrightStar Care. From creating an accessible garden, to simply chatting about her client's favorite things, Esther has helped enrich his life. She has encouraged him to engage in activities and helped him overcome daily life challenges through her can-do attitude. "She has become dad's most loved caregiver. I know this because in his moments of confusion or distress he calls for Esther," says Joanne P., daughter of the client. "She is truly the most perfect, gifted, and professional giver of care."
Nomination Letter
Written by Joanne P., daughter of client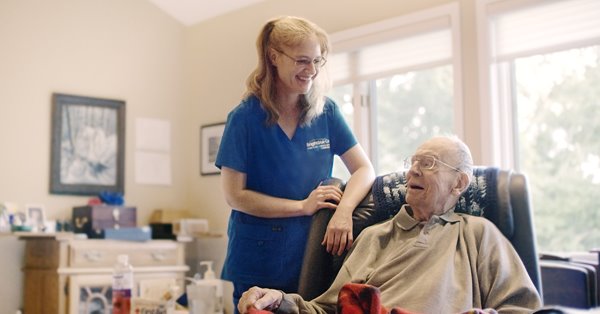 Esther Tabberer is a perfect example of a loving and dedicated caregiver. She has had a profound effect on the life of my 93-year-old father. In turn, this has touched all of his family. Dad's plan of care has changed significantly during the two years Esther has been with him. Her knowledge, experience, and daily observations of his physical and mental conditions have guided his doctors and nurses in their assessments. Dad literally requires head-to-toe-care every day to manage the litany of medical requirements. Dad's plan of care includes daily upper and lower body exercises. He hates to do them. Esther meets his stubborn resistance with calm, cheerful, and persistent persuasion. Soon she and dad are engaging in friendly and lively banter of hilarious comments as they lift weights together.
Esther takes the initiative to keep dad involved in daily life. She reads the newspaper aloud and discusses the articles with him. She talks and laughs with him about his favorite television shows, whether it is Wheel of Fortune, Jeopardy, football, baseball, golf or the weather. Esther listens intently and asks questions when dad talks about his life. Since Dad could no longer work in his garden, Esther arranged one on the deck. Dad now has a booming tomato plant, green peppers, onions, and a variety of lettuce. Esther helps him water and harvest them as needed.
It has become increasingly difficult for dad to walk. Nevertheless, Esther's can-do attitude has him walking to the mailbox. When Dad insists on a trip to the barn, she helps him walk with his walker across the bumpy grass. This required her to walk backward in front of dad as she lifted and steadied the walker up the knoll. Her confidence and his trust in her made that excursion a success.
Last Christmas, Esther demonstrated her creative problem-solving skills. She wanted to move the Christmas tree from its traditional spot to a place where dad could see it from his chair. The table in the corner of the living room was perfect, but the tree was a bit wobbly. Esther stabilized the base with a couple of heavy bottles of Swiffer Sweeper Cleaner and a lot of duct tape. The tree looked great and did not wiggle one bit.
Esther took command last winter when dad's well broke. The house was without running water for two weeks. She coordinated water deliveries, refilled water jugs, took dad's laundry home, and answered phone calls from repair companies. Most importantly, she helped dad stay calm in the crisis.
Esther delights dad with vases of flowers she picks from around his house. She brings in daffodils, peonies, roses, lilies, and daisies for the dining room and living room. This may seem like a little thing. But it is very important for dad to see something beautiful and still growing. It is evident in all Esther does that she values dad's life.
She has become dad's most loved caregiver. I know this because in his moments of confusion or distress he calls for Esther. She is truly the most perfect, gifted, and professional giver of care. Dad and his family are so grateful to BrightStar Care for sending her to us.