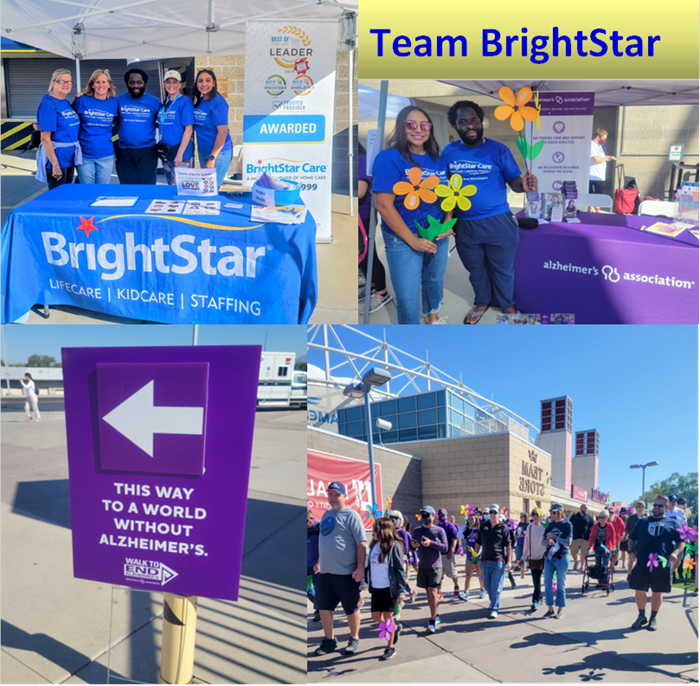 Pics L-R 1) Team BrightStar members Debbie Sorensen, Deborah Parker, James Edemenang, Kelly Angam and Ashley Calzadillas at the BrightStar booth inside Rio Tinto stadium. 2) Ashley and James getting ready to complete the walk. 3) This way to a world without Alzeheimer's 4) Walkers leave the stadium to complete the walk.
BrightStar Shines at the 2021 Alzheimer's Walk!

BrightStar Care earned $1500 for the Alzheimers Association this year. Way to go team!!
BrightStar Care of Salt Lake City provides hourly to 24/7 home health care and medical staffing services.

BrightStar's Professional Care Team, led by a Registered Nurse Director of Nursing, delivers expert, compassionate, and personal home care, including specialized Alzheimer's and Dementia care. Our professional care experts are ready to serve 24/7. RN oversight ensures the right care from the right people. We proudly provide home health care and support including 24-hour skilled nursing and support in senior independent and assisted living communities. We proudly serve Mountainside, Sandy Draper, Midvale, Salt Lake City, Park City, South Salt Lake, Millcreek, Holladay, and Murray areas in UT.

To find out more about BrightStar Care of Salt Lake City's commitment to excellence and Alzhiemer's Care, please CLICK HERE or call 801-559-3999