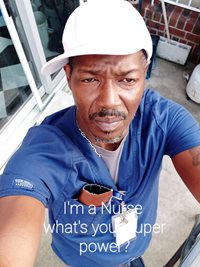 Keith Wilson was named the Caregiver of the Month for April 2022!
Tell us a bit about yourself - where did you go to school? Are you working any other jobs now / have you worked any other jobs in the past?
I was born and raised in Philadelphia where I attended school at Simon Gratz High. I also attended Manna Bible Institute and the North East School of Theology. I received my CNA certification at Vance Granville Community College.
I have worked in many capacities in health care including working with mentally challenged individuals. That led me to do CNA work, med tech work, and becoming a live-in site supervisor for challenged individuals. I have also pastored a church and have started a few ministries for young children. I have always had a passion for working with and helping people who are unable to care for themselves.
What do you find most difficult about being a caregiver?
The most difficult thing for me in health care I think would be the inability to help more people.


What do you enjoy most about being a caregiver?
What I enjoy most about being a caregiver is seeing the difference I can make in the lives of so many.
What is a specific moment that has stuck out to you while caregiving?

There are many things that come to mind when I hear this question. If I had to choose one it would be the time when I had a client who was passing tell me that they were glad that I was there to care for them during their last hour. It reminds me of what my aunt tells me - "you never know who's going to be there to give you your last drink of water". I want to be that person who provides that last cup or water for as long as I can.
What do you do in your free time?
In my free time I enjoy writing poetry, reading, and watching boxing. I also like being around fun people.
What is your favorite season and why?
My favorite season is summer, especially August. It is my birthday month. I love the hot sun and the smell of fresh cut grass. I enjoy just being out and feeling the sun hit my face.