Results from Client and Employee Surveys Validate BrightStar Care as the Nation's Premier Provider of In-Home Care
BrightStar Care, a national private duty home care and medical staffing franchise with over 300 locations in 36 states, earned more "Best of Home Care" awards than any other provider from Home Care Pulse, a satisfaction research and quality assurance firm for the home care industry.
Each month, Home Care Pulse conducts live phone interviews with 10 percent of BrightStar Care clients and caregivers to gather unbiased feedback. Every year, Home Care Pulse compiles the results of these surveys to identify the home care industry's top providers and employers, and this year, 149 BrightStar Care offices earned at least one of three awards:
23 BrightStar Care offices earned Leader in Excellence, given to select local home care agencies that continuously rank the very highest in 15 or more quality metrics. Leaders in Excellence are in the top 4-5 percent of home care providers participating in the Home Care Pulse® Satisfaction Management Program. These offices received glowing reviews in caregiver training, compassion of caregivers, communication, scheduling, client/caregiver compatibility, etc. Winners of this award also earned Provider of Choice and Employer of Choice.
105 BrightStar Care offices earned the Provider of Choice award by providing best-inclass quality care to clients. From industry-leading employment standards to RN oversight on every customized plan of care, BrightStar Care is committed to the highest levels of quality and support.
102 BrightStar Care offices received the Employer of Choice honor, reinforcing BrightStar Care's dedication to providing a positive environment to its care staff. From hiring and training to continuing education and beyond, BrightStar Care ensures they have the best caregivers in the industry, ready to deliver care and support to clients.
See below for a full list of local winners.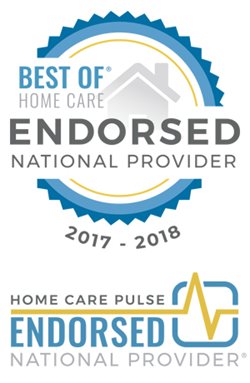 As a result of these local achievements,
BrightStar Care received two national honors: Home Care Pulse Endorsed National Provider and Best of Home Care Endorsed National Provider.
"At BrightStar Care, we believe that caring is more than just a job — it's a way of life. and we are so honored to be awarded with such recognition by Home Care Pulse — an organization dedicated to evaluating caregiver and client satisfaction." said Shelly Sun, CEO and founder of BrightStar Care. "These accolades emphasize BrightStar Care's dedication to providing excellent care and services – not only to our clients, but to our nurses and caregivers who work tirelessly. This is a testament of the exceptional franchisees and team members we have across the board and could not be prouder to celebrate and share in their success."
Earning recognition for its commitment to quality care is nothing new for BrightStar Care, who is the only national home care provider to earn the
Enterprise Champion for Quality award from The Joint Commission
each of the last five years. The Joint Commission is the nation's oldest and largest standard-setting and accrediting body in healthcare that accredits some of the nation's most well-respected health systems.
For more information on Home Care Pulse, please visit
homecarepulse.com
.
Leader in Excellence Local Winners
AZ - Tucson/Sierra Vista
CA - Central Western Riverside County
CA - Roseville
FL - Jupiter/Martin County
FL - Naples
FL - Pompano Beach East
FL - Port Charlotte
FL - Venice
FL - Wellington
GA - Augusta
GA - Marietta
GA - St. Simons Island
HI - Honolulu/Kaneohe/Kailua
IL - Central DuPage-Wheaton
IL - Tinley Park
MD - Howard County
NY - Central Westchester County
OK - Edmond/Oklahoma City
SC - Rock Hill
TX - Laredo
UT - Sandy/Draper
WI - Baraboo
WI - South Central
Provider of Choice Local Winners
AZ - Mesa
AZ - North Greater Scottsdale
AZ - Phoenix NW
AZ - Tempe
AL - Greater Mobile/Baldwin Co.
CA - Chico
CA - Conejo Valley
CA - Dublin
CA - Escondido/San Marcos
CA - Escondido/San Marcos (HHA)
CA - Huntington Beach
CA - Roseville (HHA)
CA - San Luis Obispo
CA - Santa Monica / Marina Del Rey
CT - Danbury
CT - Hartford
CT - West Hartford
FL - Delray Beach
FL - E. Volusia Co
FL - Fort Lauderdale
FL - Melbourne/South Brevard Co.
FL - Sun City
GA - Athens
HI - Aiea/Pearl City/Mililani
ID - The Magic Valley
IL - Des Plaines
IL - North Suburban
IL - Springfield-Decatur
KY - Northern Kentucky
MA - Central Worcester Co
MA - Danvers/North Shore
MA - Norwood
MD - Baltimore City/County
MD - Baltimore County West
MD - Bethesda
MD - Easton
MD - Rockville
MI - Ann Arbor
MI - East Lansing
MI - Grosse Pointe/Southeast Macomb
MI - Howell
MO - Central St. Louis County
NC - Cary
NC - S. Charlotte
NC - S. Greensboro
NC - Wilmington and Brunswick County
NV - Henderson
NV - Reno
OH - Centerville/South Dayton
OR - Lane County
PA - Happy Valley
PA - North Hills/Pittsburgh
PA - Stroudsburg
SC - Greenville
TN - Bristol
TN - Chattanooga
TX - Denton
TX - Flower Mound
TX - Friendswood
TX - Frisco
TX - Grapevine/Keller
TX - Lubbock
TX - Metro San Antonio
TX - North Houston/The Woodlands
TX - Rio Grande Valley
TX - South Arlington
TX - Sugar Land
TX - West Austin/Lake Travis
TX - West Houston/Katy
VA - Charlottesville
VA - Chesapeake
VA - Fredericksburg
VA - Gainesville
VA - Richmond
WA - Bellevue/Eastside
WA - North Seattle
WI - Appleton
WI - Central Milwaukee
WI - La Crosse
WI - Racine
WI - West Bend
WV - The Mid-Ohio Valley ​
Employer of Choice Local Winners
AR - Little Rock/Hot Springs
AR - North Little Rock
AZ - South Greater Scottsdale
CA - Conejo Valley
CA - Coronado
CA - Dublin
CA - Escondido/San Marcos
CA - Huntington Beach
CA - Lafayette
CA - Lake Forest
CA - Pasadena
CA - San Francisco/Marin County
CA - San Mateo
CA - Santa Monica / Marina Del Rey
CA - Ventura
CT - Norwalk
CT - Stamford
CT - West Hartford
FL - Delray Beach
FL - Fort Lauderdale
FL - Ft. Myers
FL - Kissimmee/Osceola
FL - Pinellas N
FL - Tampa
GA - Athens
GA- Cumming/Gainesville
ID - Boise
IL - Chicago
IL - Elmwood Park
IL - Gurnee
IL - Kane County
IL - Naperville
IL - North Suburban
IL - Springfield-Decatur
IN - Lafayette
KY - Northern Kentucky
MA - Milford-Worcester
MA - Norwood
MD - Anne Arundel County
MD - Bethesda
MD - Rockville
MI - East Lansing
MI - Grosse Pointe/Southeast Macomb
MI - Novi
MN - St. Paul
MO - West St. Louis County
NC - Asheville
NC - Cary
NJ - Freehold
NJ - Morris County
NJ - Wayne
NJ - Westfield
NV - Henderson
NV - W Central Las Vegas
NY - North Shore Nassau County
OH - Centerville/South Dayton
OR - Lane County
PA - Bethlehem/Easton
PA - Happy Valley
PA - Stroudsburg
SC - Charleston
SC - Greenville
TN - Nashville-Green Hills
TN - Sumner and Wilson Counties
TX - Denton
TX - Flower Mound
TX - Frisco
TX - Grapevine/Keller
TX - North Houston/The Woodlands
TX - Plano
TX - Sugar Land
VA - Fairfax
VA - Fredericksburg
VA - Williamsburg
WA - North Seattle
WI - La Crosse
WI - Madison
WV - The Mid-Ohio Valley