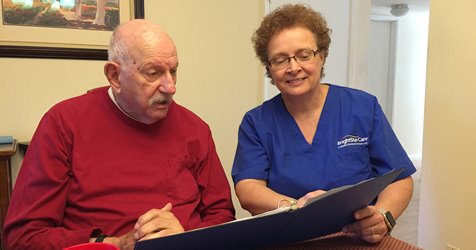 In the three years Jane Walton has been caring for Sandy's husband, 94-year-old Abraham, she has become an integral part of the couple's life. Abe has been hospitalized several times in the last few years. His abilities have declined, so it is important to maintain his current levels with activities that stimulate his brain.

"Other people can do some of the same things, but it's how Jane does it—and how far beyond she goes in a more personal way—that elevates her from being another good caregiver," says Sandy, who has employed BrightStar Care of Central Contra Costa County / Walnut Creek for five years.

For Jane, it's simply what she loves to do.

"I've been drawn to it all my life, taking care of people," she says. "I like being there for the whole person. It's their unique situation and their unique personalities that make my job interesting," she adds.
Compassionate care
Jane and Abe clicked from the start. "He tells her his feelings, and she listens without reproach," Sandy says. "Jane's heard about things I didn't even know—and I've been married to the man for over 50 years."

If you ask Sandy, it's Jane's innate empathy that makes all the difference.

Jane offers encouragement when Abe resists exercising and counters any irritability with humor. She knows just how far to take it and helps him maintain a sense of independence. "(Jane's) very supportive for me as well," says Sandy. "At the same time she makes suggestions, she doesn't push."

When they're together, Jane and Abe sing old songs, play Connect Four, and watch classic movies.

One day, she pushed his wheelchair outside to play catch. "The sun was shining, and trees were blooming, and it just felt like we were a couple of kids razzing each other about our throwing and catching skills," Jane recalls.

"He's just a real pleasant guy," she adds.
Playing for keeps
Caring for Abe is more than fun and games, though. Being attentive to physical or mental changes is part of the job, Jane explains, and communicating those observations to Sandy is crucial. "(Jane) is the glue that keeps the other caregivers working as a team," Sandy adds.

"Jane doesn't treat this like a job, she treats it like a vocation. She loves what she does, and, of course, she does it very well."

It's the little things Jane does that make such a large impact.

For Abe's birthday, Jane created a songbook with lyrics of his favorite tunes. Sandy adds, "She not only prepares meals, she researches recipes and adjusts them to his dietetic needs."

Jane says it's the other way around: It's the clients who enrich her life.

"You have to listen, go with the flow, and be calm. You need to be there for them, for every little detail—from washing their glasses to being there at the end of their life," Jane says.