JULY 2021 UPDATE:
The State of New Hampshire has declared an end to the State of Emergency and therefore, BrightStar Care is no longer offering COVID-19 testing to the public. We are honored to have been able to offer this service to our community during a time of need.


BrightStar Care of Bedford / Manchester is now listed on the New Hamphire Department of Health and Human Services COVID-19 Testing Sites.

For the list and map of recommended NH COVID-19 Testing Locations for PCR Testing Click Here, and for the list and map of recommended NH COVID-19 Testing Locations with Rapd Antigen Testing Click Here. These pages include links to the individual testing sites, including BrightStar Care.

The New Hampshire Department of Health and Human Services also has a comprehensive COVID-19 website with information about testing, vaccines, and NH statistics. It also has information about mental health support and staying safer at home. The testing page includes guidance and many resources, including testing frequently asked questions and links to the testing site locations.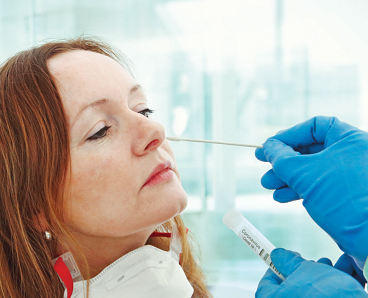 As the novel coronavirus, COVID-19, continues to spread, BrightStar Care of Bedford / Manchester understands that testing has become essential to ensure the health of our population. To simplify testing for COVID-19, BrightStar Care has worked to fulfill this need in the community to ensure efficient, accurate testing – while keeping the community and our clinical associates protected from the spread of infection.

Coronavirus drive-through testing locations are proving a safe way to identify COVID-19 cases in New Hampshire. These low-contact screening labs prevent healthcare centers and ERs from overcrowding, and make it more difficult for at-risk individuals to become infected with the deadly virus. Clients drive up designated lanes in their cars, and medical personnel in protective gear will come to your car window to administer a nasal swab test and/or an antibody rapid test.


Business | Organization Inquiries
BrightStar Care, known for providing home care services at a higher standard, also provides medical staffing services and is able to help you protect your workforce and your company. BrightStar Care on-site COVID-19 screening services can be tailored to your company's needs. You can reach out to us with further questions by calling us or by submitting inquiry so our certified clinical professional staff can help you in determining possible care solution for your business / organization testing needs.

BrightStar Care of Bedford / Manchester provides hourly to 24/7 home health care for seniors to infants.

We offer care and support to families who travel, providing a full continuum of private duty services, including companionship, personal care, transportation, medication assistance, and skilled nursing. We proudly serve greater Manchester, Bedford, Nashua, Derry, Salem, Londonderry, Hampton, and Exeter, NH areas.

For more information on how BrightStar Care supports seniors and families, and to learn more about our local team of caregivers, skilled healthcare professionals, and home health care support for New Hampshire families and businesses, please CLICK HERE.