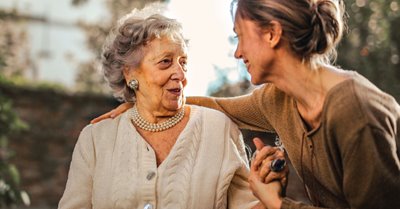 Family caregivers who are constantly on call or helping loved ones from dawn to dusk rarely find time to take a break. Caregivers can cite the list of things they do every day, but few prioritize time for themselves. Learn when and why family caregivers need respite care.

Spouses and adult children caring for loved ones say that they don't have time to shower. Many rarely get 8 hours of uninterrupted sleep. When told to care for themselves, most shake their heads because family members don't understand the constant and overwhelming pressures of caring for children or aging loved ones.

What family caregivers fail to recognize is that burning the candle at both ends is not good for themselves or their loved ones. Identifying caregiver burnout can help caregivers recognize that they need time away from care responsibilities.
The effects of COVID on caregivers
Caregiving responsibilities have escalated as a result of COVID. Worry about bringing the virus home from work has increased concerns of infecting loved ones and limited social contact. Support programs available before COVID, like adult day care programs, remain closed leaving caregivers with fewer options for short breaks.

News of COVID lockdowns and restrictions on visiting loved ones in hospitals, nursing homes, or assisted living facilities have caregivers working harder to keep elderly parents at home. Brothers or sisters who helped with care may no longer be available due to transmitting COVID within their families.
What are respite care services?
Think of respite care services as a short break or mini vacation from care responsibilities. Respite care services offer caregivers regular intervals of time off. Caregivers dream of life before caregiving responsibilities when weekends were time for relaxation and enjoyment.

In-home care agencies provide caregivers a few hours a week, overnights, weekends, holidays, and vacation time. Additionally, think of in-home care as giving your loved one a mini-pampering break.

An in-home caregiver will attend to daily needs, listen to stories, be a companion for a movie night, a baking or craft project, or an outing. If you want to learn more about caregivers and respite support, read the article, 10 Things You Didn't Know About Home Care.

Time away for the caregiver is a win-win. Establishing a regular care schedule provides emergency and backup care when needed.
When is it time to consider respite care?
When caregiving responsibilities transition from occasional to regular visits that result in family caregivers trading time from their lives, it's time to consider respite care. Ongoing care responsibilities quickly add up to 20, 30, 40, or more hours each week for daughters or sons who work full-time.Providing care 24 hours a day and 7 days a week can be stressful for spousal caregivers. Living in the same household with no time away deteriorates emotional well-being. Time dedicated to care limits family caregivers from accomplishing their personal goals and participating in social activities.

Eventually, family caregivers become filled with emotions and negative feelings about care relationships. So if you are a caregiver experiencing any of these symptoms that can lead to burnout and exhaustion, it's time to consider respite care.
Mental or physical exhaustion

Inability to sleep

Difficulty with problem-solving and planning

Feeling impatient, irritable, angry, or resentful

Decreased self-esteem that results in poor or no self-care

Withdrawal from friends and family

Headaches, heartburn, pain, or other physical health problems


Why caregivers feel they have to do it all?
Wilson reports that caregivers have insight into needing support six months to a year or more before seeking help. However, they report delaying because they thought they could do it all. In counseling sessions about care for aging parents, caregivers tell Wilson, "It wasn't that bad until now. Now it's horrible."

According to Wilson, reasons family wait to seek caregiver support counseling or respite care include:
Guilt about asking for help or taking time off

Loved ones who lack understanding of why the caregiver needs time off

Aging parents don't want strangers (in-home caregivers) coming into the home

Expectations by loved ones that the caregiver should do it all

No family to serve as a relief or backup caregiver

Feeling indispensable—caregivers say no one cares for my loved one as much as I do

Family members who shame the caregiver for being emotionally or physically exhausted

Parents who are unwilling to pay for outside care costs because the family caregiver is "free"

Inability to set boundaries to see their lives and needs as equally as important as a loved one

Addiction to caretaking behaviors

Are unaware that respite services exist


Why respite care benefits everyone in the family?
Respite care can relieve stress and support positive family relationships with the care receiver, spouse, children and in the workplace. As a result of taking time off from care responsibilities, self-esteem for the caregiver increases as well as the confidence to manage personal life, career, family, and social relationships.

Family caregivers have more time to dedicate to self-care, including attending regular medical check-ups, participating in regular exercise, and other leisure time activities. In addition, loved ones have a devoted caregiver who enthusiastically listens to each story as if hearing it for the first time. In-home caregivers help with personal care, meal preparation, medication reminding, light housekeeping, and other routine tasks.

Time off for the family caregiver creates breathing space to plan long-term care and initiate family discussions. Caregivers gain peace of mind that ever-changing care situations can be managed, knowing that respite care schedules can be adjusted or added as needed.

BrightStar Care has been providing respite care for families since 2002. Read BrightStar Care's Home Care Planning Guide to learn more about home care or contact us today.
About Pamela D. Wilson
PAMELA D WILSON
MS, BS/BA, NCG, CSA is a national caregiving expert, author, advocate, and speaker educating family caregivers, older adults, professionals, groups, and corporations. Since 1999, Pamela has been an entrepreneur and business owner providing direct service: in-home care, care management, and legal and financial appointments. In addition, she consults about elder care, care navigation, caregiving services, and caregiver support programs with families, health and care providers, attorneys, and financial planners.
©2022 Pamela D Wilson, All Rights Reserved