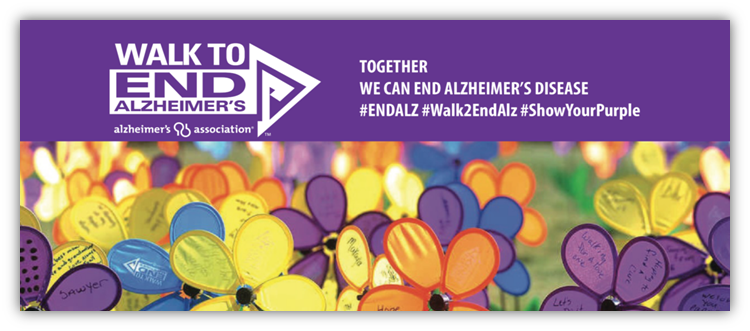 You're Invited to Join The BrightStars Walk To End Alzheimer's Team 2021!
The Alzheimer's Walk at Rio Tinto Stadium Sandy 9/25/21
Date: Saturday, Sept 25, 2021
Time: 9:30 AM
Let's make this our best walk ever!
All teammates: We will provide purple masks for the walk.
BrightStar Care will match all donations from staff.
Sign up with the office through email or text utahoffice@brightstarcare.com subject line Alzheimer's Walk or call 801-559-3999 ask for Kamille
State donation amount and how you will pay: cash or payroll deduction – if donating by cash, bring your money to the walk or the office by Oct 1
Bring yourself and your friends/family members.
Come to Rio Tinto Stadium, Sandy, and gather at the BrightStar Booth by 9:30 AM on Sept 25 to walk with the BrightStars Team -- walk time approximately 30-40 minutes.
For more information contact:
Deborah Parker, Director of Nursing, BrightStar Care Salt Lake City
P 801 559 3999 | C 808 285 1634
deborah.parker@brightstarcare.com
BrightStar Care of Salt Lake City provides hourly to 24/7 private duty home health care and medical staffing services.
BrightStar Care professional Care Team, led by a Registered Nurse Director of Nursing, delivers expert, compassionate, and personal home care, including COVID-19 care, employee screening, and testing for businesses and clients. Our professional care experts are ready to serve 24/7. RN oversight ensures the right care from the right people. We proudly provide home health care and support for seniors to children, including 24-hour skilled nursing and support in senior independent and assisted living communities. We proudly serve the Wasatch Front, Sandy, Draper, Midvale, Salt Lake City, Park City, South Salt Lake, Millcreek, Holladay, Ogden, Orem/Provo, and Murray areas in UT.
To learn more about BrightStar Care of Salt Lake City's commitment to excellence, please CLICK HERE or call 801-559-3999.