Focus on Falls Initiative
Elderly fall prevention is more critical than ever before to families. Each year, one in every three adults age 65 and older falls and the results can be life-altering. At BrightStar Care®, most of our clients are identified as being at risk of falling for a number of reasons. That's why we've developed our "Focus on Falls" fall prevention initiative, a unique solution that pairs our clinical expertise and patient education for family caregivers to reduce fall risk by managing chronic conditions, monitoring medications and helping to address other top causes of falls in seniors.

At BrightStar Care, our approach to fall prevention is rooted in our unparalleled clinical expertise. Each independently owned and operated BrightStar Care agency is required to pursue Joint Commission accreditation, a nationally recognized mark of quality. In accordance with our Joint Commission commitment to National Patient Safety Goals, we relentlessly track falls that occur both when we are and are not present and perform analysis on all falls that do occur to determine what could have occurred to prevent it to better care for our clients and to reduce the likelihood it will occur again.


Fall Prevention Tips for Seniors
Help your parent or grandparent stay safe at home with the fall prevention tips below.



Lessen Risks Around the Home
There's no better place to start applying elderly fall prevention tips than around the house. Reports show that more than 75% of accident-related injuries occur in the home. Take a look around your parent's home, identify fall risks, and make a fall prevention plan to reduce them. Here are a few ideas to get you started:
Clear pathways of electrical cords, furniture, and other clutter.
Put regularly used items within easy reach, i.e. at waist or counter level.
Put night lights in bathrooms and on stairs.
Secure floor coverings with non-slip pads.
Install handrails, grab bars, and tub mats in the bathroom.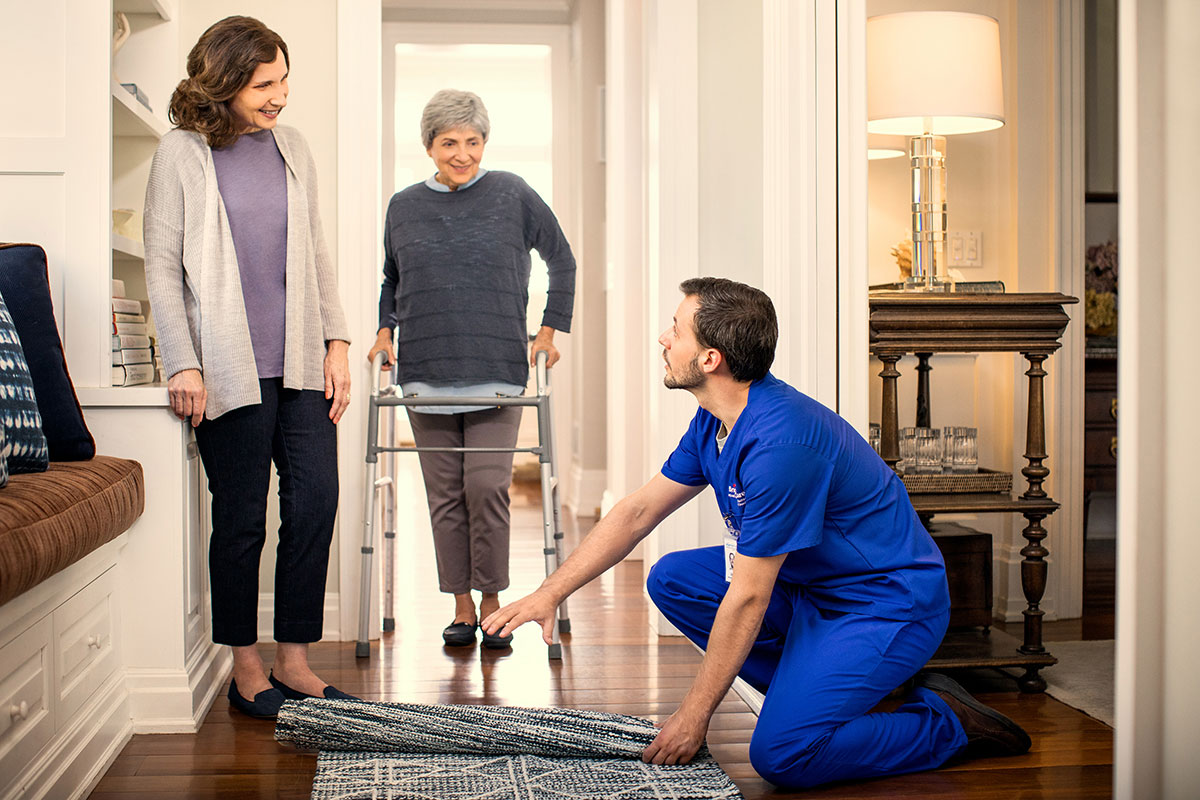 For even more ideas to fall-proof your home, read our BrightStar Care Home Safety Checklist.

Make Self-Care a Priority
Taking the appropiate fall precautions require more than just minimizing external risks. Monitoring one's health and practicing good self-care will help lessen physical vulnerabilities that can increase the chance of fall. Help your parent to do the following:
Make regular appointments to check hearing and vision and wear comfortable hearing aids and eyeglasses with an adequate prescription.
Properly take medications (for tips, read our Medication Management blog post).
Exercise safely and moderately—mobilizing joints increases overall body function, lessening the risk of falls.
Eat a healthy, balanced diet and drink plenty of water, especially in the summer when seniors are at risk for heat-related illness.
Ask for Help
For some older adults, accepting help and their changing needs can present an emotional challenge. Support your parent in getting all the help he or she needs by encouraging him or her to see how it will actually enable greater freedom. Help can come in many different forms:
Assistive devices, such as a cane or walker
Sturdy, orthopedic shoes
A medical alert device
An in-home caregiver
Click on the infographic below for more details on some of the most common causes of falls and what you can do to decrease your or a loved one's risk: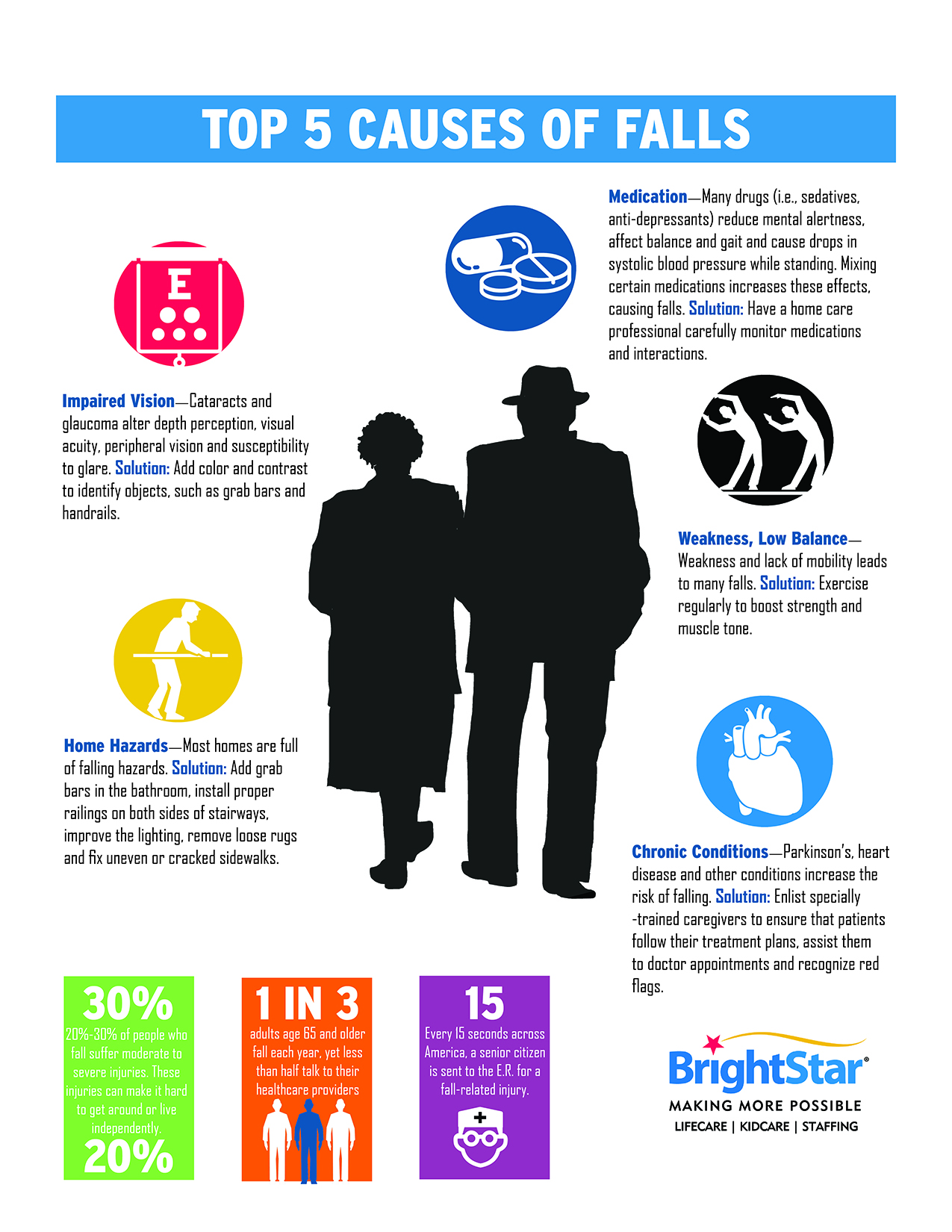 Fall Prevention Tips for Family Caregivers
At BrightStar Care, we take a unique approach to decreasing fall risk by pairing our unmatched clinical expertise with key patient education resources to help and empower families. So how can families look out for elderly loved ones to help decrease their risk of experiencing a devastating fall? Here are some helpful considerations for helping a loved one who might be at risk of falling:

Medication interactions. Remind your loved one to take their medication or enlist a licensed agency that can help with medication management. Pill reminder boxes can also help. Be sure to ask their doctor or pharmacist to review their medications – both prescriptions and over-the-counter – to identify medicines that may cause side effects or interactions. BrightStar Care RN Directors of Nursing can provide medication oversight and work with you on strategies to stay on track with taking medications.

Weakness, fatigue and illness. If your loved one is weak, tired or ill, help them get out of bed to go to the bathroom and walk around or enlist a licensed agency to provide them with this support in getting around. Encourage adequate intake of food and fluids to maintain protein stores and prevent dehydration. Individualized plans of care often promote staying active and can even include exercises – like bending, stretching and other targeted movements – supported by experienced BrightStar Care caregivers. And our RNs conduct fall risk assessments for every client to ensure any and all risk factors are addressed as part of the plan of care.

Lack of physical strength, balance. A loved one who has fallen before, even if they weren't injured, could develop a fear of falling that threatens to limit their activity and make them less mobile. Many families don't realize that this, in turn, could result in a loss of physical fitness and actually increase their risk of falling. Our fall care plan of care includes individualized tasks for exercise to help reduce fall risk based on the RN Falls Risk Assessment and subsequent reassessment and supervisory visits monitor progress.

Environmental hazards. Do what you can to improve safety around your loved one's home by reducing tripping hazards, adding grab bars inside and outside of the tub or shower and next to the toilet, adding railings on both sides of stairways and improving the lighting where needed. As one of the only national brands to pursue Joint Commission accreditation for all locations, BrightStar Care follows National Patient Safety Goals, one of which is on fall prevention with a focus on environmental safety hazards. For more information on evaluating home safety, download our Home Safety Checklist.

Chronic conditions. One of the most important ways to reduce the risk of falling in an elderly loved one with a chronic condition is to understand the disease process and help them to follow the treatment plan, get to doctor appointments and know red flag alerts. BrightStar Care has specially trained caregivers who are competency-verified to care for people with various chronic conditions, and our Registered Nurse Director of Nursing oversees every customized plan of care.
Helpful Resources
If you are looking for more help and support for a loved one who might be at risk of falling, contact us today for a free in-home assessment to identify key risk factors and provide a comprehensive fall care plan for your loved one.